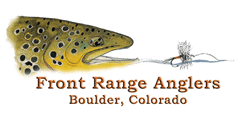 Newsletter ~ April 2008
~ Dedicated to bringing people and fish together ~
IN THIS EDITION
FISH TALES ~ REEL NEWS ~ PROFILES ~ TIPS & TECHNIQUES ~ FLY TYING ~ BACK CAST ~ THE DEEP END
---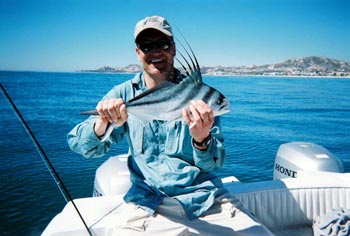 Hello all,
We have secured a date for our annual Elk Trout trip -- May 15th. Click here to sign up and reserve your spot.

I made it to Cabo San Lucas last month with the family and squeezed in a little fishing. This was my second trip there, and my efforts finally resulted in a couple of Roosters. They are certainly picky and you have to be able to take rejection if you're going after this kind of fish. I had larger Roosterfish follow my fly, but it seemed like the runts of the school are the ones that intercepted and committed themselves. Boat fishing is definitely easier than pounding the sand hunting for them on the beach, and if you don't have a lot of time getting a boat and guide is more productive.

Colorado fishing this season is looking better and better as we are still getting moisture. I'm predicting runoff will be later this year than usual making for a long season.

Hope to see you, Bill
---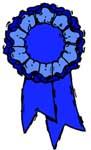 Win an SA Mastery Trout Fly Line!
---
First Cast! .... On his first trip to Costa Rica for Sailfish, David Corddry found himself attached to a bundle of fury. He was using a Sage Xi2 14wt with a Tibor Pacific reel loaded up with 800 yds of 50# backing with biminis in both ends and a doubled up surgeons loop connecting to a whipped loop in the 15wt line.
---
Steve Binckes caught this 10-pound European Sea Bass on 6-inch black zonker variant in 15 to 20 feet of water using a Hi-D sinking line.
KEEP ON SENDING US YOUR PHOTOS & STORIES

click here to submit a photo
---
Gary Dan Perkins found something to keep him busy on a trip to Wyoming. The 32-inch Brown was caught on a Dave's Hopper.
---
Doug Swartz of Boulder, Colorado is forced to travel to Fiji every year to fish for Giant Travally.
---
May 31, 2008
PRIZES FOR BASS & CARP
***********************
First Place Bass - Sage Bass Rod w/line ~ $350 value
Second Place Bass - Smith/Action Optics Sun Glasses of your choise ~ $200+ value
First Place Carp - Ross Rod of your choice ~ $200+ value
Second Place Carp - Rio Gold Fly Line plus Fluroflex Tippets
~ $80+ value
***********************
LIMITED TO 20 ANGLERS
$50 REGISTRATION FEE
APPLY NOW CLICK HERE
---
Fly Fishing ABC's....hatches & how to imitate them
Date: April 26
Time: 9:30-3:30
Find out more about this class and why you should consider taking it...click here
---
Kid's Fishing Day
May 31, 2008 between 9:00 AM & 1:00 PM at Izaak Walton Pond, Longmont, CO sponsored by Saint Vrain Anglers TU Chapter. There will be individual casting instruction and fly fishing for kids 8 to 15 years old.
The chapter has fishing rods available for those in need of equipment....click here for additional information on this event.
---
2006 Statistics
for public and private operations that ignore fishing

Source ~ American Sportsfishing Association
America's nearly 40 million anglers had an overall economic impact of $125 billion and supported over one million jobs nationwide. These agnlers spent some $45.3 billion at the retail level. Here are a few more facts
• More than 9 out of 10 Americans approve of recreational fishing,
• Fishing as a leisure-time activity ranks higher than playing basketball or softball, skateboarding, jogging or hiking, according to the National Sporting Goods Association.
• America's anglers and boaters tax themselves (through special federal excise taxes) over $600 million annually to pay for fisheries conservation and access.
• The amount of federal tax revenues generated by angler spending in 2006—$9 billion— is roughly equal to the entire 2006 budget for the U.S. Environmental Protection Agency.
• The economic activity generated by sportfishing is greater than the Gross State Products of 23 states.
---
Hatch Reels...why our customers love them!
--They employ a unique stacked disk drag. The discs are made up of a combination of stainless steel and Rulon®, and positioned on top of one another. They're setup in an enclosure that is completely water resistant, maintenance free, and self-lubricating.
--The reel seat is machined as part of the frame and the frame has been designed with added backbone.
--The crank and counterbalance are equal in weight.
--The surface is anodized for a durable finish that holds up in both fresh and salt water.
--These reels are made entirely in the USA and are designed for the serious fisherman who demands the absolute best. Click here for more information.
---
"Some of the best fishing is done not in water but in print" ... Sparse Grey Hackle
---
TU's New Venture....encouraging the sport & conservation
"On the Rise" will begin airing on the Outdoor Channel in April. Hosted by Telluride, Colorado fly fishing guide, Frank Smethurst, the show will feature some of the best fly fishing around the country. Traveling in an Airstream trailer painted in trout patterns, Frank travels to rivers and streams where TU has made a difference.
---
Auction & Picnic......May 2, 2008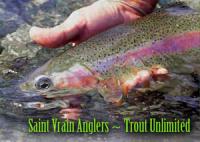 Location & Time: Longmont VFW, 206 S. Main Street ~ Lower Level Entrance on East Side...doors open @ 5:30 PM
What: Trips, Gear, Gift Certificates, Flies, Clothing, Books, Art,
Raffles, Silent and Live Auctions
FREE BURGERS, BRATS, & ENTERTAINMENT
---
Team USA 8

th in the World Fly Fishing Championship

At the conclusion of the World Fly Fishing championship in New Zealand the Gold, Silver, and Bronze Medals went respectively to Czech Republic,
New Zealand, and France. The individual winners were Martin Droz - Czech Republic, Julien Daguillanes - France, and Tomas Starychfojtu - Czech Republic. Josh Stevens of North Carolina was the top USA finisher at 20th.
Just how good is the Czech team compared to a very strong USA team? Their point score was 45% greater and the fish count 36% higher.
---
Larry Jurgens ~ "I wear old style baseball caps because they suit me"
We have so many customers that we never get a chance to meet. We thought you might like to know a little bit more about us. Over the next few months we are going to introduce you to the crew that makes Front Range Anglers one of the very best shops in the country.
Larry arrived in Steamboat Springs, Colorado in the summer of 1941 and 63 years later found himself at Front Range Anglers sorting out its fly tying and rod building programs.

"One of my first fishing memories was fly-fishing with my father and my uncle on the Elk River. They would hook a fish and hand me the rod so that I could "catch" a fish, I would bring them in and they would land them. I was around 3 years old at the time. I have pictures of my dad wearing the classic fly-fishing uniform of the times...it seems we still have a uniform to separate us from those "other" fishermen." After his father was killed in WWII, the family moved to a farm in Arvada.

As a young man Larry and his friends explored and fished the Rocky Mountain West. He began tying flies in earnest during 1965. Larry tells me that "one of these days I expect to get good at it if I can avoid arrest by the Fly-Tying Police." Larry is not bashful about experimenting with new designs and materials that become the mainstay of a number of master tyers. Larry claims such imitation is purely incidental but we know this is not the case.

After a stint in the Army, Larry went to work for Western Electric/AT&T/Lucent Technologies and 38 years later, in March of 2001, retired. Over that period and due to his travel schedule, Larry did a tremendous amount of salt and freshwater fishing all over the world.

We are fortunate to have Larry associated with Front Range Anglers because he excels at helping people become more proficient and he cuts through a lot of the BS that surrounds the sport.
---
In the spring fishermen are confronted with high off-colored stream conditions from runoff. There are some actions you can take to deal with this situation.
Under such conditions fish continue to feed so you want to give them something they can find. Large stoneflies, craneflies, aquatic worms, and Wooly Buggers are favored choices. To be sure, "large" is dictated by the stream you are fishing but don't be afraid to super-size your offering. Try fishing patterns two or three sizes above the norm.
You need patterns that move a lot of water like deer-hair or wool-head streamers or rubber legged nymphs. Fish will pick-up on the vibrations such patterns produce as they are stripped through the water.
Use dark color flies - black, dark brown, or dark olive. They provide a far better contrast in off-colored water.
---
Attention Front Range Residents..get a copy for $7.00
we have it in stock
---
Last month we had some link issues in the initial release of the newsletter to Rob Kolanda's article on fishing forWipers in Colorado. As such, we've included it once again...click here
The DOW has a good video on wiper fly fishing here as well as a good article here.
---
Lefty Kreh is probably the best known and most respected fly fisherman in the country. When he has something to say, it's always worth your time. He recently completed a book with a CD for Stackpole on simple to complicated knots. Both experts and beginners have something to gain here.
To the right is one of my favorite knots for constructing open loops.
---
Snook in the Surf
The Snook spawning run on Sanibel Island, FL. beaches depend on a combination of factors winter storms, the presence of baitfish and, most critical, water temperature. At the end of March I knew I would be weeks early but I managed to catch several fish in the 22 to 24-inch range on the day I set aside...click here for more.
---
Spotting a Novice


Don't be a cheap when it comes to replacing tippet material. Sure it's more expensive than it used to be, but monofilament deteriorates over time. This deterioration is accelerated by UV exposure. While fluorocarbon lasts a bit longer, it should also be replaced on a regular basis - at least every two years. You can lose the fish of a lifetime on an expensive trip because you didn't want to spend $5.00 to $10.00 - I've seen it happen!
FLY TYING
---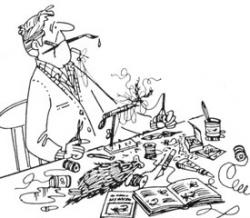 ---
Back to Basics
During a recent flytying clinic put on by Mark Rayman I was reminded that simple patterns made from readily available materials get lost in the shuffle.
How many times do you go to a clinic and the presenter pulls out an assortment of materials in colors that you don't have, nor do many fly shops.
Keep firmly in mind that it's generally the simple flies that catch fish after fish year after year!
---
Talk about simple! Jon Spiegel developed this pattern for cruising carp. Jon calls it the High & Happy ... it's sold through Solitude Fly Company
Hook: Dia Riki 810 size 6
Thread: Black 3/0 Monocord
Weight: Lead wire wrapped 3/4 down the hook shank
Body: Crosscut rabbit barred orange
---
Simple Stonefly
Hook: TMC 200 Size 8
Head: Copper bead with lead wrapped behind it
Thread: Black or brown Uni 6/0
Tail: Goose Biots
Back: Mirage Scale
Wire: Copper
Body: Olive Brown Dubbing
Legs: Centipede style size medium
Thorax: Whiting brown hen hackle
---
Pheasant Tail Variation
Here is a PT pattern which uses a bead for the throrax in combination with natural olive phesant for the tail, body, wingcase, and legs. Click here to see multiple views and get step-by-step tying instructions.
---
The answer to "Is this fly too big?" is always yes and the answer to "does this make my bottom look too big?" is always no ... sign in a Wyoming bar
THE DEEP END
---