DECEMBER 2006
Dedicated to bringing people and fish together
---
---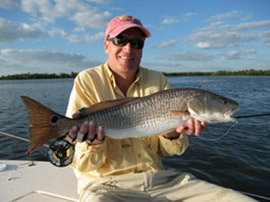 Hello all,

There is nothing better than hearing "the fishing has not changed here in 20 years". I heard this from my guide Pete Greenan while fishing in Boca Grande, FL in one of the 5 nature preserves in the southwest part of the state this past Thanksgiving. Plenty of Redfish and snook in the flats and mangroves along with an outstanding tarpon season in the spring make this a great saltwater destination. I find redfishing a similar but refreshing sightfishing experience compared to permit fishing. While you are locating and casting to upright tails on both species, redfish don't spook as easily. This fish on the left withstood a barrage of poor casts that pounded my fly on his head but it did not discourage him from taking the fly. God bless him!


Hope to hear from you this holiday season,
Bill

Our final NEWSLETTER QUIZ PRIZE for 2006 is the new Winston IIt .... retail value is $625.
---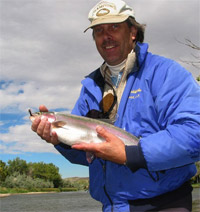 Don't be bashful about your fishing exploits. Send us a photo and we'll put you in the limelight for your friends and family.

Here's a nice Rainbow taken by Jon Rasmussen of Boulder, Colorado during the 2006 season.

Send us a photo with some specifics about where, when, and how - Click Here for fame without fortune

---
---
Remember the Fly Fishing Show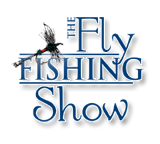 FRONT RANGE ANGLERS WILL BE THERE ..... stop by and say hello

Denver Merchandise Mart
Pavilion Building
Denver, Colorado
January 5, 6, 7, 2007
Show Hours: Fri 10 – 6; Sat 9 – 5:30; Sun 9 – 4:30
Admission – Adult: $14 for one day, $24 for two-day pass, $32 for three-day pass; Children under 12: $2

---
Finding the Right Gift for Anglers

Finding just the right gift for fly fisherman can be a challenge but Bruce Ajari from the Sierra Sun has some good suggestions. If you're trying to figure out what to do for a friend or family member, give us a call and we'll work with you to find the perfect gift.
---
The Best Winston Rod

The new Boron IIt series combines the extraordinarily lightweight, highly responsive characteristics of second-generation Boron with the legendary smoothness and delicacy of a traditional Winston medium-action. You can win one of these incredible rods right now!
---
Fishing organizations unite to oppose Pebble Mine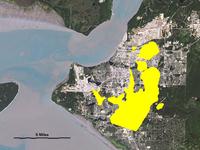 New opposition to a proposed massive copper-gold-molybdenum mine in Southwest Alaska is coming from the sport fishing industry.
---
---
The River God
Jiri Klima is the captain of the Czech National Fly Fishing Team. This team is regarded as one of the most successful fly fishing teams in the world. They have become the world-champions three times under his guidance. Because of his incredible proficiency he has been dubbed "The River God" by many of the fishermen he faces in international competition.
---
Fast Hair Stacking



How about a way to handle the hair stacking for 10 to 20 patterns at the same time?
---
Handling Plucked Feathers


Do your hunting friends show up at your front door with a bag full of feathers which are not in pristine condition?
---
Rigging Part I – the in-line approach

The first of a two part series on handling multiple fly rigs.
---
---
The Ultimate Fishing Vest

When this product hit the market you could carry everything and then some. Unfortunately, if you fell in you were a goner!
---
Fishing with the Greats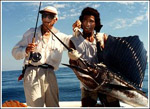 "Here's a guy in his mid-80s, fighting that fish as best and as hard as his strength allows, on this hot, humid day from a rolling boat. I often see a baseball pitcher in the prime of life needing to rest because he just ran 90 feet to first base. Or a football player bursts for a 35-yard run and he points to the coach that he needs to come out for the oxygen mask." ..... description by Jim C. Chapralis of Lee Wulff
---
WHAT'S GOING ON HERE!
Some fishermen are truely adept at uncovering obvious fishing opportunities.
---
---
McMurry Ants

While largely forgotten today, these terrestrials invented by Ed Sutryn of Pennsylvania were on the cutting edge in 1960.
---
What About Blue Part II


In our November Newsletter we had an article about blue flies. Naturally, someone we know had more to say on the subject.
---
Paul's Partridge & Orange

The Partridge and Orange is an old time spider based pattern which is worth having in your fly box.
---
Fly Tying Thread Chart
Here's a handy chart that provides sizing and breaking strength information on the most popular fly tying threads.
---
Single Post Wings

Ted Leeson and Jim Schollmeyer have collaborated on a number of incredibly well put together reference books on fly tying including The Benchside Introduction to Fly Tying, The Fly Tier's Benchside Reference, and Tying Emergers. Here's part of an article that appeared in Fly Fisherman Magazine.
---
---
If you no longer wish to receive these emails, please reply to this message with "Unsubscribe" in the subject line or simply click on the following link: Unsubscribe