Add Front_Range_Anglers@mail.vresp.com to your
address book to ensure our emails reach your inbox.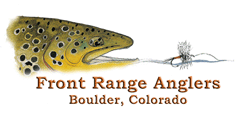 Newsletter ~ December 2008
~ Dedicated to bringing people and fish together
IN THIS EDITION
FISH TALES ~ REEL NEWS ~ DOWNSTREAM~ TIPS & TECHNIQUES ~ FLY TYING ~ BACK CAST ~ THE DEEP END
~ Updated Fishing Reports & Commentary ~
---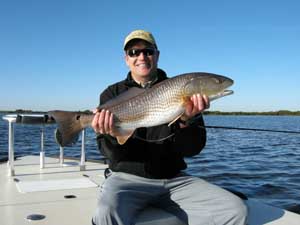 Hello all:
Nothing quite nourishes the soul like sight fishing for redfish in the flats in one of the beautiful wildlife refuges in Florida. I'm not accustomed to the extreme quiet that I experienced on a day trip to Chassahowitzka, about 45 minutes north of Tampa. Despite going to Florida annually for over 10 years, I had never heard of this place until I read about it in a saltwater fly fishing magazine. I usually take everything I read with a grain of salt, but this destination lived up to the article's claims. Click here to hear more about it.
Thanks for the business and hope that you and yours have a happy and safe holiday season. Hope to see you, Bill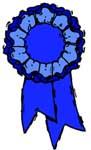 Win a brand new Sage Flight Fly Rod!
---
Andreas Möller caught this great Sea Trout in October of this year on a fly of his own design. "A big black muddler with hot orange rubber legs and a black wing of fox tail. Very spooky, but the Sea Trout really like it." He's pretty sure this fish is the largest caught in Sweden during 2008 on a fly rod. "It was my third cast on this place and I always start with very short line so the fish took my fly like 6-7 meters from my feet, it was an awesome strike. I was playing the fish some twenty minutes." Andreas is associated with Guideline
.
---
Ross Licata landed this beautiful 10-pound bow in November on on upper Elk Creek in PA on a size-12 Hares Ear. The Question is who has the bigger smile?
KEEP ON SENDING US YOUR PHOTOS & STORIES
click here to submit a photo
---
Sometimes Brown Trout Dreams (right) get translated into Brown Trout success. Steve King and his brother Mike (holding the fish) confirmed that fall fishing is the time of year to catch large Browns.
---
Sonny DelaTorre was busy catching Dorado, Rooster Fish, Pompano, Permit, Jack Crevalle, Lady fish, and Spanish Mackerel in La Paz during this October. Its a good thing Sonny kept focused on a narrow range of species.
---
Ken Sheffield of Anchorage is pictured above behind a Kenai River rainbow taken on Halloween Day. It was a sunny 5 degrees when his group of fly fishermen hit the water and they didn't see another boat all day...I wonder why? The fish below was a 31-inch 16.5-pounder
---
Per Lüdicke is with a Seatrout taken during a recent trip to the Ljungan River in Sweden.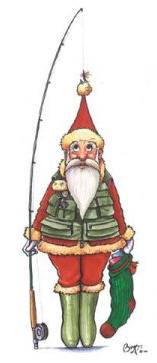 Shopping List for Deserving Anglers
The easy approach is to simply give you my list...Paul Prentiss

1. The "Dakota" Rod & Reel case from Fishpond. An outstanding new product at $159.00. Click here.
2. A Bugger Barn from Cliff for $2. I have three and they are outstanding!
3. Small Boga Grip for $119 for local warmwater and saltwater trips. Click here.
4. Sharkskin line from SA in blue heron for $99. There's no going back after casting one. Click here .
5. A Renzetti Clouser Cam saltwater traveler at $237. If you tie on on-the-road this is it. Click here .
6. Assortment of TMC Hooks for $18 to $36. Click here.
7. John Barr's latest book, Barr Flies at $40: Click here.
8. The new DOW CD for $22 - more info below or click here to purchase.
9. Assortment of Fluoroflex tippet material from RIO $36 to $72
10. Simms super light weight insulated jacket for $150. Click here.
For only $956 I'll have a very merry Chrismas!
---
Getting it Wrong!
Last month we reported on Tom Herrington's fight to land the Mississippi record Cobia. Well, in turns out that the fish was caught in Louisana not Mississippi....sorry Tom!
---
Celebrating 40 Years
With the release of the February 2009 edition of Fly Fisherman the publication will be celebrating 40 years in print. During this time the sport has been turned upside down with a constant stream of improvements in equipment, technique, and broadened partisipation. What a journey! The road ahead seems even brighter if we focus our energy and dollars on environmental threats...FRA
---
The 2009 Show

We'll be at the Merchandise Mart in Denver again in January. Please stop by and say hello.
Denver Merchandise Mart ~ January 9, 10, 11 2009
Show Hours: Fri 10 - 6; Sat 9 - 5:30; Sun 9 - 4:30
Admission: Adult: $15 for one day ~ $25 for two-day pass ~ $35 for three-day pass
Children under 5 free & under 12: $2 ~ Scouts under 16 & in uniform free
Uniformed Military $10 ~ Family Day on Sunday 2 adults & 1 or more kids -$25
---
Monster King Salmon Found
The biggest salmon in 29 years in California was found washed up on a river bank the first week of November of this year. The salmon likely weighed more than 90 pounds before it died, a big buck, according to Fish and Game biologist Doug Killam, perhaps far more when in the ocean and beginning its journey through San Francisco Bay, the delta and up the Sacramento River to its place of birth on Battle Creek.
---
George Grant...Conservationist & Fly Fisherman
George Grant, known for his distinct method of weaving hackles in the 1930s, passed away on November 2. Grant was far more than a fly tier. He was an ardent conservationist who contributed to the protection of the Big Hole and Clark Fork long before environmentalism was popular in Montana.
---
Colorado DOW Video
Fly Fishing Colorado is a feature-length video journal of major fly-fishing events and top destinations for all species. Fly fishers of all skill levels will benefit from this comprehensive look at year-round fly fishing opportunities in Colorado. Each monthly entry is filled with action at recommended destinations, fly-fishing techniques, major insect hatches, and proven fly patterns. An innovative chapter menu allows the user to navigate quickly through the pages of a fly-fisher's journal for an entire year. We have it in stock at $22.00 each....click here
---
RIO Fields a Winner
RIO's new bonefish fly line features a unique taper design that allows a rod to load at close range, a medium-length front taper for great turnover and a long back taper to smooth out the casting loop and keep the line stable on long shots. A hard, saltwater coating over a medium stiff core. What I particularily like is the sand colored head and blue running line..click here to order one
---
DOWNSTREAM
What to look for in upcoming issues of the Front Range Anglers Newsletter
---
Fishing Streamers on Small Creeks
Streamers produce spectular results in any size water. But small creeks can generate some big surprizes. This 18-inch brown was caught in this July on South Boulder Creek...click here
---
The Adams ....the most popular dry fly in the world

Lots of articles have been written about this fly that was originated by Leonard Halladay of Mayfield Michigan in 1922 for his friend from Ohio, Charles Adams. The fly has evolved quite a bit from its original form. An article written some time ago by Archie Best for Rod & Reel pointed out that the old versions were tied with swept back wings and golden pheasant tails.....click here
---

Getting Started ....stretching your fly line

Today's fly lines are the least trouble-free in history, but one thing that hasn't changed is fly line memory - they "remember" the shape they are stored in, usually coils on a reel or on a storage spool. This is because they are generally made with nylon cores and PVC coatings, and both materials tend to hold and retain their shape. But memory in these materials is also temperature dependent, and the colder the line, the stiffer it will be, and the memory more tenacious.

If you have plenty of room, lay out 70 feet of so and have someone firmly hold the end while you pull towards your body (don't use the reel to do this!). If you don't have the room pull on the strip 3-4 feet of line from your reel and stretch it between your hands. In either case you can pull pretty hard - even light trout fly lines are 18-20 lb. test and hard to break, and tarpon lines usually test out at above 40 pounds.
---

Now Playing...
Cripples and Spinners
Kelly Galloup - Fly Fisher/Guide/Fly Tier/Writer/Television Host
Kelly Galloup talks about how cripples and spinners play an important role in the trout's diet and how to fish them effectively.
Kelly has over forty nationally recognized fly patterns. He started guiding at the age of 16 and is still guiding to this day some 30 years later. He owned and operated the Troutsman fly shop in Northern Michigan from 1981 to 2002. In the spring of 2002 he sold the Troutsman and moved to Montana as owner of the Slide Inn Lodge on the Madison River.....click here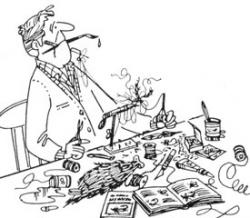 ---
Randy Richter of Cedar Rapids, Iowa has caught quite a few Grass Carp weighing up to 60 pounds. The pattern selected for this big boy was developed by Sister Carol Anne Corley, RSM, Hot Springs. Arkansas...click here to read more
---
Eyes on Flies
Obvious eyes are one of the most prominent cues predatory fish can use to locate and orient toward potential prey....click here
---
---
You Got to See This!

Hollywood's Fishing History.....way beyond a River Runs Through It
LIFE cover 03-01-1942 of Actress Ginger Rogers geared up for fly fishing somewhere on her 1,000 acre ranch in the Rogue River Valley.
So you don't think lipstick will help?
In Training