Newsletter ~February 2008
~ Dedicated to bringing people and fish together ~
IN THIS EDITION
FISH TALES ~ REEL NEWS ~ PROFILES ~ TIPS & TECHNIQUES ~ FLY TYING ~ BACK CAST ~ THE DEEP END
WIN A TFO FLLY ROD WITH A STORY ON WINTER ESCAPES - Click Here
---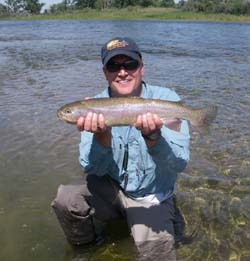 Hello all,

We're putting together some fishing trips for 2008; one of them is going to be to Grey Reef (Wyoming) on the weekend of March 23rd. If you'd like to be including on any announcements regarding this trip, drop me an email.

It is great to see how many of you have picked up fly tying this season, as reflected in our fly tying material sales. We've seen many interesting home-spun patterns, produced by anglers who have just started tying. With enough creativity, you can be like our own Jay Zimmerman who has had his patterns picked up for commercial distribution with Umpqua Feather Merchants.

Hope to see you,
Bill
---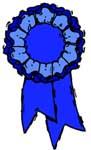 Win a Waterworks Lamson (Under)Wader Wear Zip top!
---
It's not always the size of the fish that makes for an exciting time. This handful was caught while fishing for carp last summer on the outskirts of Boulder
---
KEEP YOUR PHOTOS & STORIES COMING

click here to submit your photos!
---
This picture says it all about the Colorado Trout Unlimited Rivers Conservation and Fly Fishing Youth Camp
---
This photo of a 32-pound Redfish caught in Louisiana by Chris Lohne says to me "Ok, he's been burped & is ready for a nap"
---
Winners & Losers ..... the Denver Fly Fishing Shows
In the aftermath of the two challengers (Chuck Furinski's Fly Fishing Show (FFS) & the American Fly Fishing Trade Association's (AFFTA) Fly Fishing Expo who both opened their doors January 4 to 6, 2008) was there a winner? Moreover, will there be another bout? Click here
---
Photography is Key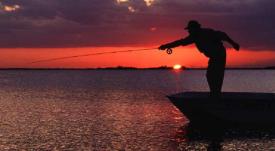 According to the Worcester Telegram & Gazette "Photos in the industry's leading magazines and most recent books often upstage even compelling text; they show the sport's excitement and adventure in a way that was not possible before digital photography." This was part of a story about Cathy and Barry Beck giving a presentation at the Fly Fishing Show East in Marlboro, MA...click here to read more.
---
Fishing Collectibles .... an investment with a future

The Stock Market sinking, the dollar is diving, and housing has hit the skids, but the market for fishing "collectibles" -- rods, reels, creels, lures, flies and more -- is on the up, up and even further up. Click here to read what Barrons has to say.
---
2008 Front Range Anglers Free Clinics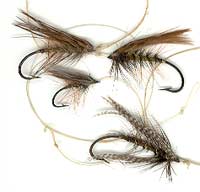 2/9/08 Willie Tiefell ~ 2/16/08 Patrick Tennyson ~ 3/15/08 Jon Spiegel ~ 3/22/08 Ken Iwamasa ~ 3/29/08 Char Bloom ~ 4/5/08 LA Garcia ~ 4/12/08 Todd Hosman
---
The Best Fishing Town in America?
Field & Stream (February)
identified Glenwood Springs as the top choice in their current list of The Best Fishing Towns in America "You'd be hard-pressed to find a better combination of gold-medal water, blue-sky climate, and stunning canyonscapes anywhere in the world besides Glenwood Springs. It's the geographic center of the best flyfishing in the state: The Roaring Fork and Colorado Rivers merge right in town, and the Eagle River, the Frying Pan, and the Gunnison are easy day trips."
Fly Fishing on the Roaring Fork in the Victorian era.
The balance of the top ten - (2) Mountain Home, Ark. (3) Traverse City, Mich. (4) Bozeman, Mont. (5) Minocqua, Wis. (6) Apalachicola, Fla. (7) Nantucket, Mass. (8) Bend, Ore. (9) Guntersville, Ala. (10) Morehead City, N.C.
---
"It has always been my private conviction that any man who pits his intelligence against a fish and loses has it coming".....John Steinbeck
---
CTU Youth Camp

Colorado Trout Unlimited is accepting applications from teens for a summer Rivers Conservation and Fly Fishing Youth Camp to be held at the Peace Ranch in the Frying Pan Valley, above Basalt.
The camp, June 10-16, is designed to educate students on the importance of coldwater conservation and provide hands-on fly-fishing instruction. It is open to youths, age 14-18; applications are available online at www.cotrout.org and must be received by March 15, 2007.
The Rivers Conservation and Fly Fishing Youth Camp is limited to 20 qualified students who will be selected based on their qualifications and a written essay on why they would like to attend. To qualify, students must be between 14 and 18 years of age. Click here for more info. and an application.
---
Are TV Fly Fishing Shows DOA
On numerious occassions one hears that fly fishing doesn't sell on TV, but we keep seeing successful renditions. The latest is a new production on the Comcast-owned Versus Network formerly known as OLN (Outdoor Life
Network). Versus Network has started production on a new original series that follows host Conway Bowman (In Search of Fly Water) to destinations near and far as he shows viewers how to experience world-class fishing for a fraction of the cost. Executive Produced by Huntley Ritter under his Stafford Films banner, the series is the new edge of outdoor reality television that Versus is on the forefront of producing. Shot entirely in High Definition the series will hit such locations as Aspen, Colorado, Louisiana, New York, and the Florida Keys to name a few.
"Dollar Wise Fly" (the working title) is a multi platform property offering viewers many interactive elements on line that include interstitials, pod casts, and down loads including but not limited to trip itineraries and maps at http://www.versus.com/. The show will also be available per Comcast's VOD (video on demand) platform and will be hitting air in February.
---
Sharkskin Line Scores at ISE Show
It seems Brian O'Keefe was the first to use Scientific Anglers' new Sharkskin line at a casting competition. This past weekend his cast of 108 feet -- "outside, at sea level" -- gave him a first place finish at the International Sportsman's Expo in San Mateo, California.
---
We have so many customers that we never get a chance to meet. We though you might like to know a little bit more about us. Over the next few months we are going to introduce you to the crew that makes Front Range Anglers one of the very best shops in the country.
Jay Zimmerman ... a man with a mission
Jay's personal and professional mission is to convert every fisherman the he meets into C&R fly fishermen.....he's pretty darn good at it.
Jay grew up along Lake Erie in Ohio and became seriously addicted at age 12. He learned to tie flies on his own by using bait hooks, any feathers he could scrounge, and pilfering his mothers sewing kit.
After Toledo University he served in the 82nd Airborne. Traveling north to Alaska he tried his hand a commercial fishing, worked in Ontario as a "Bear Baiter" (don't ask), and then back to Alaska as a Moose Hunting Guide. After writing a book about his fishing experiences, he made his way to Colorado where he found his real calling - converting anglers to fly fishermen.
When you need information about local fishing, Jay's your man. He probably spends 150+ days per year on the public creeks and ponds within a 50 mile radius of Boulder. He is also a talented fly tyer who has put together some very unique and productive patterns.
---
Is this a Nightmare?

No, its not a nighmare...it's one of Jay Zimmerman's frightening yet incredibly productive patterns, which has just been picked up by Umpqua Feather Merchants to appear in their catalogue.
FLY TYING
---
---
Enrico's Peanut Butter Fly
Hook: Gamakatsu SC15 No. 1 to 5/0
Thread: mono 3/0 thread
EP Body: Yellow, pink and white
EP Sparkle: Pearl Magic and Holographic Silver
EP Silky Fibers: Red
Eyes: Plastic Eyes, 6mm
Click here for more
---
Spotting a Novice - Flytying



I have three pieces of advice for the beginning feather bender. First buy high quality tools. When you skimp, the results will not meet your expectations and you'll ultimately end up spending the money anyway. Whenever possible, try before you buy. Generally speaking, fly tying bargain kits are a bad idea. Second, go slow and ask plenty of questions. If you don't have the skill or knowledge to select quality materials, expensive mistakes are inevitable. As a general rule, buying materials that you can't examine is not a red hot idea. That great buy on eBay may prove costly. Last, find a place to store your tools and materials. When your four legged best friend chews up a $100 dry fly cape that you could have placed in a $3.00 plastic container, you'll get the point.
---
During the Denver Fly Fishing Expo (AFFTA) members of Team USA kept walking over to an adjacent booth. Pretty soon Will Blair came over to ask me when he could expect his hat. The team had just about cleaned him out of a particular mouse pattern. One look and I wanted one!
It's long rubber legs (2x the body length), trimmed deer hair body topped with a 2 mm piece of brown closed cell foam tied on a Size 2 - 4 Gamakatsu hook = fish on!
Click here for more info & a different view.
---
New Concept in a Fly Tying Vise
Front Range Anglers is now offering the 720 Rotary Vise developed by Vincent Su. This unique product is designed to allow the tyer to take advantage of vertical and horizontal rotation (hence the name, Rotary 70). The vertical ability makes tying parachute patterns a breeze. Stop in and we'll demo the product for you.
Click here to see a video (windows only) on how the 720 Rotary Vise actually works.
---
"Scholars have long known that fishing eventually turns men into philosophers. Unfortunately, it is almost impossible to buy decent tackle on a philosopher's salary." ....Patrick F. McManus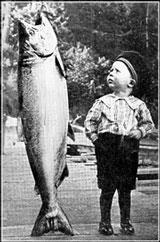 I got mine as a birthday gift from my wife around 1972. However, I managed to lose it a year later during an unplanned swim across the South Platte. My long time fishing buddy still has his. It was designed by a Boulder, CO resident who invented the modern western fly shop. His name was Hank Roberts and the product was called.....click here
THE DEEP END
---