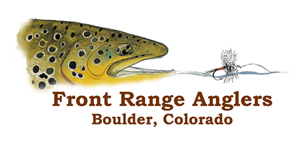 JANUARY 2007
Dedicated to bringing people and fish together
---
---
Hello all,
We are in the heart of the cold and flu and fly tying season. Nothing like a little head cement to clear those stuffy sinuses. At least that's true here in Colorado, where we've spent most of the past couple of weeks shoveling snow.

We still have spaces available in our winter fly tying classes. The next beginning class begins January 12th, and more are being scheduled. Check the "Classes" section of our website for details.

We'll be at the annual Fly Fishing Show in Denver this coming weekend. Come check out the latest and greatest products and technology in the fly fishing industry, and stop by and say hi at our booth.

Hope to hear from you soon,
Bill

Our January Newsletter Quiz Prize is a goretex Simms PacLite Jacket.
---
FEW THINGS IN LIFE BEAT A FATHER SON/DAUGHTER FISHING EXPERIENCE
Roy Krughoff and his son are pictured here with a beautiful rainbow taken outside Walden, CO. last summer.

Send us a photo with some specifics about where, when, and how - Click Here for fame without fortune If you've got a story to go along with the picture that's even better.


---
RUMBLE IN THE JUNGLE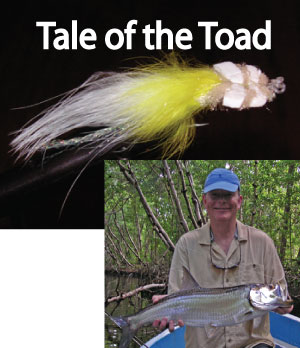 In response to the request for fishing pictures we got a great story from Dean Miller which I wanted to share with our readers...Paul Prentiss
---

Bob Olsen (left) ....here's is a photo of myself at a undisclosed lake in California on Thanksgiving Day.

Tom Toretta (right) ...this 23 inch rainbow was caught in the Eastern Sierra Nevada near Lake Tahoe using a #18 red prince nymph.


---
---
A Unique Destination Opportunity ~ SPRING BREAK IN THE BAHAMAS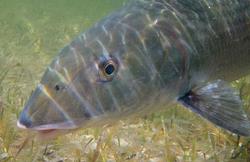 Picture a spectacular bonefishing flat 50 yards from the front door of your beach cottage. Naturally, you can fish as much as you want. In the heat of the day take a break in your hammock under the shade of a plam tree with something cold to drink.

You run the show with no set agenda - arrange and pay for your guided flats or blue water trips on a day-to-day basis. Alternatively, you can fish on your own at a pace that suits you. Sound good? Now consider that you will probably save $1,000 in comparison to other resorts in the area.

Front Range Anglers has set aside a few double occupancy spaces for 6-day adventure during the first week of April at a lodge on the Eastern coast of Andros Island.


---

WHAT DOES FLY FISHING IN SALTWATERS MAGAZINE SAY ABOUT ANDROS ISLAND.

"If you're in search of double digit bonefish, Andros may be the place to feed your need."
---
Cody Wyoming to Host Rocky Mountain Regional
The next qualifying event for the 2007 National Fly Fishing Championship to be held in Colorado during October will be held in Cody Wyoming on April 28 & 29, 2007. Anthony Naranja, Team USA Coach, will be overseeing this event.

There will be a two more regionals - one in the Michigan and another in a yet to be announced location on the East Coast.

The 2007 event in Colorado will determine the traveling team for the New Zealand World Championship in 2008.
---
Front Range Anglers has added Scott Rods to its line up of high performance products

For over 25 years, the Scott Fly Rod Company has been actively researching and developing high performance fly rods. In 1975, Scott designed and produced the world's first graphite 9' 4wt. Today, Scott manufactures over 100 models of graphite and fiberglass fly rods, each for a specific fishing application. Scott incorporates three design features which make every Scott fly rod high performance:
--sophisticated materials, lay-up and tapers,
--the Scott Internal Ferrule, and
--Scott's unique Flex Rating process.
Every Scott fly rod is backed by their Unconditional Lifetime Warranty.
---
Red Fish Record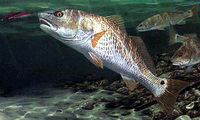 Denver Post ~ 12/17/06 Emphasizing the recovery of fishing in the salt marshes along the Louisiana Gulf Coast following Hurricane Katrina, three fly-rod records for redfish have been established from the boat of the same captain in recent days.

On Dec. 11, Doug Beherman of Tallahassee, Fla., set two world records - 34 pounds, 8 ounces for 8-pound test tippet and 28 pounds for 4-pound test tippet.

Fishing out of Hopedale, La., southeast of New Orleans, with guide Gregg Arnold, Beherman landed 11 fish that day with a total weight of 242 pounds.

---
Blue River Rainbow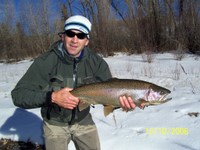 A 26"x16.5" Rainbow taken on the Blue River December 15th, 2006 by stripping a Black Widow streamer....Creig Krier
---
Water Tempeture Standards in Colorado an Issue



The Colorado Water Quality Control Commission will hold a hearing on January 8, 2007 to revise temperature standards for the protection of fish in our streams and lakes. The Commission needs to realize that stream temperature problems are not abstract. They need to hear real life stories.
---
Norm Ziegler's New Book
Snook on a Fly is about to be released by Stackpole Publishing. Norm spends a considerable amount of time chasing these fish from his home on Sanibel Island, Florida.
---
---
Pod Casts from the Itinerate Angler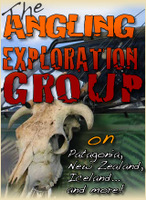 The Itinerant Angler website launched in May 2005 is the online home of Zach and Lauren Matthews Photography. Zach Matthews is a professional fly fishing photojournalist and a Contributing Editor with American Angler magazine. He also has a real job practicing Law with Hicks, Casey & Foster in Marietta, GA. Zach is now offering downloadable podcasts on his site.
---
THE SILVER KING ~ Tarpon Fishing in the Florida Keys
Capt. Barry Hoffman, a native of South Florida, has fished the Southeast coast for nearly 30 years. He has been featured in publications such as Saltwater Sportsman, South Florida Sportfishing Magazine, Fly Fishing America Magazine and in Saltwater Software's Florida Fishing CD-ROM.

In this article he gives you a sense of what it's like to chase the Silver King.
click here
---
"Matrix©" Rod Blanks from American Tackle Company
Our master rod builder, Larry Jurgens spotted these rods at the Fly Fishing Retailer show. With ever present charm he managed to secure a couple of these blanks...here's the result.
click here
---
What's the Best Knot for Fluorocarbon?
---
Rigging Part II - the tag-end approach

This is a continuation of the discussion on multiple fly rigs that appeared in the December FRA Newsletter.
---
---
Your First Experience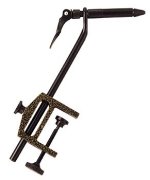 It might have set you back $10.00 or so and you may still have and use it. Unfortunately, I gave mine away some 25 years ago when I moved on to the Regal.
---
WHAT'S GOING ON HERE!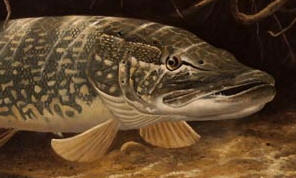 Getting your equipment setup properly prior to fishing is always a good idea but sometimes you just can't wait!
---
---
Al Makkai's String Leech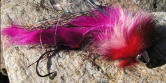 During a December 9, 2006 Fly Tying Clinic Al had some pointers on tying the String Leech....this is a pattern you should have in your box!
---
---
Film Canisters on my Fly Tying Bench?
---
The Squirrelly Minnow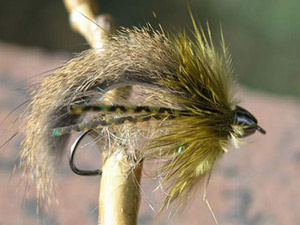 During a 2005 clinic at Front Range Anglers, Brad Befus tied the Squirrelly Minnow. It looked like a real winner so I started tying and using the pattern - it produces big time!
---
Hooks For Czech Nymphs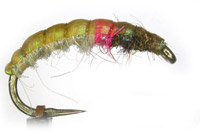 An article written by Karel Křivanec on the proper selection of hooks for this increasingly popular form of nymphing.
---
Special Fly Tying Class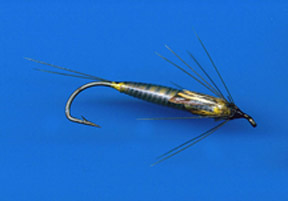 Well known Colorado fly tyer, Sue Armstrong, will be conducting a special class on George Grant weaving techniques. The instruction is free but there will be a nominal charge for the materials. It's a tremendous opportunity to learn how to craft woven flies.
---
Hook Charts
Looking for a cross reference on Mustad, Tiemco, Daiichi, Orvis, and Partridge?

---
---
If you no longer wish to receive these emails, please reply to this message with "Unsubscribe" in the subject line or simply click on the following link: Unsubscribe