Newsletter ~ July 2007
~ Dedicated to bringing people and fish together ~
Hello all,
I never thought I would say man's interference with nature would be a positive thing, but the pouring of concrete to build a tailwater creates an amazing opportunity for the fly fisherman. The Yellowtail Dam on the Bighorn river, like most tailwaters, feeds the water off the cold 40 degree bottom and provides a perfect habitat for trout. After the drought of a couple of years ago, this fishery is again becoming incredibly populated by both browns and rainbows.
I seem to have a better time on my fishing trips when I travel with a group that includes professional chefs trying to one-up each other on who can cook the best meals. We also hooked up with a guide that prepared streamside venison burger lunches served on a table set with a tablecloth and actual dishes. I can usually lose a couple of pounds tromping through the river, but not on this trip. Oh, and the fishing was amazing too.
Hope to see you,
Bill Leuchten
---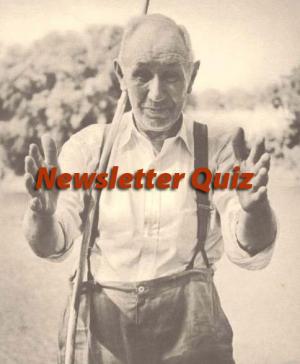 Win 2 dozen trout flies in a Front Range Anglers fly box!
---
When time permits Chris Sager chases Tiger Muskie in the vicinity of Boulder , CO. I'm told he has caught larger fish than this 41-inch beauty. So much for the idea that these fish are not readily available.
---
KEEP YOUR PHOTOS & STORIES COMING

click here for fame without fortune
---
For Jim Burrell it was love at first sight when he encountered this Missouri River Rainbow who fell for an olive Woolly Bugger
---
Bruce Mardick, nymph fisherman extrodinaire and connoiseur of fine cigars and cold beer, couldn't stop catching fish on the Encampment River in late June of this year.
---
Emiliano Banzi from Italy found the Sage Xi2 12-weight and the Rio Tropical Versi-Tip fly line secured from Front Range Anglers good choices for Tarpon fishing in Mexico. You can see how disappointed he is with this catch.
---
Hall of Shame
This area that has been set aside for pictures of events that one would like to forget but have been captured digitally by "friends". They have been reduced in size to minimize embarrassment but can be seen clearly by clicking on them.

While holding a trout for a photo on the North Platte the fish decided to escape through the back of Bruce Mardick's shirt

Using his power of observation Paul Prentiss matched a Ross Evolution size 2 spool with WF-4-F line to a size 3 frame on a 6-weight rod. He failed to discover this oversight the entire morning while fishing the Encampment River.
---
ACTIVITIES
---
Warm Water Clinics - click here to register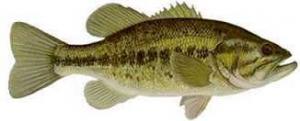 July - Bass Slam Clinic - July 14
Techniques and on-the water instruction - 1 day - $150.00 for up to 4 anglers - two guides
August - Bass After Dark - August 4
Hosted fishing on private water $100.00 for up to 4 anglers - two guides
August - River Carping - August 18
Hosted fishing on private water $100.00 for up to 4 anglers - two guides
---
Pro-Am Carp Slam on the South Platte
Denver Trout Unlimited is hosting the First Annual South Platte Pro-Am Carp Slam on July 14th 2007. The event is $175 to enter and each participant will be placed with a Fly Fishing Pro. The object is to catch and release as many Carp as possible. The event will have 2 different sessions. One in the morning and one in the afternoon. The prizes include a Scott Fly Rod and a great Trophy. Barry Reynolds* will be the master of ceremonies and will be giving a demonstration on Carp Fishing in the South Platte. The headquarters for this event will be "Old Brooklyn's". Please log on to the Denver TU site for more information or call Tim Emery 303.517.9197.
*Barry Reynolds is very well known across the US as a master angler, writer, and video producer. He has written numerious articles, co-authored Carp on the Fly, and produced TV specials (including one on the South Platte) on catching these fish ..... click here for more information on Barry
---
Fly Fishing Team USA in 6th Place

The U.S. Fly Fishing Team posted a sixth-place finish Monday in the World Fly Fishing Championships, the team's best-finish so far in this event. The team finished behind 2007 winner and six-time world champion France. The Czech Republic was second, followed by host country Finland, Portugal and Spain.
Jack Dennis attributed much of the team's success to "a team effort with everybody working together towards a common goal" and the National Championship program in Colorado. You can get a day-by-day account ...click here.
Charlie Meyer, the Outdoor Editor of the Denver Post, wrote an article about how the US Team struggles for support against well financed teams in Europe. I'ts hard to imagine that some of these large big box retailers that sell huge quanities of gear can't see their way clear to help out....makes you wonder about their committment to the sport and the conservation ethics that surround it!
---
Listen Up Public Officials
According to Sport Fishing Magazine Bonefish are "one of Florida's most valuable fish, accounting for approximately $1 billion annually to the Florida economy via sportsfishing revenue. Likewise, tarpon plays prominently in the $5.5 billion regional draw that sportsfishing brings to the state. In fact, sportsfishing now surpasses the citrus industry in state revenues." The point is that fishing is big business which many of our public officials seem to overlook.
---
STRAIGHT TALK
---
Carp Tactics

As carp cruise along the bottom vacuuming up what they find, they are constantly watching for fleeing prey. Perhaps it's a crayfish scurrying along the bottom or a leech or dragonfly nymph. If you cast where a feeding carp can see the pattern and give it a small twitch (just enough to raise a puff of mud) chances are pretty good that he'll take the fly. You want a pattern that sinks to the bottom hook point up and stirs the mud or silt when twitched.
---
How many times have you damaged a fly line. It's bad enough when it's an old line but even worse when it's a brand new line!
What can be done?
Fortunately for us,
Carl Hutchinson who is a a qualified instructor with the EFFA and FFFUSA in the UK has developed the perfect answer.
---
A Very Special Place...RMNP
If you're looking for big fish, Rocky Mountain National Park (RMNP) may not be your cup of tea. But if you want solitude, knock-out scenery, and a variety of still and running water options this is the place. Simply look at a map of park (click here - 3MB pdf file) and you'll see a peppering of 150 alpine lakes and a lacework of flowing water that adds up to 450 miles of streams: about 50 lakes (360 total acres) and 150 miles of streams. Many of these locations require a strenuous effort but catching a beautiful native greenback cutthroat trout (pictured above) make it a worthwhile journey.
---
Spotting a Novice

Watch how he or she strings up a fly rod. If they start putting the end of a leader through the rod guides its a sure sign. Always double your fly line and use the doubled end. It's much easier and the line won't slide back through the guides if it slips out of your hands.
---
Why fishing is better than making love....you don't necessarily have to change your line to keep catching fish.
---
Rx for Runoff Blues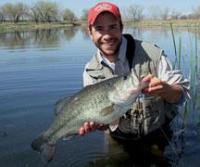 As runoff takes hold, anglers can put away their gear, compete for space on limited tailwater fisheries, or focus energy on stillwater. A great option gaining popularity with Colorado's fly fishermen is bass fishing....click here
---
Southern Appalachia Trout Fishing

The Great Smoky Mountains, Catalouchee Creek, Hazel Creek, Abrams Creek and down to the tailwaters of the Nantahalla River Ian Rutter has fished it all. Listen to Ian share his secrets and life long love for this beautiful fly fishing haven....click here to find out more about Ian and to listen to the show.
---
Why fishing is better than making love (part2) ....Fish don't mind if you fall asleep in the middle of fishing.
---
Fly Tying & Such
---
A New Zealand Cicada
The New Zealand cicada species is quite diverse, with around 40 varieties inhabiting almost all possible terrestrial habitats, from the alpine zones to coastal dunes. This New Zealand pattern is quite interesting and I suspect that it would produce well in the US.
Hook: Wet fly 2XL size 10 hook
Thread: Black
Body: Dark Olive Deer Hair
Eyes: Black plastic mono eyes - med. size
Under Wing: Eight strains of pearl Krystal Flash
Over Wing: Web Wing (Dun) - 2 individual wings tied in folded across each other & extending 1/8-inch beyond the hook bend.

Click on the above picture to get another angle & larger size.
---
Big Stones
For fly fishermen who don't think about using big stoneflies on the Big Thompson, think again! This case was sitting on this rock in the lower river on June 26, 2007. Click here to see the results of using a size 6 Brad Befus Wired Stone....click here
---
Crayfish Pattern Swap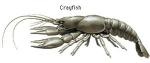 We didn't get any patterns from readers so there must not be much interest here. But we said we'd share a guide pattern or two - here are two that have a productive history:
The BCD #1 (there are 3 in the series) developed by Paul Prentiss...click here
The Back Stabber (there are 5 in the series) by Jay Zimmerman...cick here
If you want to see more guide patterns send us a picture or the actual fly along with a recipe...click here
---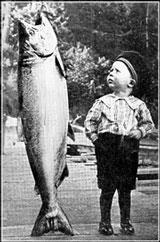 Looking Back
It was a must have item in your vest or tackle box. As I recall I got mine in 1958 or 1959 ... click here
---
You've Got to be Kidding!
---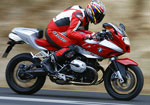 Kirk Deeter ran some interesting tests on how smooth reel drag is on 15 popular brands/models of fly reels using a motorcycle. Find out how your reel performed....click here.
If you're interested in watching one of several videos related to this test, they can be found on

---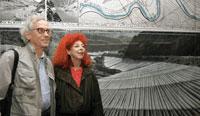 Christo and Jeanne-Claude came to Salida, Colorado to discuss their plans for wrapping segmented portions of the Arkansas River from Salida to Parkdale with 5.9 miles of sheer, white fabric in the summer of 2011. When asked about interfering with anglers' access Christo noted that fishermen could easily side-cast their lines beneath his drapes!

Read Pete Freedman's article about this project in the Colorado Springs Independent...click here
---
The End
---
---