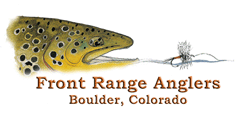 Newsletter ~ July 2008
~ Dedicated to bringing people and fish together
IN THIS EDITION
FISH TALES ~ REEL NEWS ~ PROFILES ~ TIPS & TECHNIQUES ~ FLY TYING ~ BACK CAST ~ THE DEEP END

~ Updated Fishing Reports & Commentary ~
---
Hello all,
Despite the high water, we have had a lot of good reports of decent fishing from around the area. Even when the Yampa was cresting, I found surprisingly large pockets of rising fish. When the flows came down, those rising fish disappeared! Go figure. There is always room for surprise in the pastime.
Hope everyone manages to throw some flies at some feeding fish during this exceptional time of the year.
Hope to see you,
Bill
---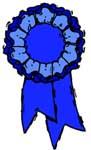 Win a pair of Action Optics "Maverick" Polarized Sunglasses!
---
Curt Straub of Washington State caught this Rainbow in 13 feet of water on a red chronomid at Dry Falls Lake
---
One of eight carp caught in Ontario by Trevor Bennett.
KEEP ON SENDING US YOUR PHOTOS & STORIES

click here to submit a photo
---
Dan Lowe took this carp under a bridge on the South Platte in Denver during May of this year.

---
In March of 2007 Van Rollo of Mountain Sports (fly fishing distributor & premier FRA supplier) travelled to the Amazon for some serious Peacock Bass. He mentioned that it was over 90 degrees every day with cooling provided via tropical rain storms of several inches.
---
Nicola Piffanelli of Italy is pictured here with a grayling taken from the Brenta - an Italian river that runs from the Autonomous Province of Trento to the Adriatic Sea
---
The recently released DVD movie "Tarpon" from UYA Films was made almost 35 years ago in Key West, Florida. Besides including some of the only footage of Richard Brautigan, "Tarpon" also features commentary by legendary guides Woody Sexton, Steve Huff, and Gil Drake, as well as Page Brown, an ardent Keys conservationist. Thomas McGuane and Jim Harrison are also featured in the film, and Jimmy Buffet composed the music. Many consider this film to be the first of the modern fishing films.

Click on the picture to see a trailer of this 53 minute classic. If you would like a copy at $34.95 send us an email .... click here
---
Another Sharkskin from SA
Scientific Anglers has created yet another Sharkskin fly line to add to their line-up. The Sharkskin Magnum Taper is perfect for casting large flies, especially in the wind. Like the other Sharkskin lines, the Magnum Taper has a micro-textured surface that traps air which makes for better floatation and reduced friction through rod guides for better "shootability." This line has a longer lifespan because of its increased durability compared to standard lines.
The Magnum Taper comes in Mist Green, and is available in sizes WF5F through WF10F.
Personal Observations .... PE Prentiss

1. There is no question that this line will shoot further than anything on the market. If you're looking for distance this is the product! If you're an accomplished caster who uses a lot of power strokes you will love this line. If you're a beginner don't bother.
2. As it zings throught the guides, its definitely noisy....you'll get used to it but it may annoy some folks.
3. SA claims it floats higher but I don't see any real difference. I can't comment on the wear factor with one exception. The built-in front loop lasted about 30 hard fishing days before the coating began to separate from the core.
4. When you strip the textured the line across a finger over the course of several days it will absolutely cut into the skin. This is understandable given the nature of the product....carry a few bandaids in your vest
5. Is it worth the $99 price tag? Yes, if distance casting is your thing.
---
While Fly-fishing, George Mann of Opelika, Alabama landed a bluegill of 2-pounds 6-onces on USA Lake. He was using a 2 kg (4 lb) class tippet and a Grab-a-Holt fly.

It should beat the current IGFA record of 2 lb caught June 2001, in Ligonier, Pennsylvania.
---
"Personally I make it a rule never to weigh or measure a fish I've caught, but simply to estimate its dimensions as accurately as possible, and then, when telling about it, to improve those figures by roughly a fifth, or twenty percent. I do this mainly because most people believe all fishermen exaggerate by at least twenty percent, and so I allow for the discounting my audience is almost certain to apply, so that the net figure in their minds will be about right. Thus, if I catch a four-pound brown on a #16 Adams in the Madison River I tell my friend Dave Dubious, "Dave, I took a five-pound brown on a #18 Adams just below the Varney Bridge last week." Dave thinks to himself, "In that fast, heavy water this klutz couldn't handle a five-pound brown on a #18 fly. It was probably a four-pounder, if that - and like as not it wasn't an #18 but a #16 or #14 fly." "Say, that's great!" Dave says, "let me tell you about the twenty-one inch rainbow I took out of the Big Hole three weeks ago, on a 6X leader." I instantly mark Dave's rainbow down to eighteen inches, beef up the leader to 4X, and say, "Wow! Tell me about it!" Thus we both come away with a fairly accurate understand of who what what, nobody has been injured, and life goes on"....The Best of Ed Zern
---
Tournament Bass Fishing at College Level
In 2009, FLW Outdoors will launch a televised collegiate bass fishing circuit that offers lucrative scholarships
in 20 one-day qualifying events, five televised two-day regional championships with weigh-ins held on college campuses, a televised three-day national championship offering a record purse and berth in the $2 million Forrest Wood Cup.
In addition to benefits for the fishermen, universities and colleges represented by the top five teams in each region will receive donations on behalf of those teams. The national champions will be provided with the use of a Chevy truck and Ranger boat wrapped in their school colors to compete for a first place prize of up to $1 million in the Forest Wood Cup.
Is there a message here for fly fishing organizations?
---
News from AFFTA

After considering 60 potential candidates, the American Fly Fishing Trade Association hired Gary Berlin (a Broomfield, Colorado resident) as their new President. Berlin was formerly the head of the International Hunter Education Association, and before that an official with the Colorado Division of Wildlife.
Concurrent with this announcement, AFFTA confirmed that its headquarters would move to Colorado. When Alan Gnann, Chairman of the Board was asked why they had chosen Colorado, he responded, "It is clearly a hub for the flyfishing industry, and we (AFFTA) must have our headquarters located in the greater Denver area."
Starting in January 2009 AFFTA and International Sportsmen's Expositions (ISE) will be partnering in two locations (San Mateo, California, and Denver, Colorado) to expand fly fishing exhibits and educational opportunities at ISE's consumer events.
---
Tyler Bowman "Yeah, I have the record guide tip but the stories circulating amoung the other guides are not true"
Growing up on Colorado's Front Range, Tyler developed his fly fishing expertise along the South Platte River Drainage. He spent extensive time fishing the technical waters of Cheesman Canyon, Deckers, and Waterton Canyon. After high school, Tyler enrolled at Western State College. An academic focus proved difficult given the siren call of the Gunnison River, Taylor River, and East River. Since you can get spoiled fishing these great streams he would slow the pace by fishing the area's small streams and high mountain lakes which are some of the best in the state. "After my freshman year I wanted to make sure I got a degree in something other than trout fishing. Further, I wanted to be closer to friends and family." CU Boulder was the right fit for the prospective English major. He was expecting an occasional fishing trip and long hours in the library. Unfortunately he discovered Boulder Creek, The Big Thompson, and Rocky Mountain National Park -- and Front Range Anglers. Schedule permitting he has worked both in the shop and as a guide. "When school is out I want to be on the water guiding. I love working with people and helping them become better anglers." Like many serious anglers, Tyler has been bitten hard by the saltwater bug and has pursued Bonefish and Tarpon in Belize, and Redfish and Sea Trout in Texas. When not guiding for Front Range Anglers or working on his degree, Tyler can be found fishing the many rivers, streams, and lakes of Colorado and pursuing various warm water species such as Carp, Bass, Pike, and Wiper. Tyler enjoys teaching the art of fly-fishing and is currently the president of the CU Fly Fishing Club, which connects collegiate anglers.
Tyler can be reached via cell phone at 303.506.6998 or by email at bowmanta@colorado.edu
---
The Thingamabobber
The Thingamabobber from West Water Products showed up in 2006. Its design was inspired by western guides who use small balloons as strike indicators for their buoyancy and sensitivity.
It is buoyant, easy to cast, ultra sensitive, durable, and affordable. The Thingambobber comes in a variety of colors and 1/2", 3/4" and 1" diameters.

If you use strike indicators you will find this product a very attractive option.
Stop by the shop and buy three spools of tippet material of any size and make and we'll give you two free Thingamabobbers of your choice !
---
Bite Tippets are sections of monofilament or wire attached to a tippet and then connected to the fly. They are specifically designed to handle fish that have sharp teeth and/or abrasive bodies. This type of setup is an absolute necessity with many species.

If the teeth are likely to cut through an even large diameter monofilament, wire is used. Solid wire has less diameter than braided wire for the same wire strength, but solid wire tends to kink when anglers battle the fish and the wires must be replaced since the kinked material spoils the action of the fly.

Braided wire is more flexible and is usually coated with a clear monofilament to make it easier for the angler to handle.
For some recommendations on wire or wire substitutes click here
---
"If it ain't chartreuse, it ain't no use"
We have no idea who came up with this phrase but the fact of the matter is that it incorporates undeniable truth. Why? According to fisheries biologists, most fish can see blue-green colors readily in water. Fish in deeper water simply don't see a broad range of colors.
---
River Sandals by Simms/Keen
According to Simms these sandals are the heaviest-duty fishing sandal on the market today.
Great toe protection, plus a unique felt and rubber sole for traction.
Heavy-duty rubber toe guard
Nylon webbing/neoprene construction
Textured rubber footbed
Side-release buckle with adjustable strap
Felt/rubber sole combination
Our customers are very satisfied with this product. If you are looking for wet wading gear for the summer months click here
---
Eliminating Drag
Two essential elements, imitation (matching your fly to what the fish are taking) and presentation (delivery of the fly to the fish), are prerequisite to success. Of the two presentation is the most important. The number one reason for dry fly refusals is drag....click here
---
FLY TYING
---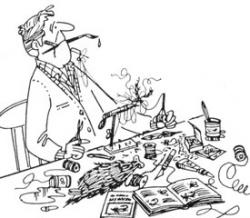 ---
Fly of the Month ~ B&G Fertile Caddis
Here is a varation on Rene Harrop's popular egg laying caddis pattern developed by Larry Jurgens...click here
---
The Black Bart has been the "go to" fly for warmwater fishing this spring. It has accounted for a huge number of Bass and Carp. Find out how to tie this simple pattern...click here
BACK CAST
---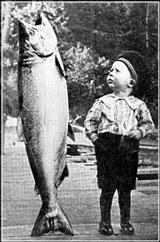 Fly fishing kayaks for saltwater have become extremely popular in the last few years. Almost a century ago an enterprising fisherman in California was the first to see the posibilities of a similiar craft.....click here
THE DEEP END
---
Time for Breakfast
---
Dry/Dropper Rigs Are Working
---
On the upper left is a record Northern Pike caught in Canada (56 inches and 55 pounds)
Click here
to see how it was caught. Below is the Colorado Pike caught by the Newsletter Editor, Paul Prentiss after several hundred casts in mid-June. He had a better one on (it was a least 2-inches bigger) but lost it.