Add Front_Range_Anglers@mail.vresp.com to your
address book to ensure our emails reach your inbox.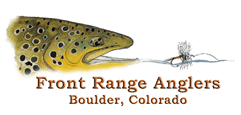 News Magazine ~ June 2009
Dedicated to bringing people and fish together
Click here for a free subscription or to
read editions dating dack to 2003
Bill Leuchten, Owner ~ Rob Kolanda, Area Manager ~ Jon Spiegel, Area Manager ~ Jay Zimmerman, Area Manager ~ Russ Miller, Webmaster ~ Paul Prentiss, Customer Communications,
Larry Jurgens, Instruction Services ~ Tyler Bowman,
Patrick Knackendoffel Guide/Staff
IN THIS EDITION
FISH TALES ~ REEL NEWS ~ DOWNSTREAM~ TIPS & TECHNIQUES ~ FLY TYING ~ FORWARD CAST ~ THE DEEP END
---
Hello All:
We are starting to see the results of 4 years of good water conditions in our streams and reservoirs here in Colorado. Antero Reservoir was all but forgotten as a productive fishery, with drought and big time winter kill closing the Reservoir from 2002 to July 2007. It has rebounded incredibly and once again is a great habitat for producing healthy fish. Thousands of healthy trout have been caught by fly fishermen this past month proving that it is a high quality angling destination. This has to be the best success story of 2009 and if you are making a trip to Antero, stop in the shop and get the scoop on the conditions and working flies.
Hope to see you,
Bill
---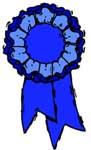 Win a C&F Designs fly box!
---
Jerry Sheets of Sanibel Island, Florida is showing off a 34-inch Snook taken in May of this year off the beach. Jerry is in the process of renewing his youthful passion for fly fishing.
"I caught this brown trout in April of last year in Rossim Lake in the mountains of Portugal using a black Woolly Bugger with an orange tungsten bead and very little flashabou in each side."....Fernando Silva
Jane Moody
, middle school teacher in Longmont, Colorado, spent a lot of time this spring chasing pike. Here's a guy who couldn't say no.
KEEP ON SENDING US YOUR PHOTOS & STORIES
click here to submit a pho

Bob Dently popped this Rainbow on the Blue River during January of '09
Joe Tassiello of Dumont, N.J. took this bonefish at Little Pine Key, Florida during April of this year. "The fish got 75 yards into the backing on his first run....YEAH!"
A few months ago David Gerich sent us several pictures of a 2008 trip to the Black Canyon during the Salmon Fly hatch. The one picture of him landing the fish was blurry and overexposed. I told him that I'd see what I could do. Via Photoshop it's now a watercolor.
Are Flounders a fly fishing target? Well you can see from the above picture taken of Gonzalo Herrero that these fish are definitely inclined to take a fly.

---
Mustad Scandinavian Open Fly Tying Competition Results
Mustad Scandinavian Open Fly Tying Competition (MSO) is sponsored by Mustad and the Norwegian fishing magazine Alt om Fiske and organized by The Norwegian Forest Museum. The MSO may be the most prestigious fly-tying competition in the world. Click here to see the 2009 winners
---
There is now an electronic version of Fly Tyer available for subscribers. If you're not a subscriber you can download two trial versions for free...click here
---
Precision Casting Saves Three
Don Elder of Gresham didn't expect to catch anything Sunday afternoon when he waded through the crowd at Oxbow Regional Park and into the Sandy River to practice his fly-casting technique.
But three people he pulled to the shoreline with a bright chartreuse and orange, salmon-strength class fly line are thankful he's getting better....read about it in the Oregonian News
---
Fishing....an Indoor Sport!

Picking a seat is as important as picking a fishing spot along a river. Not all the water in the pool is equal, as there are detectable currents from the water pump system. I glimpse shadows of fish hanging around the flowage. Already four anglers sit at different spots around the rectangle, staring at the glow-stick bobbers....read about it in the NY Times
---
Refurbishing an Able Reel
Abel Quality Products can now strip the existing finish off a reel and restore it from dings, scratches, scrapes and the ravages of time. Additionally, the Abel technicians now have the ability to change an existing older black reel to any desired color or fish graphic.
According to Don R. Swanson, president of the California tackle manufacturer "the impetus for this development came from owners of older Abel reels who wanted the original finish restored or who wanted their reel re-finished in a fish graphic design. Utilizing a proprietary 'reverse anodizing' process, we developed the technology to strip the reel down to bare metal and re-finish it."
During the procedure, minor scratches will be buffed out and the Abel reel restored to "near new condition," he added. The refurbishing process is available on Abel Super Series and Big Game models only.

Charge to refinish a high gloss black or matte finish reel is $100. Cost for a solid color other than black is an additional $50; an Abel Artistic Finish is an extra $100 and a hand-painted Fish Graphic Finish is $150 more.

For additional information or to receive a reel refinishing application form, call us at 303-494-1375 (or 866-994-1375) or email us.
DOWNSTREAM
What to look for in upcoming issues of the Front Range Anglers News Magazine
Giant Trevally or more commonly shortened to GT is a species of fish found in warm tropical waters of the Pacific & Indian oceans. The GT is the largest of the Caringidae/Jack family, reaching sizes over 200-pounds. In 2008 Bill and Annie Vanderbilt along with Chris Coiel traveled to the Seychelles in the Indian Ocean (6 days just to get there) to pursue this very special fish. While I was in Florida, I was lucky enough to see their presentation on this trip. They have graciously consented to let us to show some of the photos of this incredible adventure.
Many consider this fish to be the most agressive and tenacious fighter they have ever encountered. "When we arrived on the mother ship the guides made us take out all of our equipment. They completely inspected each rod, removed all the line and retied all the knots, and replaced all our leaders with straight 130-pound flouro."
Panfish on the Fly
---
Sight Fishing for Snook.....Norm Zeigler pioneered the sport
Norm Zeigler is an internationally renowned journalist, author, and fly fisherman. Norm's work has appeared in a wide variety of publications, including The New York Times, Fly Rod and Reel, Gray's Sporting Journal, Fly Fisherman, Eastern Fly Fishing, Northwest Fly Fishing, The FFF Fly Fisher, Florida Sportsman, The Stars and Stripes, Art of Angling Journal, Sporting Tales, Saltwater Fly Fishing, and Der Fliegenfischer. Norm is a contributing editor for Florida Sportsman and an outdoors columnist for The New York Times.

At the urging of many friends Norm opened a Fly Shop on Sanibel. If you are in the area, it's a must stop for any fly fisherman.

Norm graciously gave me permission to publish an excerpt from his 2007 book, Snook on a Fly...click here to read Why Snook?
Norm designed this fly specifically for snook and it is probably one of the most popular patterns in Florida for a variety of fish.....click here to learn more about it and how to tie it.

On May 22, 2009 I received an email from Norm about this fly and several vary large snook caught on it. One was a over 40-inches but there was a big problem....click here to read the note...Paul Prentiss
---
Last month Michael Jameson sent us a few pictures of peacock bass he caught in several Miami canals.

The canals in Broward and Miami-Dade counties hold butterfly peacock bass. The canals were stocked with 25,000 of the fish in 1984 as an experiment to control spotted tilapia, oscars, red Midas and other exotic cichlids that had become established in these waters. The experiment worked, providing the side benefit of a very good fishery for the peacocks.

Butterfly peacock bass is the smallest of the three types of cichlids. The will spawn several times in a year through the warmer months of May through August. The current Florida record for the butterfly peacock bass was caught in Kendall Lakes, in Dade County and stands a bit over 9 pounds.

The J. N. "Ding" Darling National Wildlife Refuge is located on Flordia's Sanibel Island in the Gulf of Mexico. The refuge is part of the largest undeveloped mangrove ecosystem in the United States and affords protection for some 220 species of birds.
In addition it is one of Flordia's great shallow-water fisheries. Snook, Tarpon, Redfish, Sea Trout and many other species inhabit the intricate maze of creeks, bayous, impoundments, grassflats, oyster bars and mangrove islands.
The above 30 inch Snook was taken in the refuge just after dark on a white and chartruse clouser minnow...for more information about this area click here
The time to fish is when the sun sets and the no-see-ums are out in force
---

Persuading Permit
Bruce Chard - Fly Fisher/Guide/Fly Tier
Bruce Chard is in the business of persuading permit to take his fly and he won't take 'No' for an answer. Listen to this show to find out Bruce's insider secrets of persuasion. More about Bruce Chard...
Click here to go to Ask About Fly Fishing Internet Radio
---
Fly Lines for Carp Fishing!
Does it really matter? The real question is how serious are you about catching these fish? Click here to read more
"Whenever possible I work in closely, and fish with a very short line. It is more enjoyable when I can watch the fly and observe the trout as it takes. Close in fishing no matter which fly you are using calls for stealth: no heavy tromping or careless wading. I try to approach the trout with the sun at my back as long as I'm not putting my shadow where it can be seen by the trout." ....Ed Shenk Fly Rod Trouting 1989
---
Wiper Expedition to Site X
Last Month we included a piece on Wipers in Colorado which inspired TK Conner and Jay Zimmerman to do a bit of exploring...Click here.
This video could be entitled TK's New Flats Boat which is just as exciting as the fish!
---
Click here to read this very special story from Tim Welch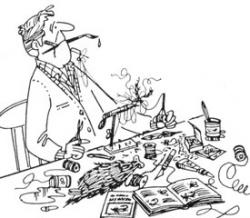 ---
Recipe
Hook:
Dai-Riki #930 Saltwater 1XL
Size:
4
Thread:
White Monicord 210
Body:
Black barred orange & yellow magnum rabbit strip (vary these colors to tan, chartruse, and off-white). Tie in just behind the eyes.
Eyes:
Black dumbell eyes secured with wraps & super glue
Top Wing:
White Yak Hair with some DNA Holo Chromosome flash (10%)
Bottom Wing:
Yellow Yak Hair
Head Finish:
Tuffleye or epoxy
Comment:
This fly is extremely durable and very easy to tie.
One of the items I took along to Florida in my fly tying kit was a big selection of barred rabbit strips in a dozen different colors. I ended up using it every day. In fact, I almost ran out of several shades. Before leaving I thought to myself it might be something worth having - it turned out to be one of the most important materials I had!
---
Timing is Everything!
Evan Jones (Fly Fishing in Patagonia: A Trout Bum's Guide to Argentina) who is currently living in Sarasota, Florida sent me this message the day after I lost a 40-inch Snook due to hook failure.
"I realize that your trip to Sanibel is coming up soon (if you're not there already...) but I wanted to let you know that I have recently "discovered" what I wholeheartedly consider to be the best saltwater hook on the market. It's the Gamakatsu SC-15 in size 1/0. There are too many benefits of this hook to list, but suffice to say that it's excellent for keeping saltwater fish on the hook. My landed-to-hooked ratio for snook has improved from 1/3 to 3/4 since I switched to using only these hooks about a month ago. If you have the chance, buy some and try them - I can guarantee that you will be glad you did."

---
eeZeeCaddis
Source: An adaptation of Tim Fox's Poopah
Go to Larry Jurgen's site to see more patterns like this and the tying instructions ...click here

Recipe
Hook: TMC 2488
Size: 12 ~ 20
Thread: Olive UTC 70
Abdomen: Dark Olive Micro Ultra Chenille - try black, tan, & chartreuse
Optional Rib: Gold UTC Ultra Wire
Wing: Tan Float-Vis
Thorax: Olive Brown Superfine Dubbing
Hackle: Dun Grizzly Whiting Saddle Hackle
Head: Tying Thread
Guide Diasters
Have you ever arranged a guided trip where the guide got lost, failed to show up, left the lunch at home, didn't know how to row and so on? We want to know what you consider to be your absolute worse experience. Click here to share the sordid details
Last month we asked for some input on this subject. Out of the thousands of recipients we got virtually no response. This means either that there was no interest, every arranged trip met every expectation, or folks were reluctant to share. We thought we'd let the question stand another month and if nothing turns up will move on to something else. After some 50 years of fly fishing these are my favorites
1. Guide forgot to show up and when he did he forgot the lunches and fly boxes. He drove back to get them and his car broke down.
2. Floating the Madison during the salmon fly hatch we didn't reach the "right spot" until very late in the day. We had only boated several fish over 7 hours. When we got into rising fish the big name guide announced it was time to pack it in.
3. While on a salwater trip the guide was impressed with my new 7-weight Sage rod and asked if he could try it. I said fine and on his first cast the rod slipped out of his hand and sank to the bottom (fortunately it was only 6 feet)
How about these from friends
1. The guide's wife could not speak english. She made lunch every day for each angler and would ask "want mayo". My friend would reply "no mayo". She thought he said more mayo so he increased the amount every day until his sandwich was 1/2 thick.
2. He told the guide the tide apears to be going but the guide told him he was mistaken and the tide was coming in. When they returened to their flats boat they were high and dry.
3. Every time the fisherman tried to set the hook on bonefish via a trout strike the guide whose English was poor murmered "trout fishee man." After several days other members of the party (all catching fish) asked if he was using a slip strike and he replied "what's that?"
"I had no idea these were so good"

Fly Tying on a Grand Scale
"I've been hooked but I can't pass up an easy meal"
Our friend J.D. Miller, a guide for Henry's Fork Anglers out of Island Park, takes a lunch break.....captured in the act by Larry Quilling of Boulder Flycasters.

Let's Leave Right Now!
Great photography by R. Valentine Atkinson www.valatkinson.com ~ Flyfishing: landscapes, action & camaraderie. Assignments, fine art, stock & photo essays. The largest stock library of quality international flyfishing pictures on the planet.