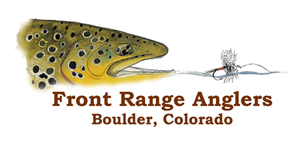 MARCH 2007
Dedicated to bringing people and fish together
---
Hello All,
A lot going on this month!

* The Boulder Flycasters Auction is tonight! This chapter is using funds raised to preserve your fisheries. Call the shop at 303-494-1375 for more info if you need it, or click the link below this note.

* We have some excellent trips and events going this spring. This newsletter gives you the opportunity to get yourself a spot for Elk Trout, Hecoma Ranch, or the Bahamas, just to name a few -- see below.

* One of the best value rods is the newsletter contest prize this month.

* Oh yeah, this fishing season is going to be great!!

Hope to see you,
Bill
---
---
THIS WASN'T MY FAULT!
While fishing on the Kern River in California Burton Paul caught a gorgeous 23-inch rainbow. To capture the moment of triumph, he turned to his girlfriend, a non-flyfisher, to take the picture.

The result was a mudfish obscured largely by his body. Burton Paul's view of the incident cannot be printed here but it consisted of words commonly heard in the military.

Send us a photo with some specifics about where, when, and how - Click Here for fame without fortune If you've got a story to go along with the picture that's even better.

We're running low on pictures ..... send one in today.



---
EVENTS
Hecoma Ranch Trophy Trout ~ $200 for 2 days
Andros Island Saltwater Adventure ~ $1,450 for 6 days!
Spring Trip to Elk Trout ~ $215 ~ NEW
Carp Tournament ~ $40 ~ NEW
Big Red Pike Trip ~ $175 - Sold Out
---
---
---
FRA CARP TOURNAMENT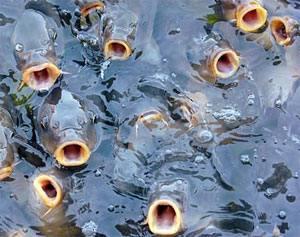 ON MAY 19, 2007 FRONT RANGE ANGLERS WILL HOLD ITS INAUGURAL CARP TOURNAMENT ON A PRIVATE WATER 30 MINUTES EAST OF BOULDER.

20 ANGLERS WILL COMPETE FOR:

FIRST PLACE - Temple Fork TiCr X - $249.95 retail value

SECOND PLACE - Ross Fly Water Reel #4 $119.00 retail value

THIRD PLACE - RIO Clouser Fly Line - $60 retail value

Fly fishing professionals (guides) are welcome but handicaps will be assigned by the judges who cannot be bribed unless the amount is significant.
---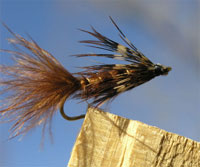 If you're planning on fishing in the Carp Tournament (see above), Mark Rayman's Carp pattern ought to be in your box.
---
---
Where to go in New Zealand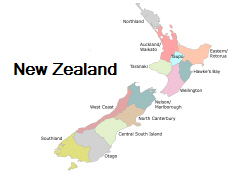 Information on where to fish throughout New Zealand is particularily well addressed by Doug Stevens on his New Zealand fishing web site which includes detailed information, with maps, for rivers, streams and lakes throughout the country.

---
Fish Eye Guy Photography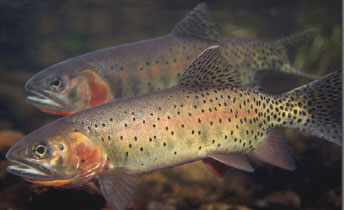 Pat Clayton at Fish Eye Guy Photography located in Big Sky Montana has some incredible underwater trout shots which are worth a look. They can be purchased on line at very reasonable prices.
---
If Money is no Object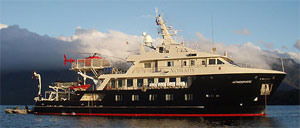 Nomads of the Seas revolves around the Chilean Patagonia with a new approach to fly fishing, ecotourism and cruises. It combines these components into one-week 'extreme' fly fishing adventures for a limited number of guests using a mother ship in combination with launches and helicopters. You'll be fishing for trophy brown, rainbow, and brook trout plus silver and king salmon with your guide. On board the mother ship you'll have a spa, wine tasting, and gourmet cuisine to deal with.
---
Limited Edition Ross Reels - Pink & Slate Blue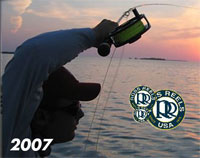 Ross Reels is offering two unique products in April 2007.
---
Conversion Kit


How about turning your Temple Fork 9-foot 7/8 rod into an 11'3" two-handed rod.
---
VIEW FROM THE PAST
In the early 1980's a non-vest was introduced that was a forerunner of many of the current fishing vests.
---
---
Bass Bugs are Tim Jacobs Speciality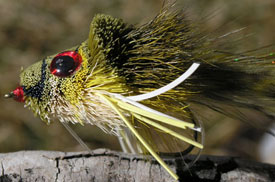 Tim Jacobs did a clinic at Front Range Anglers the first week in March. His patterns are something to behold!
---
Fly Turner

If you tie warmwater and salt water flies using epoxy, this do-it-yourself setup is a must.
---
OBSERVATIONS AND ADVENTURE
---
COSTA RICA...Sailfish dreams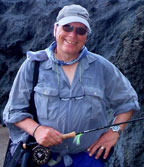 The fish you didn't catch can stay with you always...Paul Prentiss
---
10 Scariest Fish on the Planet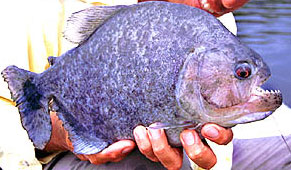 Keith "Catfish" Sutton put together this special for ESPN Outdoors.com Feb. 28, 2007
---
THE END!
Pishtech recently released the 3rd. edition of their "photo realistic fly fishing simulator game" titled "Real World Fly Fishing."
---
---
If you no longer wish to receive these emails, please reply to this message with "Unsubscribe" in the subject line or simply click on the following link: Unsubscribe