Newsletter ~ March 2008
~ Dedicated to bringing people and fish together ~
IN THIS EDITION
FISH TALES ~ REEL NEWS ~ PROFILES ~ TIPS & TECHNIQUES ~ FLY TYING ~ BACK CAST ~ THE DEEP END
---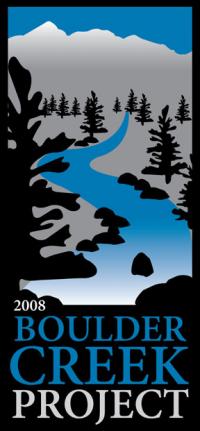 Hello all,

A lot going on here! One spot left for the March 22nd Grey Reef trip. The timing should be perfect since they are flushing it just prior. Click here for more information.

You can now enter the 2008 warmwater classic. Check out the prizes! Even if you are not into the contest, nothing like fishing a great private warmwater fishery. See below for more information.

Fly Tyer and Fly Fisher extraordinaire Rob Kolanda is offering a one-evening class on tying BWO's. This is the bug to know if you're in CO -- click here to sign up.

Spaces are still available for the Entomology class "Fly Fishing ABCs", which we offer in conjunction with Patrick Tennyson and the Butterfly Pavilion. See below for more info.

This month I wanted to bring your attention to a project that our shop and the local TU chapter have been working on. It's called the Boulder Creek Enhancement Project and it involves the restoration of a 1/2 mile of stream 9 miles outside of Boulder. The objective is to return this portion of the creek to its original condition and ensure that sufficient holding water is available for low winter flows. In addition, it will offer the first youth outdoor stream education site in this area.

We're pretty excited about it and we doing our part by donating a Ross Essence FS fly rod in a 3,5, or 7-weight - a $150 value for every $300 donation.

I think it's imperative for all of us to do our part in improving the fishing resources for the next generation.

Best Regards, Bill
---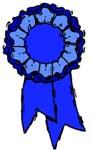 Win a Fishpond Jackrabbit Briefcase!
---
When Trevor Bennet caught this Giant Travally on Christmas Island in January of this year, it moved through 350 yards of backing in a flash.
---
KEEP YOUR PHOTOS & STORIES COMING

click here to submit your photos!
---
Gary Morrison decided to give steelhead fishing a go last year on the Klicitat River in Washington State. He liked the outcome - 32-inches and 8 to 9-pounds
---
Europeans have always been enamored with Carp Fishing. American Fly Fishermen are catching on fast. Did you know there's more money spent on carping than all fly fishing. According to one source it's up to $6 billion!....click here to see more
---
Join Front Range Anglers on Grey Reef ~ March 23 to 23, 2008
In cooperation with the North Platte Lodge/The Reef Fly Shop we are offering a one day guided trip plus overnight lodging on the Grey Reef section of the North Platte in Wyoming at a bargain price of $280.....click here for more information.
---
PRIZES FOR BASS & CARP
***********************
First Place Bass - Sage Bass Rod w/line ~ $350 value
Second Place Bass - Smith/Action Optics Sun Glasses of your choise ~ $200+ value
First Place Carp - Ross Rod of your choice ~ $200+ value
Second Place Carp - Rio Gold Fly Line plus Fluroflex Tippets
~ $80+ value
***********************
LIMITED TO 20 ANGLERS
$50 REGISTRATION FEE
APPLY NOW CLICK HERE
---
Average Snowfall in Colorado Looks Great!
THE RESULT = A healthy scouring of streambeds, plenty of water for spawning fish, a season that will stretch into fall.
---
Fly Fishing ABC's....hatches & how to imitate them
In collaboration with the Patrick Tennyson of the Butterfly Pavilion, Front Range Anglers is pleased to offer a unique clinic on aquatic insects found in local waters.
Date: April 26
Time: 9:30-3:30
Find out more about this class and why you should consider taking it...click here
---
Kid's Fishing Day
Mark your calendars for St. Vrain Angler's Kid's Fishing Day that has been scheduled for May 31, 2008 between 9:00 AM & 1:00 PM at Izaak Walton Pond, Longmont, CO. There will be individual casting instruction and fly fishing for kids 8 to 15 years old.
The chapter has fishing rods available for those in need of equipment. There will be plenty of free hotdogs for participants...click here for more info
---
New Line From RIO
The Selective Trout II fly lines are available with a unique weight forward or double taper profile, made especially for selective trout fishing in all weather conditions. The weight forward line features a long front taper for feather-light dry fly presentations, and an extended rear taper for effortless roll casting and mending. RIO has reinvented the double taper by increasing the weight slightly behind the front taper to turnover the long front taper and longer leaders with ease.
This new line coating eliminates line memory and aids in the softest of presentations. These attributes make the line a perfect choice for bamboo and softer action fly rods.....we now have it in stock.
---
Are you up-to-date on fishing regulations in different parts of the US? We're pretty sure you're not aware of these...click here
---
"The two best times to fish is when it's rainin' and when it ain't."
....Patrick F MacManus
---
.
JAWS Revisited
When the crew members of the Dawn Raider out of Ocean Shores, Washington reeled in this Great White they didn't realize that the fight was just getting started....click here
---
Jon Spiegel ~ "if it's a fish it can be caught on a fly"
We have so many customers that we never get a chance to meet. We thought you might like to know a little bit more about us. Over the next few months we are going to introduce you to the crew that makes Front Range Anglers one of the very best shops in the country.
Jon grew up in the Front Range Anglers Fly Shop. He started working the counter and giving customers advice at age 20.
He was born and raised some 8 miles east of Boulder in Louisville. By the age of 12 Jon was exclusively a fly fisherman and was one of those kids destined to work in the fly fishing industry - no other career made sense.
Now in his late-20's Jon is a shop manager and is the go-to-guy when you want to get detailed information/opinions on gear. He's on the pro staff of Ross Reels, Whitting, and Scientific Anglers. When time permits, he develops fly patterns for Solitude Fly Company.
Jon's range of expertise covers both freshwater and warmwater, plus he is an experienced saltwater fisherman. He is on the water day or night at least 150 days a year. He is always on the lookout for unique trips to various destinations. If you are looking for something different in the way of a do-it-yourself program give him a call.
---
Wipers, the hybrid cross of white bass and striped bass, rank among the hardest fighting freshwater game fish and they are very accessible to Colorado anglers. During the spring these open water fish prowl the shallows of our warmwater reservoirs.

Rob Kolanda at Front Range Anglers is an avid fan of Wiper fishing and has put together some indepth information on pursuing these fish...click here
The DOW has a good video on wiper fly fishing here as well as a good article here.
---
Spotting a Novice


When installing backing on your reel you don't want too much or not enough - read the reel capacity chart that's included with the reel or call a fly shop if it's a mainstream product.
The backing should be installed by pulling it off a revolving spool. If the spool is laid flat on the ground and the backing coiled off (as when filling an open-faced spinning reel), it will twist and become tangled
Place a blunt pencil through the center of the spool of backing, so that the spool will rotate around the pencil. Then place pencil between your knees. With the end of the backing tied to the reel, reel the backing onto the reel from the backing spool preferably through your fingers to apply tension while loading the line and to load the backing evenly onto the reel.
Attach the flyline to the backing by using an Albright knot - see right (6 to 8 turns works fine)
There is a simpler way - bring the reel into Front Range Anglers and we'll load it with the proper backing and make all the proper knot connections.
FLY TYING
---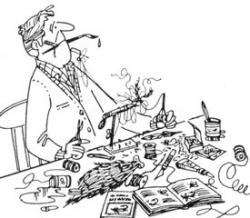 ---
The Eat Me Fly
It's not just a saltwater fly...click here
---
Jay's Special Patterns
Last month when we did a profile on Jay Zimmerman, but we forgot to create a link to Jay's recent set of patterns...click here
---
RIBBIT!
After looking at the Blair Mouse Project in the February Newsletter, Scott Vaughn from Fair Oaks California had a couple of frog patterns to share.
We love to get patterns and recipes from our readers. If you have something to pass along click here.
---
"Ten years from now I plan to be sitting here, looking out over my land. I hope I'll be writing books, but if not, I'll be on my pond FISHING
with my kids. I feel like the luckiest guy I know".....John Grisham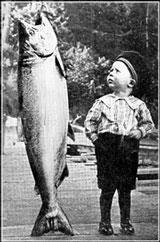 In 1915 Ray Smith started a company in New York which radically changed fly fishing in 1953 by introducing the 333 floating line....click here
THE DEEP END
---
Flotation foam makes the Hydra Spyder from Cool Amphibious Manufacturers International an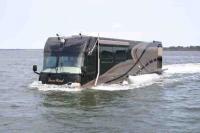 unsinkable amphibious vehicle. Its no slouch with a Corvette 450 H.P. fuel injected engine.
If you're into something for an extended fishing trip take a look at their campers