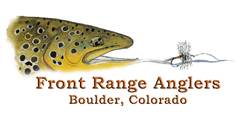 Newsletter ~ May 2008
~ Dedicated to bringing people and fish together ~
IN THIS EDITION
FISH TALES ~ REEL NEWS ~ PROFILES ~ TIPS & TECHNIQUES ~ FLY TYING ~ BACK CAST ~ THE DEEP END
---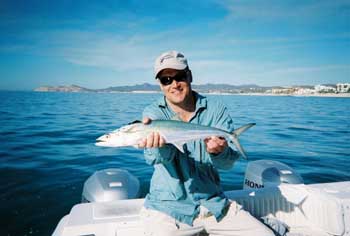 Hello all,
There are still spaces available for Rob Kolanda's next specialty fly tying class: CALLIBAETIS TYING SESSION, on May27th. Click here to register. I also encourage you to take a look at the Warmwater Classic we have coming up on May 31st. For many of us, fly fishing isn't usually a competitive sport, but this is a great way to get on private water for an economical price, plus you have the chance to bring home some prizes. See below for more details, or click here to register.

Patiently waiting for runoff ---
Hope to see you,
Bill
---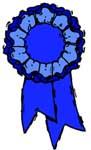 Win a C&F Designs 14-row Fly Box!
---
Bill Schorger boated 10 Roosters in Cabo this last season on one memorable day.
---
Here's a 9-pound Snook caught by Dan Fink on a jungle river in Nicaragua in early 2008. The fish took a Lefty's Deceiver fished deep. We understand he was outstanding served with fried plantains, gallo pinto, and salsa verde. Naturally, he came with a side of fresh lobster.
---
Ales Sajovic from Slovenia was kind enough to send us the above shots of two fish taken on a streamers in his country. The first is a Sea Trout and the second is a Huchen.
KEEP ON SENDING US YOUR PHOTOS & STORIES

click here to submit a photo
---
While most of us were glued to the TV set on February 3, 2008 Matt Sanderson (top) and Matt Lang (bottom) were busy on the Blue River
---
Paul Prentiss of Front Range Anglers was back in Florida (second trip in April) for Snook and Sea Trout on Captiva
---
Will Blair showing off a Kanchatka Rainbow...read his log book entries for July of 2007 .... click here
---
May 31, 2008
PRIZES FOR BASS & CARP
***********************
First Place Bass - Sage Bass Rod w/line ~ $350 value
Second Place Bass - Smith/Action Optics Sun Glasses of your choise ~ $200+ value
First Place Carp - Ross Rod of your choice ~ $200+ value
Second Place Carp - Rio Gold Fly Line plus Fluroflex Tippets
~ $80+ value
***********************
LIMITED TO 20 ANGLERS
$50 REGISTRATION FEE
APPLY NOW CLICK HERE
THINK ABOUT IT...you get to fish on private water which generally costs several hundred dollars a day, pick up new skills, compete for $1,000 in prizes, and have a great experience for $50!
---
"I fish better with a lit cigar; some people fish better with talent." ...Nick Lyons
---
Patrick Knackendoffel ...."I was born ready"
Raised on Colorado's Western Slope, Patrick was introduced to fly fishing by his father at eight years of age on Grand Mesa and the North Fork of the Frying Pan. He learned to ski at Powderhorn and to hunt ducks on Colorado River.

With a fly rod in hand, he attacked warm water ponds along the Colorado River adjacent to his home in Grand Junction. He accompanied his father on annual pilgrimages to the Gunnison Gorge during the Salmon Fly hatch. "When I was about 13, my father caught the saltwater bug and was chasing tarpon, bonefish and permit whenever he could. I was lucky enough to go on some trips through Western Anglers in Ambergris Caye, Belize, Andros Island in the Bahamas, and Christmas Island." His interest in and passion for salt water fishing continues to grow.

"The summer I turned 17 was spent climbing and backpacking in the Wind River Range of Wyoming, first as a student, and then as an employee of National Outdoor Leadership School. During my senior year, I started working at Western Anglers Fly Shop in Grand Junction. Before I knew it, I was immersed in the fly fishing industry through retail, retailer shows, events, and then guiding."


Patrick is currently attending the University of Colorado in Boulder where he is pursuing a BA in Geography. Once on the Colorado's Eastern Slope it didn't take him long to discover Boulder Creek, the Big Thompson, Rocky Mountain National Park and the abundance of other options.
There was only one thing he needed: a place to work and guide. Front Range Anglers was the answer and the best possible choice for someone with his skills and interest.
Patrick.knackendoffel@colorado.edu ~ Cell 970-210-8745
---

Jay Zimmerman & T.K. Conner of Front Range Anglers decided to check out some wiper fishing at the end of April. These 24-inch fish indicate that the action along Colorado's Front Range is turning on in a big way!
---
The Big Thomson has been Red Hot
The Big T has been fishing extremely well all spring. In mid-April two and three fly nymphing rigs with at least one small (size-18 to 20) red fly - Copper John or midge larva have been very deadly. Some surface action can occasionally be found on midge imitations like the black beauty in size-22 fished on top or just below the surface.
---
American Museum of Fly Fishing
....Video Collection

Established in 1968 in Manchester, Vermont, the American Museum of Fly Fishing was created to preserve and exhibit the treasures of American angling. The collections and exhibits thoroughly document the evolution of fly fishing as a sport, art form, craft and industry in the U.S. and abroad, dating as far back as the 16th Century. Rods, reels, flies, tackle, art, photographs, manuscripts and books form the major portions of the Museum's collections.
They have added a series of on-line videos featuring some of the pioneers in the fly fishing industry. You will find some of the round table discussions about the development of the sport fascinating....click here
---

It had been three years since Bob and I spend a week on the Big Horn during April. Our objective was to fish the Blue Wing Olive hatch - we weren't disappointed .....click here
---
Guidelines for Tipping Your Guide
You might be surprized by the number of anglers that don't have a clue about guide compensation/expenses and what constitutes a reasonable gratudity. Wallace Westerfield, a Front Range Anglers Guide, has a few thoughts on this matter....click here
---
In cooperation with The Best of Kamchatka partners, William Blair and Victor Rebrikov, Front Range Anglers is in a position to offer its customers a limited number of spots for the 2008 season.
With 32 years of combined outfitting experience, The Best of Kamchatka partners take 40 anglers every year to fish the two finest rivers on the Kamchatka Peninsula in Russia. Large surface feeding rainbows plus Salmon, Grayling and multiple species of Char are the target. We're talking Rainbows that reach 30-inches!
To get a taste of this unique adventure click here to read Will Blair's July 2007 log entries.
---
This unique adventure is $5,850.00 per week, per person which includes all round-trip travel from Petropavlovsk, Russia to The Best of Kamchatka camps, all river lodging, meals, guide fees, use of all watercraft, limited terminal tackle, and beverages including beer and vodka. Contact us for specifics...click here
---
Spotting a Novice


What's the worst mistake in dry fly fishing? Is it poor casting, picking the wrong pattern, using the wrong leaders or one of the 100 remaining choices?

My vote is poor presentation.

--There is generally only one ideal position for presenting a dry fly…figure out what it is before casting.
--
Minimize excessive wading, it just puts fish down no matter how careful you think you are.

Try to get to where you want to go by looking for stream features that will mask your movements.
--If you are fishing to risers pick your target on the basis of location and then size.
--Learn how to make different and accurate casts and how to handle long leaders.

Don't over-do false casting.

Understand your casting range and limitations.
--When you can, keep a low profile and wear drab outfits.
--above all OBSERVE & THEN ACT
FLY TYING
---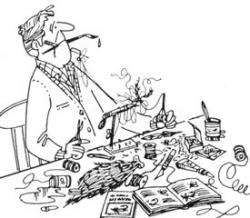 ---
Warm weather in late February got us talking about spring fishing. Somehow the conversation turned to who would catch the first carp of 2008. This ultimately led to a pool - $10.00 each for the first fish caught after March 1, 2008.

Rob Kolanda blew us away while we sat around and drank coffee on March 1, 2008. Click here to see his pattern
---
Must Have for Salt Water Fly Fisherman

It's designed for the serious salt water fly tyer and it has very different approach. The typical fly tying book or magazine focuses on the fish and then the flies. Aaron Adams focuses on the prey relative to its geographic range, characteristics, preferred habitat, and size. Then he matches this information to the appropriate fly patterns.
This is an excellent reference book even if you don't tie.
His underlying message is that saltwater fishermen need to think about tying more specific flies based on habitat, location, and season as opposed to simply generic attractors.
---
Jay's Thunder Grub...Colorado Style Czech Nymphing
---
"There's a fine line between fishing and just standing on the shore like an idiot." ... Steven Wright
THE DEEP END
---
Dream House Found .....divorce certain
It's at the mouth of a small bay at on North Captiva. Unlike many structures in the area, it has weathered many storms and hurricanes. Built as an Ice House at the turn of the century it has no modern conveniences except a generator to keep the beer cold and ice available for rum drinks. You can swim or wade (low tide) to the beach which is some 25 yards distant. There are no phones, clocks, sattelites, TVs, etc. It has three rooms - living/kitchen, sleeping area with bunks, and a tool room/shop. Water is collected off the roof and stored in a large wooden cistern. Under the pilings are schools of snappers and jacks with Tarpon, Snook, and Sea Trout 5-minutes away. At the end of the day one watches the sun go down with a cold beer and cuban cigar.
---
Can You Imagine a Leak!