Newsletter ~November 2007
~ Dedicated to bringing people and fish together ~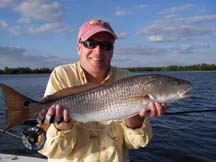 Hello All:
We are rapidly approaching our fly tying and rod building season. Check out our current offerings for classes: click here. We also have a great lineup of free Saturday morning fly tying clinics -- see below or click here for details.
I wanted to remind you that I'm a certified FFF casting instructor, and I offer private lessons through the shop. It seems like the end of the season causes people's interest in casting lessons to die down, so I'd like to offer a 20% off discount for one-on-one casting lessons through the end of the year. The off-season can be a great time to hone your skills and rid yourself of any bad habits that you might have picked up along the way. Drop me a line if you're interested.
Have a great holiday this month --
Hope to see you, Bill
---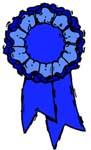 Win a Waterworks Lamson Under(wader)wear Top!


---
Mark Riley seems particularly pleased with this Colorado River Rainbow taken during the October FRA trip to Elk Trout. A beautiful fall day coupled with spectacular scenery didn't made for a very special trip, right?
---
KEEP YOUR PHOTOS & STORIES COMING

click here for fame without fortune
---
John Fronzack found similiar opportunities on the same Elk Trout trip
---
Albert Chan found that his Winston Boron II x was up to the task
---
The River Tyne is considered to be one of England's best salmon streams. Robert Donald decided to give his new fly reel bit of a workout in October.
---
Hall of Shame
This area that has been set aside for pictures of events that one would like to forget but have been captured digitally by "friends". They have been reduced in size to minimize embarrassment but can be seen clearly by clicking on them.
There's got to be someone out there who needs to be exposed click here to help someone you know
ACTIVITIES
---
2008 Front Range Anglers Clinic Schedule
All clinics are free and open to the public. Time: 10:00am.



12/1/07

Maurice Blackman

: Steelhead


12/8/07

Tim Heng

: Fishing the Roaring Fork Valley


12/15/07

Mark McMillan

: TBA




12/22/07

Steve Johnson

: TBA




12/29/07

Chris Conway

: Rocky Mtn. National Park




1/5/08:

No Clinic

- Fly Fishing Show




1/12/08

Dave Student

: TBA




1/19/08

Barry Reynolds

: Pike Clinic




1/26/08

Jay Zimmerman

: Carp Fishing and Flies




2/2/08

Brian Schmidt:

TBA




2/9/08

Willie Tiefell

: Warm Water Fishing




2/16/08

Patrick Tennyson:

Intelligent Fly Pattern Choice/Design for Local Waters




2/23/08

Al Makkai:

TBA




3/1/08

Sue Armstrong

: TBA




3/8/08

Mark Rayman

: TBA




3/15/08

Jon Spiegel

: TBA




3/22/08

Ken Iwamasa

: TBA




3/29/08

Char Bloom

: TBA




4/5/08

LA Garcia

: Rod Building Tips




4/12/08

Todd Hosman:

Book Signing and Presentation
---
NEWS and NOTES
---
Massive Salmon Caught & Released
On October 13, 2007 a Salmon that may have weighted between 75 to 100-pounds was caught on the River Ness near Inverness. It was reported to be was 56 inches long and 50 inches around the girth. Because the weight could not be verified (couldn't be weighed on available scales) the fish will not displace the record set 85 years ago by the daughter of a Scottish ghillie, Georgina Ballantyne, who caught a salmon weighing 64lb in 1922 in the River Tay in Perthshire.
Ghillie Grant Sutherland, who witnessed the catch, told The Scotsman: "I have never come across a fish like that before.
"The man who caught it was an experienced angler and his reaction was one of shock - it took about 45 minutes to land."
---
What's a ZXL?
You probably know that Sage discontinued the SLT. Introduced in 2001, this model was a progressive taper and considered medium to medium-fast action. The same G5 technology that powers the new Z-axis introduced in 2007 (the XP replacement) is incorporated in the new ZXL. they are significantly lighter, stronger and easier to cast for those who enjoy the relaxed rhythm of a progressive taper.
All ZXL rods feature a narrower grip for increased comfort and feedback, slim-line nickel silver and rosewood reel seats, ultra-slender blanks and a deep "pomegranate" color. If you're looking for a rod that is well suited to making delicate presentations this one ought to be on your list.
---
In our family, there was no clear line between religion and fly fishing. We lived at the junction of great trout rivers in western Montana, and our father was a Presbyterian minister and a fly fisherman who tied his own flies and taught others. He told us about Christ's disciples being fishermen, and we were to assume, as my brother and I did, that all first-class fishermen on the Sea of Galilee were fly fishermen and that John, the favorite, was a dry-fly fisherman....
Norman Maclean, A River Runs Through It
---
Shark Skin....Zing is the sound you hear while casting

At the Fly Fishing Retailer Show in September I was given Scientific Anglers new Shark Skin line to try out. Utilizing a new, patented process, Scientific Anglers has embossed the surface of this line with a sharkskin like pattern that interrupts the drag. Does it work? Its truly amazing if your thing is long distance casting. According to SA "Sharkskin technology is a precise texturing process that embosses the surface of the fly line coating with a repeating geometric micro-pattern. The finished surface is no longer smooth, no longer exhibits unwanted line flash, and can be optimized via the engineered shape, depth, and frequency of the pattern to yield greatly improved line-to-water floatation, casting performance, and overall line suppleness and durability." If long distance casting isn't enough, the line sits higher on the water due to the pattern. SA's explanation is that "the micro texture greatly increases the upward meniscus force through a combination of the water's interaction with the new surface and the trapping of air into the valleys of the texture. The result is an over 200% improvement in resistance of the line to be forced into the water….effectively improving "floatation" of the line significantly beyond anything that can be achieved through the addition of glass bubbles or surface chemistries." Other benefits include no flash while casting and extremely long life (according to the rep, 3 or 4 times the norm).
Is the $99.95 investment worth it for the chartreuse and blue heron colored lines? Yes, if you're after optimal performance.
---
Wet Fly Reference
Frank Amato Publishing has released another great reference book from written by Allen McGee, Tying and Fishing Soft-Hackled Nymphs. The book includes a set of great photos, and well written text explains how to imitate sub-surface aquatic insects using both traditional and modern soft-hackled nymphs and flymphs along with the most effective presentation techniques. McGee explores effective thread and translucent fur body material combinations, as well as game-bird hackle collars causing these flies to take on life-like properties. It includes coverage of everything from the tools & materials needed to tie these flies through to how to fish a particular pattern in the appropriate angling circumstances. Highly recommended by Front Range Anglers.
---
Internet Fly Fishing .... the new media scene
The Internet is having a profound impact on the so called 'quiet sport' of fly fishing. Much has been written about the impact of the Internet on our professional and personal lives relative to access to knowledge, purchasing products, communicating with others, and so on. Estimates on worldwide usage are 700 Mil of which the US is said to be 165 Mil. What does this have to do with Fly Fishing?
Click here
---
TIPS and TECHNIQUES

---
Easy Curve Cast
Making a curve cast is used (upstream or down) when you want a fish to see the fly first. To make a left curve (assuming your right handed), cast sidearm and slighly overpower the cast with a sharp stroke with a very slight stop. Inertia will make the line and leader hook to the left as the cast straightens out. For a right curve simply put the rod in a 45-degree angle to the left side of your head with the same kind of stroke. Curve emphasis can be added by a reach.
---
Why Buy an Intermediate Line
Many anglers believe that only they only need one line -- a floater. Here are several reason why this is shortsighted decision.....click here
---
Spotting a Novice

Experienced fishermen always net a fish head first so that its last burst of energy propels the fish into the net, and not away from it. It is imperative that you don't try to net the fish too early, tail first, or in fast current.
---
Of course, now I am too old to be much of a fisherman, and now of course I usually fish the big waters alone, although some friends think I shouldn't. Like many fly fishermen in western Montana where the summer days are almost Arctic in length, I often do not start fishing until the cool of the evening. Then in the Arctic half-light of the canyon, all existence fades to a being with my soul and memories and the sounds of the Big Blackfoot River and a four-count rhythm and the hope that a fish will rise....
Norman Maclean,
A River Runs Through It
---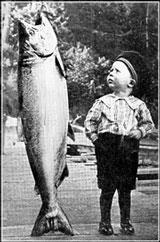 Looking Back
Color catalogs will never be worth the money! Dan Bailey thought they just might improve sales.....click here
---
You've Got to be Kidding!
---
Not Available for Purchase by Big Horn Guides
---
The End
---