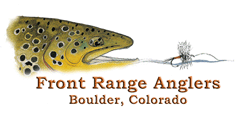 Newsletter ~October 2007
~ Dedicated to bringing people and fish together ~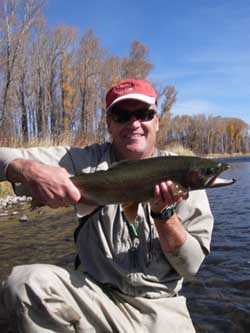 Hello All:
We lucked out at Elk Trout this week with perfect 60 degree sunny Fall weather, and the fish were happy to cooperate with us as well. That was the last trip to Elk Trout for this season, but we'll be heading back that way in the spring.
Is it just me or is the speed of new products hitting the fly fishing market making your head spin? Sage is coming out with a bass/warmwater only rod; SA has a $100 fly line that shoots farther than anything I've ever seen; Ross is branching out into the fly rod market with a high performance/lost cost rod; GoreTex has lightened the fabric which has broad implications for all products that utilize this technology -- this is not your grandpa's sport any more. The Retail Show this past month brought together the top manufacturers in the industry, and none of them are taking a break from their Research & Development pursuits this year. What this means for the average angler, is that you're going to be able to get a lot more quality and innovation for your money. We rarely focus on products in the newsletter, but we'll be highlighting some of these new options in future issues, and we're always available by phone or email if you have questions.
Hope to see you, Bill
---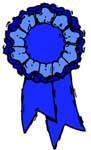 Win a 5 weight Rio Gold fly line. Try this fantastic new 2008 fly line!
---
Chris Lohne spotted a Palomino Trout moving out from under a bridge to feed while fishing at Three Forks Ranch on the Snake in Northern Colorado.
---
KEEP YOUR PHOTOS & STORIES COMING

click here for fame without fortune
---
Anthony Naranja, Captain of Fly Fishing Team USA, spent time in Poland fishing with one of the coaches prior to the World Championship in Finland
---
Our friend Emiliano from Italy landed the largest grayling of his life on his new
Z-Axis rod
Stop in and try one out or give us a call and we'll tell you why we think its one of the best products Sage has launched. Click here for more info.
---
Marv Woolf (right) and friends traveled to SE Alaska last month to enjoy fishing for large rainbows
---
Hall of Shame
This area that has been set aside for pictures of events that one would like to forget but have been captured digitally by "friends". They have been reduced in size to minimize embarrassment but can be seen clearly by clicking on them.
Shawn Larson wanted his friend Glenn recognized for his ability to land fish
Kurt Finlayson passed along a picture of Paul Roubidoux's daughter on a recent outing in Southern Idaho.
There's got to be someone out there who needs to be exposed click here to help someone you know
ACTIVITIES
---
2008 Front Range Anglers Clinic Schedule .... click here
---
How about this line up
Sue Armstrong

Tucker Bamford

Marty Bartholomew

John

Betts

Joe Brenton

Charlie Craven

Pat Dorsey

Greg Garcia

Tim Haller

Kent Higgins

Jonathan Keisling

Al Makkai

Chaz Matsumoto

David McElwain

Richard Mead

Jim Neiberger

Al Noraker

Elden "Mac" Packer

Richard Pilatzke

Chuck Prather

Frank Prekel

Allan Reyes

Barry Reynolds

Bill Searles

Steve Schweitzer

Bob Shaw

Hyrum Taylor
November 8th – Thursday – 6:30-9:30pm
Terrace Gardens at Dove Valley
13065 East Briarwood Avenue - Englewood
Contact: Travis Barker (303) 981-2590
---
What's Hook.tv?
Hook.tv is a video sharing community put together by John Dietsch of Castle Creek Productions in LA. "We built it so that people who enjoy shooting digital video and showing it to other people have an easy and fun place to do that. So if you want to share video with your friends and family, get some feedback on your work from a community of other videophiles, or just look at some cool video, you join us at Hook.tv."
It deserves a close look because they've got great clips on a wide
variety of subjects.
Check this out by clicking on the picture
It sure beats watching the idiot box!
---
The Explosion of Internet/TV Shows Continues
Outdoor Channel has announced six new fishing shows that will launch in 2007 and 2008.: Ultimate Match Fishing, Ultimate Match Fishing - College Edition, Western Sportfishing with Lee Horsley, Offshore Adventures, Outfitters Almanac, and Ultimate Outdoors. The shows vary in theme from personal stories by world-traversing guides, to real-life adventures at sea, to head-to-head angler competitions.
---
It's Back.....Much Bigger Than 2006
The 2008 Fly Fishing Film Tour will be hitting big screens across the country this winter!
This years tour will screen at 70 venues to over 20,000 people and is the biggest fly fishing film event in the country. Show dates TBA.
Boulder Theater
http://www.bouldertheater.com/
2032 14th Street Boulder Co
Doors Open: 7:00 p.m.
Show Starts: 7:30 p.m.
For more information click here Watch some of the video footage that has been sent in to AEG click here
---
OOPS Wrong Fish!
DENVER—A 20-year government effort to restore the population of an endangered native trout in Colorado has made little progress because biologists have been stocking some of the waterways with the wrong fish, a new study says (according to my sources the info has been known for about a year). Biologists called the finding a setback and a potential black eye. Read the latest article in the Denver Post click here and the followup by Charlie Meyers...click here
---
NEWS and NOTES
---
National Fly Fishing Championship Results

The existing team dominated but four new anglers were selected including Rob Kolanda of Colorado...click here
---
World Record Rainbow Caught
Adam and Sean Konrad (identical twins age 26) who live in Canada spend considerable time chasing huge trout. They both have line-class records for rainbow trout as recognized by the International Game Fish Association.
On June 5 at Lake Diefenbaker in Saskatchewan Adam hooked and landed a Rainbow that was 43.6 pounds, 38.75 inch in length and a girth of 34 inches. If approved by the IGFA it will hold the all-tackle world record for rainbow trout, eclipsing the 42-pound, 2-ounce standard that was set by a boy, David White, in June 1970 on Alaska's Bell Island.
If you want to read the specifics you can do so at trophytroutguide.com...click here
---
Fish and men get in trouble when they open their mouth....sign behind a bar in Montana
---
IGFA Fishing Hall of Fame 2007 Additions
The class of 2007 includes Joan Salvato Wulff, the quintessential lady fly angler and instructor; Homer Circle, the dean of outdoor writers; Gary Loomis, a gentleman who revolutionized rod making, and two extraordinary bill fishermen, Dr. Ruben Jaen and Capt. Peter B. Wright. The honorees were selected for the important contributions they have made to the sport of fishing through angling achievements, literature, the arts, science, education, communications, inventions or administration of fishery resources.
---
To excel at this sport (fly fishing) you must embrace change.....John Berry
---
Watching a Fisherman Grow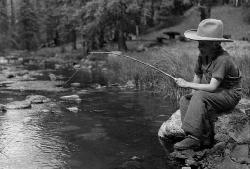 This is the kind of story we love to tell because it gives us great hope for the future of our sport...click here
---
TIPS and TECHNIQUES

---
A New Magazine for Fly Tiers
...Hatches
Material list for the Olive Czech Nymph by Jan Siman

Hook: Shrimp any type, size 8-14
Thread: White Hyperfine thread
Weighting: Lead wire, the size depends on the hook size and weight of the fly
Abdomen ribbing: Pearl tinsel
Back shield ribbing: 0.15 mm (5X) light grey monofilament
Abdomen: Siman Czech Nymph Body Dubbing - olive or Siman Softdub JS Dubbing #35 olive
Hot spot: Fluo pink dubbing or dubbing brush
Thorax: Dark dubbing (black thorax dubbing) or Siman Softdub Squirrel Plus #05 black
Back shield: Siman Magic Shrimp Foil #08 Light Brown
---
The King Sling Knot....a good heavy fresh and saltwater option
---
Should I Buy a Rotary?
This decision is one of personal preference. The advan­tage of the rotary vise is that it speeds up any tying steps that involve wrapping mate­rials or thread around the shank of the hook. For example, many flies are built by tying in lots of hackle and/or wound bodies of quill, dubbing, chenille, etc. If you find those steps to be slowing you down, perhaps you would find a rotary vise attractive. If possible, sit down with some­one who is proficient with a rotary vise to show you its advantages. There's a DVD called Rotary Fly-Tying Techniques that will help you use it more efficiently. Many tiers (myself included) are not rotary fans but this is largely due to how we started tying.
.
---
Spotting a Novice

A nimrod wearing a logoed shirt from a mass merchandiser walks into a fly shop with a set of USGS maps and asks if one of the employees could take a few minutes to point out all the good fishing spots.....actually happened!
---
The charm of fishing is that it is the pursuit of what is elusive but attainable, a perpetual
series of occasions for hope.....
John Buchan, Lord Tweedsmuir
---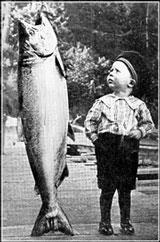 Looking Back
Almost 30 years ago it was start of the art gear for still waters...click here
---
You've Got to be Kidding!
---
---
Graham Owen is at it again. If you haven't seen his creations click here
---
The End
---