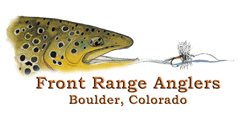 Newsletter ~ May 2007
~ Dedicated to bringing people and fish together ~
Greetings,

Warm water fisheries are starting to light up here in CO. FRA staff members are starting their annual pursuit of big bass and carp and they are equally determined to find that off-the-beaten -path pond.

There are still some spots left in the just for fun carp tournament. This is a great way to get on a private warm water fishery for only $40. Just for those who get scared off by the word "tournament" remember, there is no way to "lose" a fishing contest.

Bill Leuchten

The FRA Newsletter Quiz Prize for May is a Scientific Anglers fly line of your choice!


---

This Permit was taken on a tan colored Merkin in the Florida Keys by Chris Lohne. He connected with 7 and landed 4...I'm ready to sign up for lessons!

---

KEEP YOUR PHOTOS & STORIES COMING

click here for fame without fortune
---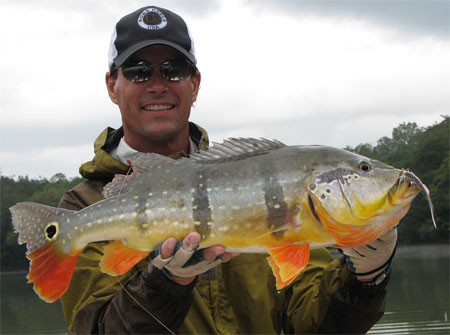 Van Rollo of Mountain Sports Inc. represents many of the premier products carried by Front Range Anglers. He sent us some shots of his most recent trip to the Amazon. For more info on Peacock Bass fishing see the article below.
---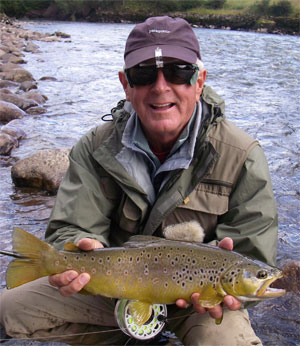 John Dowd greatly enjoyed a recent trip to Chile. He's done this a number of times and it gets better & better.
John is offering "hikes-to-fly fish" to a number of high mountain lakes at no cost to members of Boulder Flycasters and others. If you're interested...click here
---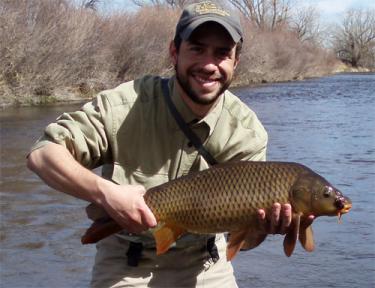 Jon Spiegel, Manager of Front Range Anglers, wanted to determine if the Carp at Pelican Shores were ready for the upcoming tournament...see what you think from these photos! If you want to have a fun day for only $40, sign up for this event......click here . The $400 in prizes provided by the shop are well worth the price of admission.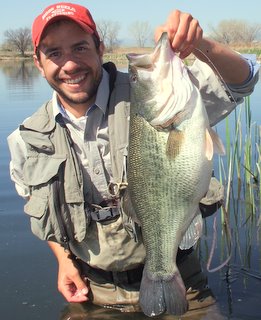 Jon likes to spend a fair amount of fishing time chasing down big Largemouth Bass. Some folks actually think you can't catch 9-pound fish in Colorado....WRONG!
---


Bruce Mardick has been extra busy in April -- first to Andros then to Grey Reef on the North Platte.
---
Are you a fishing hat aficionado?
If the answer is yes, you'll appreciate the lid Greg Sheets, Head Guide for Sylvan Dale Guest Ranch, has created. If you've got a better one...click here
ACTIVITIES
---
Crayfish Pattern Swap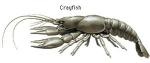 Send us a picture or the actual fly along with a recipe and we'll include it along with some special patterns developed by the FRA staff in our June Newsletter. These crustaceans are found on every continent except Africa and range in size from a 14 pound Tasmanian version (don't send us this imitation) to the common creek variety that is less than an inch long.
Those that participate will get something back in the mail so be sure to include your mailing address.
---
Just for Fun Spring Carp Tournament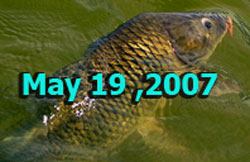 Cost $40.


Schedule


Session One 8:30 am to 10:00 am
Session Two 10:30 am to 12:00 pm
Lunch Break
Session Three 1:00 pm to 2:30 pm
Afternoon Break
Awards 3:30 pm to 4:00 pm

Limited to 20 Anglers.....$400 in prizes click here to register
---
ADVENTURE
---
Peacock Bass...Savage Power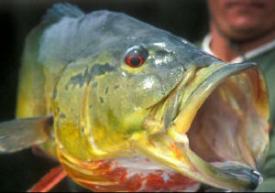 Leave it to Barry Reynolds to find and take advantage of incredible Peacock Bass fishing. His latest interview on Ask About Fly Fishing Internet Radio is a wealth of information about where, how, and when in South American and the US.

As you might expect Barry has devoted considerable time to studying the behavior and characteristics of the various strains of this popular sportsfish. click here
---
Was the FRA trip to Andros any fun?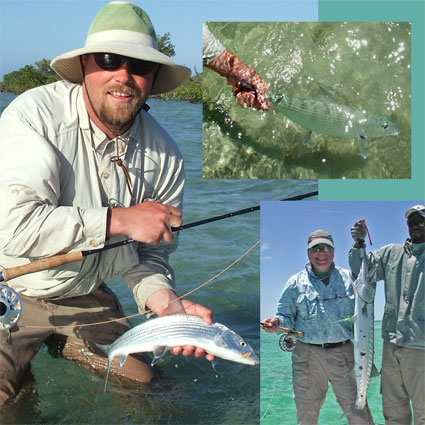 Only if you happen to be hooked on good food, sunshine (it was snowing back home), cold Kalik beer, and chasing bonefish. Send us an email if you're interested in a 2008 trip at about 1/2 the normal price for this kind of fishing.
STRAIGHT TALK
---
The 'Right' Glass

I'd rather have a cheap flyrod than poor fishing glasses. That being said, even high quality polarized glasses in the wrong tint can hurt your chances of spotting fish. On the Andros trip I took along glasses that had copper colored lenses. They have proven to be excellent for trout fishing but they were not the answer on the flats. For comparison I borrowed a pair of Maui Jim with a rose colored tint. My description of the difference can be summarized in one word, WOW!
---
Another Loop Knot...the Clifford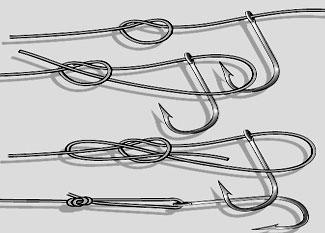 A knot picked up from Fly Fishing in Salt Water Magazine is fast to tie and great for bite tippets. The Clifford Knot begins with an overhand knot - leave a small loop. Pass the tag end through the hook eye, and then bring it through the overhand knot. Bring the tag end behind the standing part of the line and through the overhand knot again. Tighten the knot by grasping the fly in one hand and pulling on the standing part of the line with the other hand.
---
"The angler forgets most of the fish he catches, but he does not forget the streams and lakes in which they are caught." - Charles K. Fox
---
The Sluggo Leech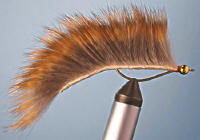 The Sluggo Leech is a variation on Scott Sanchez's Sluggo Fly. The bendback hook profile used in this pattern helps avoid hang-ups on weed and other structure, and achieves a better hookup rate on fish than the traditional mono weed guard.
Recipe:
Hook: 4 - 8 Mustad 3366 bent into bendback-style
Thread: Tan 6/0 Uni
Body: Tan rabbit strip; silicone caulking; glitter
Head: Bead or cone
---
Never Leave Home Without Them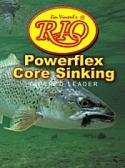 I always carry sinking leaders in my vest and I'm surprised by the number of fishermen that don't even know about them. RIO Product offers 7-foot (2.1 m) and 12-foot (3.7 m) models constructed with a high tenacity nylon core coated with a super low modulus tungsten polymer mixture. Leaders have little memory or coiling, great turnover plus shock absorption for fish fighting. Powerflex core sinking leaders come in Trout (12 lb) or Salmon (24 lb) and feature an ultra smooth welded loop making it easy to connect to the fly line.
Sink rates: 1.5 ips (3.7 cm/s) | 2.6 ips (6.6 cm/s) | 3.9 ips (9.9 cm/s) | 5.6 ips (14.2 cm/s) | 7.0 ips (17.8 cm/s)
---
It's for Tarpon, Mon!

Gamakatsu has added yet another hook to its extensive arsenal of saltwater fly hooks. The new SC17 is the culmination of input from some of the most experienced Tarpon anglers in the business. The SC17 is the result. This new series is specifically designed for big fish in situations where a small hook is necessary.
The SC17 features a short, stout shank with an eye turned up ever so slightly to put the direction of pull in line with its sticky sharp beak point. The SC17 also has a very wide gap to help hold the fish once the battle begins. It makes a good tube fly trailer as well. The finish is a corrosion resistant NS Black.
---
Finding the Answer

It's pretty easy with a searchable global database containing information on 25585 species (110000 common names), 71000 synonyms, 28000 photos, and 21000 references.

---
Finding Fish in Still Waters

Many fishermen have problems with lakes and ponds but those who persist and become proficient at this form of angling have the opportunity to catch larger fish with fewer people...click here
---
What's PLAN B for your fishing destination?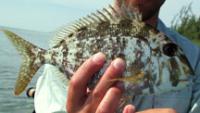 You can live with marginal food, sketchy lodging, transportation mishaps, but the lack of Plan B spells disappointment or disaster for a traveling angler...click here.
GIVE ME A BREAK
---
Two fish swim into a concrete wall. One turns to the other and says "dam"
---
View from the past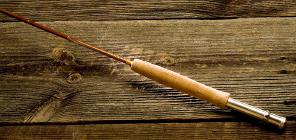 In the early 1900's, a Denver businessman and tournament caster, Goodwin Granger, decided to build a fly rod that was affordable to the true fly fisherman yet had the finest casting characteristics of any rod made. He created a legend which came to an end in 1955. How much were they? Click here to find out.
---
White River Monster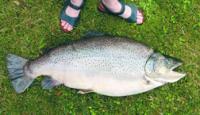 According to the Baxter Bulletin in Arkansas this 37-inch 32-pound brown was found struggling to survive (he didn't make it) in White River. Warm water temperatures and low oxygen content spelled the end for this great fish.
---
Over the Edge!
I've read or heard that there are over 5,000 "recognized" fly patterns.

I'm not sure about the definition of a recognized pattern.

Maybe it's the fact that it has shown up in some publication.

If you add all the "unrecognized" patterns to this base the number is probably 10 times higher.
If you're like most fly fishermen you use a relatively small sampling of flies based on experience and confidence with particular flies.

However, you're always on the lookout for a fly that causes you to spend all day unhooking trophy fish.
Some fly tiers are way out on the cutting edge.

I've found one over the edge....click here
---
What's going on here!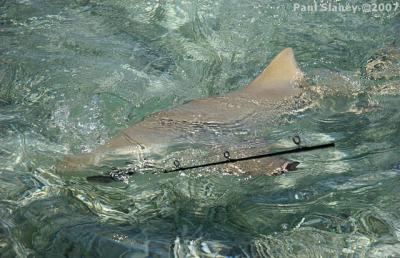 This lemon shark is making off with an angler's fly rod tip. THERE IS A LESSON HERE - tapping a shark on the nose with your rod is not always a good move.
THE END
---
The Rocket Rod....no comment
Endorsement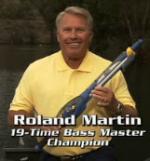 The Product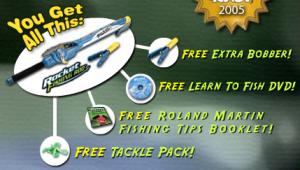 You don't cast, you shoot your bobber into the pond!