Special BOOKING Offer
Every New Full Week International Adventure Travel Trip Booked by 12/31/21 will receive 50ct. hand select flies for your destination $325.00+ value!
* Does not apply to any trip being rescheduled due to Covid-19 cancellations * New Trips Booked ONLY * Not valid with other discounts or promotions *
Contact Front Range Anglers Adventure Travel Manager Lisa McLaughlin for additional information and to BOOK!
When you BOOK with FRA Adventure Travel you never pay more for our services as we work for YOU and the Lodge!
The Bahamas are OPEN & FISHING
PRE-DEPARTURE & ARRIVAL
PRE-DEPARTURE
Prior to Departing for The Bahamas
*Please note: testing requirements have changed for vaccinated travelers** 
STEP 1: Testing Requirements
VACCINATED TRAVELLERS
Effective August 6, 2021, those travelling to The Bahamas from other countries who have been fully vaccinated will be required to obtain a negative COVID-19 test (either a Rapid Antigen Test or PCR), taken no more than five (5) days prior to the date of arrival to The Bahamas. The name and address of the lab where the test was performed must be clearly displayed on the test result.
Effective August 6, 2021, all fully vaccinated travellers wishing to travel inter-island within The Bahamas, including Bahamian citizens and residents, will be required to obtain a negative COVID-19 test (either a Rapid Antigen Test or PCR), taken no more than five (5) days prior to the date of travel from the following islands: Nassau & Paradise Island, Grand Bahama, Bimini, Exuma, Abaco, and North and South Eleuthera, including Harbour Island.
UNVACCINATED TRAVELLERS
Unvaccinated travellers ages 12 and older entering The Bahamas and/or those travelling inter-island from Nassau & Paradise Island, Grand Bahama Island, Bimini, Exuma, Abaco, and North and South Eleuthera, including Harbour Island, must obtain a negative COVID-19 PCR (swab) test taken no more than 5 days prior to the date of arrival. Test must return a negative result for entry into The Bahamas.
As of August 6, 2021, all children, between the ages of 2 and 11, wishing to enter The Bahamas will be required to obtain a negative COVID-19 test (either a Rapid Antigen Test or PCR), taken no more than five (5) days prior to the date of arrival to The Bahamas.
All children under the age of 2 are exempt from any testing requirements
Negative PCR test results must be uploaded in order to complete a Bahamas Travel Health Visa application, and must be presented upon arrival in The Bahamas.
Any person presenting test results older than 5 days will not be allowed entry into The Bahamas.
STEP 2: Bahamas Travel Health Visa Application
All persons travelling to The Bahamas, and those travelling inter-island, are required to apply for a Bahamas Travel Health Visa at travel.gov.bs.
VACCINATED TRAVELLERS
Fully vaccinated travellers will be required to upload negative test results (either a Rapid Antigen Test or PCR), in addition to valid proof of vaccination (such as CDC or government issued vaccine record card).
For international travellers, proof of vaccination must confirm they have passed the two-week immunity period.
At this time The Bahamas Government will only be accepting vaccines by Pfizer, Moderna, Johnson & Johnson and AstraZeneca
UNVACCINATED TRAVELLERS
Unvaccinated travellers will be required to upload their negative COVID-19 PCR test results. Tests must be taken no more than 5 days prior to the date of arrival.
Children between the ages of 2 and 11 will be required to upload their negative Rapid Antigen Test or PCR test results.
*Unvaccinated Bahamian citizens or residents planning to travel abroad for five (5) days or less must secure a test in the destination they visited before travelling back to The Bahamas. Any PCR test taken in The Bahamas prior to travel will not be valid for re-entry.
ALL TRAVELLERS: VACCINATED AND UNVACCINATED
As part of the Bahamas Travel Health Visa application, travellers will be required to opt-in to COVID-19 health insurance that covers them for the duration of their stay in The Bahamas. The cost of insurance is included in the Bahamas Travel Health Visa application fee.
Bahamas Travel Health Visa applications take up to 48 hours to process and should be completed with adequate lead time.
The cost of the Bahamas Travel Health Visa is dependent on length of stay and vaccination status.
All travellers eighteen (18) years of age and older are required to complete an individual Bahamas Travel Health Visa.
Persons seventeen (17) years and younger are to add a profile within the account of their parent or guardian.
East End Lodge is a premier Bahamas bonefishing Lodge. Located on the east end of Grand Bahama Island, the fishery surrounding East End Lodge boasts some of the most productive bonefish flats in the entire world. Enjoyed by both fly and spinning anglers alike, it is not uncommon to catch 8 to 12 fish per day.
East End Lodge is just a twenty-five minute plane ride from Fort Lauderdale and is a beautiful forty minute drive to the lodge. Bahamas bonefishing is some of the best bonefishing in the world and can be experienced year round. With nicely appointed accommodations, your flats skiff will be just a few steps away each morning.
You will find the finest and most experienced bonefishing guides the Bahamas has to offer. A scrumptious sampling of traditional Bahamian fare with the like hospitality will be served nightly. You will feel right at home.
The guide staff at East End lodge prides itself on keeping guests on fish all throughout the year. This team loves fishing long days and often stays out well past the time when all other angling boats in the region have headed in. Given that the flats are right near the lodge, you will spend more time fishing and less time running in the boat.
There are five, large channels that run northeast to southwest on the island's eastern horn. This supplies ample wind protection and it additionally allows the guides to fish the best tides all throughout the day. There is a complex flats system that the tides cycle through. The fact that guides at the East End Lodge can help you fish optimal tides is a rare situation among flats destinations and it means that you won't find your self stuck in areas that are unproductive due to bad tides.
Given the cool, deep waters that Grand Bahama is surrounded by, visitors will find bonefish here that are far larger than those found in other parts of the Caribbean and Atlantic. Bonefish tend to average between five and six pounds, however, fish as large as ten+ pounds can be found here on a daily basis. When fishing from the boat, as a rule of thumb, the fish respond well to flies that are well-placed and they tend to be a bit more aggressive as well. Conversely, longer leaders and delicate presentations are necessary for wade fishing, much like they are in all other skinny water settings in the Bahamas.
The head guide at the East End Lodge is Cecil Leathen. Cecil has created a team that features some of the top guides on the island. Every guide at the lodge is informative, highly professional and a joy to fish with. They know where to find lots of fish and they are also among the Bahamas' best permit fishing guides. We have found that the permit in the waters near East End are generally larger than many of the other fish throughout the Caribbean. The permit in this region range between 15 and 25 pounds and when the weather is good, you may even get a chance at fish weighing 30 pounds or more. Due to the relatively modest fishing pressure in the location, there are times when the permit react to the fly aggressively. Anglers additionally have the option of targeting sharks, barracuda, snapper, jacks and many other species in the East End area.
East End Equipment And Boats
16-foot Dolphin Super Skiffs that have 85HP Yamaha outboard motors are run by the team of guides at East End Lodge. These include push-poles, poling platforms, "U-bars" for leaning, storage for rods, cushioned seats and coolers that are loaded with the lunch of your choice. We advise anglers to bring their own wading boots, reels, rods, terminal tackle, flies and other equipment. However, if anglers needs them, the lodge does have complimentary reels and rods available for use.
Lodge Accommodations
Completed in 2011, East End Lodge is comprised of two buildings. There are three, double-occupancy rooms in one building and a dining area, bar and two double-occupancy rooms in the other. Both of these structures are attractive, well-designed and fully-furnished. All bedrooms contain night tables, large dressers, queen-sized beds, air conditioning, reading lights and ample closet space for all luggage and personal gear. Rooms also come with full baths that boast separate commode rooms, granite counter tops and showers with ample hot water and excellent water pressure. All cottages have large decks with views of the crushed coral courtyard and its massive fire pit, the marina, tiki huts, the ocean and the docks. The grounds have a basic yet immaculate look and boast lots of foliage. A modest sitting area, air conditioning, full dining accommodations and a comprehensive bar can all be found in the main lodge. There is even a high-def flat screen television available in the lodge with DIRECTV service so that guest can take in games or watch other important programming.
An excursion at East End Lodge provides everything an angler needs for one price. Pay separately only for your beverages and tackle. With personal service and the ability to customize each trip, East End Lodge is the perfect haven for family fishing trips, small corporate retreats, or simple short outings focused on the bonefish.
We provide free shuttle service from Grand Bahama International Airport, a 45-minute drive across the beautiful island. Day trips to Freeport/Lucaya also can be arranged.
Dining Accommodations
Every morning begins with a full breakfast buffet of eggs, bacon, sausage, pancakes, french toast, cereals, seasonal fruit, yogurts, juice and coffee served in the dining room of the Main Lodge. Guests are served lunch on the water and includes a customized, cooler-packed meal. Each  night, dinner will feature a flavorful mix of dishes that are prepared Bahamian-style. Enjoy cracked conch, lobster and fish, along with complimentary wine, all prepared as the locals do. You'll have access to an impressive selection of pork, chicken, fresh seafood, salads, soups and side dishes. The lodge is located in McCLean's Town, a place that has dubbed itself the world's "Conch Cracking Capitol" and thus, you'll also get the freshest conch dishes available. Every meal is prepared according to your preferences and the kitchen staff is committed to meeting the needs of all guests.
Non-Angling Activities
Although East End Lodge has a strong fishing-focus, the staff at the lodge does all that it can to meet the needs and interests of non-anglers. We are therefore able to plan various outside tours, trips and activities. These can include kayaking, snorkeling, blue hole tours, birdwatching, island tours and nature hikes. There are a limited number of shopping opportunities in the modest, nearby settlement of McCLean's Town. Just one hour away, however, is the town of Freeport, which boasts a vast array of non-angling activities including ample shopping, many water sports, golf, a casino and numerous beaches. Transportation to and from Freeport can be arranged by East End Lodge.
Internet And Mobile Phone Service
Guests of East End Lodge have complimentary Wi-Fi access. Moreover, many U.S. cell phones remain functional on the island, depending upon the service provider. Contact your cell phone carrier for more details.
Getting Here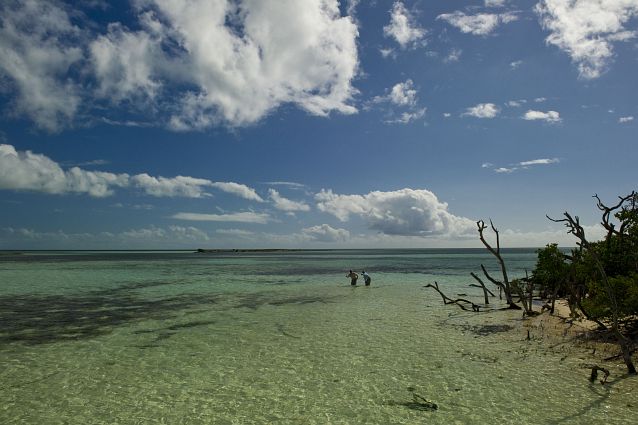 East End Lodge's three-acre property is a 45-minute scenic car ride from Grand Bahama International Airport (FPO) in Freeport. We'll provide shuttle service to and from Grand Bahama International (FPO) with your accommodation package.
U.S. Customs and Immigration are located at the airport to pre-clear departing passengers for U.S. destinations. Grand Bahama International also services private aircraft, and private charters can be arranged.
Several major airlines serve Freeport on a daily basis including American Airlines, United, US Airways, Silver and Bahamasair. There are daily non-stop flights from cities such as Ft. Lauderdale (FLL), Miami (MIA), Atlanta (ATL), Charlotte (CLT) and Philadelphia (PHL) (in the winter months). In season (November through May), there are often direct fights from major U.S. cities to Grand Bahama International in Freeport (FPO).
Required Documents
US citizens must have a valid passport to enter the Bahamas. No visa is required. Non-US citizens should carry passports and valid US visas so that they may travel easily in and out of the US.
The local currency is the Bahamian dollar, which is on par with the U.S. dollar. The U.S. dollar may be used freely to purchase goods and services, so it is not necessary to convert to Bahamian dollars at any time during your stay.
If you're sailing to the Bahamas, let us help you arrange dockage for your vessel, with easy access to East End Lodge.
October 1, 2021 – July 21, 2022 Rates
| Prices are Per Person in US Dollars | Double Occupancy  | Single Occupancy |
| --- | --- | --- |
| 3-nights / 2 days fishing | $2,395.00 | $4,315.00 |
| 4-nights / 3 days fishing | $3,190.00 | $5,745.00 |
| 5-nights / 4 days fishing | $3,995.00 | $7,190.00 |
|  6-nights / 5 days fishing | $4,795.00 | $8,630.00 |
| 7-nights / 6 days fishing | $5,595.00 | $10,065.00 |
                          Day Trip
Full Day of Fishing: $785 per boat (1 or 2 anglers) | Lunch Included | Lodging Not Included
Grand Bahamas Bonefishing Lodge
What's Included
All airport transfers (round-trip transportation from Freeport Airport to the Lodge is provided)
All accommodations at the lodge
All meals and purified or bottled water (complimentary wine is served with dinner)
Daily guided fishing
Fishing equipment is available for use at no additional charge (G. Loomis Rods and Hatch Fly Reels)
All taxes (VAT 12%) included
What's Not Included
All air transportation Freeport, Bahamas
Flies and terminal tackle
Alcoholic beverages, sodas, and juices
Gratuities for guides & staff
Check-in Time:  any time after 2:00 pm
Check-out Time:  before 12 noon
Our times are flexible depending upon your flight arrival and departure
An additional half-day of fishing can be added a la carte on either the day of arrival or departure.
Deposit, Cancellation & Refund policy
A 50% non-refundable deposit is required within 10 days of making a reservation to secure a reservation. Final payment is due 90 days prior to departure; participants are responsible for total land costs and no refund will be made unless a replacement is found. There is no refund for any unused portion of the package. Trip cancellation insurance is available to each registrant and is highly recommend to protect the deposit and final payment in the event of a cancellation.
**Trip  Insurance is strongly advised & recommended**