Special BOOKING Offer
Every New Full Week International Adventure Travel Trip Booked will receive 50ct. hand select flies for your destination $325.00+ value!
* Does not apply to any trip being rescheduled due to Covid-19 cancellations * New Trips Booked ONLY * Not valid with other discounts or promotions *
Contact Front Range Anglers Adventure Travel Manager Lisa McLaughlin for additional information and to BOOK!
When you BOOK with FRA Adventure Travel you never pay more for our services as we work for YOU and the Lodge!
Mangrove Cay Club is the Bahamas' premier saltwater fly fishing lodge. Located smack in the middle of the Andros fishery, the largest area of bonefish habitat in the world, Mangrove Cay offers unrivaled boat access to the Bahamas best bonefishing from one of the most comfortable, hospitable lodges in the world. Our guides are capable of coaching beginning saltwater anglers or hunting trophy bonefish with experienced fly fishers. They are full-time professional guides who will make sure your days on the water are fun, safe, and educational. Combine our guides, our fishing, our meals, and our accommodations, and there is no better place to fish in the Bahamas.
PRE-DEPARTURE & ARRIVAL
PRE-DEPARTURE
Prior to Departing for The Bahamas
*Please note: testing requirements have changed for vaccinated travelers
STEP 1: Testing Requirements
VACCINATED TRAVELERS
Effective immediately, a Bahamas citizen or resident who is fully vaccinated – after receiving their second dose – will be exempted from COVID-19 testing requirements when travelling inter-island from New Providence, Grand Bahama, Abaco, Exuma and Eleuthera.
Effective May 1, 2021, visitors travelling to The Bahamas from other countries who are fully vaccinated and have passed the two-week immunity period will be exempted from COVID-19 testing requirements for entry and inter-island travel.
UNVACCINATED TRAVELERS
Unvaccinated travelers entering The Bahamas and/or those travelling inter-island from Nassau & Paradise Island, Grand Bahama Island, Abaco, Eleuthera or Harbour Island, must obtain a negative COVID-19 PCR (swab) test taken no more than 5 days prior to the date of arrival. Test must return a negative result for entry into The Bahamas.
Children 10 and under, and pilots and crew of commercial airlines who remain overnight in The Bahamas are not required to take a test.
Negative PCR test results must be uploaded in order to complete a Bahamas Travel Health Visa application, and must be presented upon arrival in The Bahamas.
Any person presenting test results older than 5 days will not be allowed entry into The Bahamas.
STEP 2: Bahamas Travel Health Visa Application
All persons travelling to The Bahamas, and those travelling inter-island, are required to apply for a Bahamas Travel Health Visa at travel.gov.bs
VACCINATED TRAVELERS
Fully vaccinated travelers will be required to upload valid proof of vaccination (such as CDC or government issued vaccine record card) in lieu of PCR test requirement.
For international travelers, proof of vaccination must confirm they have passed the two-week immunity period.
At this time The Bahamas Government will only be accepting vaccines by Pfizer Moderna, Johnson & Johnson and AstraZeneca
UNVACCINATED TRAVELERS
Unvaccinated travelers will be required to upload their negative COVID-19 PCR test results. Tests must be taken no more than 5 days prior to the date of arrival.
*Unvaccinated Bahamian citizens or residents planning to travel abroad for five (5) days or less must secure a test in the destination they visited before travelling back to The Bahamas. Any PCR test taken in The Bahamas prior to travel will not be valid for re-entry.
ALL TRAVELERS: VACCINATED AND UNVACCINATED
As part of the Bahamas Travel Health Visa application, travelers will be required to opt-in to COVID-19 health insurance that covers them for the duration of their stay in The Bahamas. The cost of insurance is included in the Bahamas Travel Health Visa application fee.
Bahamas Travel Health Visa applications take up to 48 hours to process and should be completed with adequate lead time.
The cost of the Bahamas Travel Health Visa is dependent on length of stay and vaccination status.
All travelers eighteen (18) years of age and older are required to complete an individual Bahamas Travel Health Visa.
Persons seventeen (17) years and younger are to add a profile within the account of their parent or guardian.
Andros Island, the largest of The Bahama Islands, is actually several islands of which there are three main inhabited islands: North Andros, South Andros and Mangrove Cay. Mangrove Cay is in between North Andros and South Andros and is surrounded by the waters of the Bights, wide and meandering waterways that bisect Andros from east to west. The Bights, known as the North, Middle and South Bight are themselves dotted with countless uninhabited cays and islets with shallow shores.
One huge flat on the West Side of Andros Island "The Land of the Giants" has incredible numbers of very large fish can be found here on a consistent basis.
Mangrove Cay Club is located on the north shore of Mangrove Cay which is the southshore of the Middle Bight. The lodge is tucked just inside the Bight far enough from the windward east side of the island to provide us with sheltered access to the flats and estuaries of our fishery.
We chose this location to give us water access to mile after mile of prime bonefish water without ever having to trailer a boat to a launch point or take a rough boat ride in the open ocean. We have access to all of the waters of the Bights, the eastern flats and the remote and legendary West Side.
It is widely known that bonefish follow the tides, using them to feed in shallow water. Tides on Andros behave in an odd way that works to our advantage. When the tide is low and rising on the east side, it is high and falling on the west side and vice versa. This gives our guides the advantage of being able to move through the Bights all day, never leaving you sitting on a shoreline waiting for the tide to "be right".
There is no tide or moon phase that cannot be successfully fished at Mangrove Cay Club.
Andros bonefish are plentiful and average 3 to 5 pounds with regular appearances of fish 6 to 10 pounds. Several 11, 12 and 13 pound fish are landed every season. Our daily recorded statistics prove that the waters just minutes away from the lodge are equally productive in both size and numbers. In fact, some of the largest fish have been taken within sight of the Mangrove Cay Club just across the Bight around Big Wood Cay and Moxey Creek.
Bonefish are seen in schools of anywhere from a few fish to very large numbers, often in the hundreds. Large fish tend to travel in singles and doubles although they can hang out in large schools with smaller fish.
The Bights and West Side of Andros have soft bottoms and are best fished from the bow of the skiff. Wading is done on hard, sandy bottomed flats which are all located on the eastern shores and the south west of Andros.
Guides are rotated during your stay, and you can generally expect a new guide to be assigned to you every third fishing day. The rotation is a good way to match guides with guests and provides the opportunity to enjoy old favorites, as well as learn from different guides during your week.
We have boat access to the North, Middle and South Bights, the north and south West Side, the eastern flats and the Southwest cays of Andros. We are frequently asked if guides are assigned to certain areas to fish. The answer is no – the area is so vast there is no need for this restriction.
Your assigned guide will choose the flats you will fish from an almost unlimited number of options and his choices are based on tides, wind, weather and where experience tells him he will find fish. Please note that, if you have a preference of which type of fishing you prefer (wading or boat fishing), you should let both your guide and Liz know before you go out so your guide can plan accordingly.
Most fishing is done from the bow of the boat giving you and your guide the elevation to see fish and the mobility to move from flat to flat.
For some anglers, wading is the preferred option. It may be your choice to wade alone or with your guide. Let your guide know, and he can plan to include as much or as little wading in your day as you desire.
Occasionally, wind can make fishing from the boat impractical and even getting to the flats uncomfortable. On these days, we have the option of using The Big Boat (our 26' twin hull with twin 150 hp engines) as a ferry to transport you and guides to lee shores and creeks for wading. This program has saved the day when many of our guests were resigned to a good book or a day at the tying table. These ventures can be very satisfying – in February of this year an 11# bonefish was caught, minutes from the lodge on a day that most lodges could not even get to the flats.
Southwest Side of Andros – Wading Trips
Under the right conditions, we also use The Big Boat for transport to the remote and seldom fished Southwest Side of Andros. The area is a vast collection of hard bottom and sandy flats that are home to huge schools of bonefish.
The boat is operated by Captain Johnny Green and you are dropped off with your guide to wade the flats. Johnny stays with the boat and can be summoned to move you from flat to flat.
Because of the expense involved, we do charge extra for use of the Big Boat for long trips to the southwest side of Andros. The rate is a surcharge of $650, which can be split between 1 to 6 anglers.
Casting Lessons
If you want to learn specific saltwater techniques or just brush up on your skills, casting lessons conducted by our guides are available.
If you would like the guide to incorporate the casting lessons into your day of fishing, let us know. If you would like the guide to come to the lodge during non-fishing time to do a casting lesson, we charge $125 for 45 minutes, from 1 to 4 anglers.
Fishing off of the Dock
Many of our guests enjoy fishing off the dock at night. Shark visit the area around the dock in front of the lodge on a regular basis, encouraged by regular chumming. We have had many hook ups and some landings of bulls, black tips, lemons and nurse sharks. We bait up heavy spinning reels with chunks of fish, cast it our and let it sit. You can watch the sharks coming in and searching for the bait. When they pick it up, the fight is on. The kitchen saves the bait we need and we supply the spinning gear, hooks and wire leaders. So, if a long day on the flats is not enough fishing for you, you can continue to fish from the lodge late into the night.
Other Fish Species
Andros Island is a marine wonderland. In addition to the bonefish, there are Tarpon, Permit, and a wide variety of flats fish such as snappers, jacks, and barracuda on the flats. We encourage all of our anglers to spend some time chasing these fish during their week at Mangrove.
Tarpon are not present in our waters on a regular basis,but we certainly come across them. They range in size from  20 lbs to 200 lbs. Tarpon are the largest, strongest, and most acrobatic of flats fish. Even juvenile fish will put your angling skills to the test and strain your tackle. We highly recommend having a rod set up for Tarpon each day as the moment of opportunity does not last long.
We also see permit on occasion. They are by far the most difficult, picky and frustrating fish you will encounter on the flats. Permit are very finicky about what they eat. They will often charge your fly, only to stop at the last moment and refuse it. When you are presenting the fly, focus first and foremost on landing your fly near the fish and getting the slack out of your line. If the fish appears interested do nothing but let him eat. If the fish doesn't seem to be reacting move your fly slightly. If he doesn't see the fly cast again.
At the top of the food chain, these tough flats predators offer some outstanding action on a fly or lure. They will strike anything that darts away from them in an injured manner. When hooked, they are some of the fastest and most powerful fish to be taken on light-tackle.
Andros also has good off-shore fishing available for Mahi-Mahi, Wahoo, and Tuna. If you would like to try some off-shore fishing, let us know and we will arrange it if conditions allow.
We are always encourage anglers to take advantage of the other species present on Andros. It is a wonderful fishery. If you would like to target other species, please let Liz know, so she can tell your guide.
When planning Mangrove Cay Club over 13 years ago, we gave careful thought and attention to all of the minute details of our facility and operation. Mangrove Cay Club was designed to raise the bar on the level of comfort offered by a bonefishing lodge. We believe we have achieved our vision of "having it all".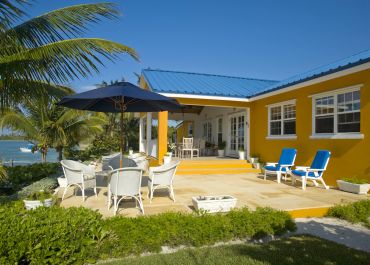 The best access to an amazing fishery, a beautiful setting, comfortable accommodations, excellent food, attentive staff, professional guides, equipment that works and hands on management.
We started with virgin coppice on rocky ground and built the road to take us to our waterfront property. We cleared space for the buildings but left most of the natural vegetation.
We built four spacious duplex cottages designed for privacy and minimal intrusion from neighbors and a main lodge designed for conviviality. All of the buildings are divided by a thick growth of trees and shrubs for privacy, connected by pathways and surrounded by meticulously landscaped lawns and flowerbeds.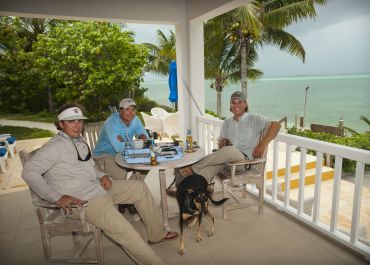 Each of the four bungalows is divided into two suites, separated by a thick soundproof wall. The eight suites all have high cypress ceilings and a bedroom, a sitting room, an oversized bathroom and a private porch overlooking the Middle Bight. Access to the porch is through sliding glass doors from the bedroom, where two queen size beds face the sea. We can accommodate a maximum of 16 guests, a comfortable number to ensure high quality service and management's personal attention.
It is a short walk to the main lodge. As you enter through the front door, there is a small shop and office to the right. Here you will find telephones and a laptop computer with wireless high speed Internet for your use. The rest of the lodge is open with a large bar and sitting area at one end and the dining area and entrance to the kitchen at the other. There are also bathroom facilities for men and women. The dining area opens out on to a large veranda overlooking Middle Bight followed by a few steps down to the patios and a few more steps down to the attractive wooden dock. This dock is where guests are picked up by our guides each morning and dropped off in the afternoon, and where many evenings are spent fishing for sharks.
At the west end of the property there is a small sand beach at the end of a seawall built of native limestone. A jetty, also built of native limestone is the best place on our property to practice a few casts. The chairs and lounges in the thatch roof gazebo at the other end of the seawall is the place to watch the spectacular sunset at the end of a day of adventure.

The lodge is one of the finest facilities in the Bahamas and is immaculately maintained by Liz and Alton Bain. They are part owners of the operation and their attention to detail is evident throughout the property. It is a wonderful place to relax after a great day on the water.
Accommodations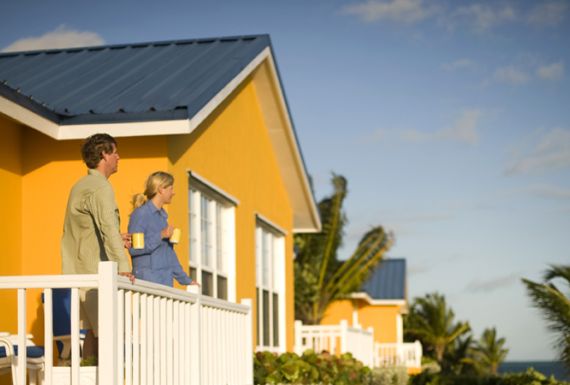 When we built Mangrove Cay, our goal was to set the standard for comfort for a bonefishing lodge in the Bahamas. Our eight suites sit within 4 large bungalows spread out along the shore, screened from each other by a lush growth of trees. All are a short walk on a sand path to the main lodge.
Each of the four bungalows is divided into two suites each
High cypress ceilings and ceiling fans
An air conditioned bedroom
A sitting room, an oversized bathroom
A private porch overlooking the ocean.
We accommodate a maximum of 16 guests
On the outside wall of each suite is a rod rack that will hold four rods, a bucket for soaking reels and a convenient freshwater hose for washing rods and all other equipment each day. Both outside and inside the entrance are hooks for wet clothes and gear.
The sitting room is furnished with a sofa and chair and some small tables providing the space for laying out tackle and equipment. Fresh ice and bottled drinking water are placed in your suite each day.
Each bathroom has its own 40 gallon water heater so there is never a shortage of hot water. The bathroom has lots of shelf, counter and hanging space and a very large walk-in shower with shelving for shampoos, razors, etc. We provide abundant towels, waffle weave bathrobes, shampoo, conditioner, body wash, bath soaps, hair dryer and bug spray.
The air conditioned bedroom is off of the sitting room through double sliding doors and contains a bureau, a wardrobe, a night table and two queen size beds facing the sea. There are sliding doors from the bedroom out to the porch and padded lounge chairs. You can greet the day and check out the weather without seeing another guest or having to get dressed.
For too long, bonefishing in the Bahamas has required spartan accommodations. Mangrove has changed that. Our lodging is very comfortable and allows you plenty of privacy and comfort during the non-fishing hours of your stay.
How to get here
There are two regularly scheduled airlines from Nassau to Mangrove Cay, Flamingo Air and LeAir. Their check in counters are located in the domestic terminal of the Nassau airport. Both have a daily morning flight that leaves Nassau at 7:00 a.m. and a daily afternoon flight that leaves Nassau at 4:00 p.m.  Both flights return to Nassau after the 20 minute flight to Mangrove Cay.
Mangrove Cay Club is located a short distance, about a 10 minute drive, from the Clarence A. Bain Airport on Mangrove Cay (Airport Code MYAB Runway 5,000' x 75'). We will pick you up at the airport when you arrive into Mangrove Cay.
Logistics
You'll need to arrive into Nassau before 1 p.m. to catch the Le Air flight from Nassau to Mangrove Cay at 3:30 p.m.   After your week of fishing you'll depart at 7:05 a.m. on the Le Air flight so you'll want to depart Nassau after 10 a.m.
To book your Le Air flight from Nassau to Mangrove Cay please visit the website below.  It is a 20 minute flight from Nassau. The cost is $184.00 per person.

https://www.flyleair.com/bookonline/
Flights to book :
Nassau to Mangrove Cay 3:30 p.m. flight
Mangrove Cay to Nassau 7:05 a.m. flight
Package Price Includes
Accommodations, guided flats fishing, all meals, round trip transfer from Mangrove Cay Airport to the lodge, beverages including house wines, liquors, beer, bottled water, soft drinks, and room taxes.
Not Included in Package Price
Airfare, some wines and liquours, gratuities, fishing equipment and flies, Bahamian departure tax of $29, miscellaneous personal expenses, fly shop purchases, etc… Mangrove Cay accepts cash and credit cards for miscellaneous personal expenses.
Extended Day Package:
We have added an "Extended Day" package at the lodge so that in the event anglers would like to stay out a bit later that they have that option. For those that want more than 8 hours in a day, we now offer the "extended day pkg" for $100 per boat for up to 1.5 additional hours. This is a package that can be added at the lodge the night before angling and that may canceled at any point in the day without charge.
Water Cay Package (up to 6 anglers):
Wading trips to the Water Cays or other parts utilizing the power catamaran are $650 per group. This surcharge helps offset gas costs and having to take along another captain to stay with the boat while groups fish. Please note these trips are wading only and only available when the weather and tides are suitable for the area being fished. This is a spectacular trip to a group of sandy cays in Southern Andros that all should consider during their stay at Mangrove Cay Club. If you are interested in doing this trip, please let us know ahead of time so we can arrange it for your group.
Gratuities
We recommend $100 per day per boat per guide. Guide tips may be given to the lodge manager. We recommend $25 per night per guest for the lodge staff which includes kitchen, bar, grounds, housekeeping. Mangrove Cay accepts cash and credit cards for gratuities.
Deposit, Cancellation & Refund policy
A 50% non-refundable deposit is required within 10 daysof making a reservation to secure a reservation. Final payment is due 90 days prior to departure; participants are responsible for total land costs and no refund will be made unless a replacement is found. There is no refund for any unused portion of the package. Trip cancellation insurance is available to each registrant and is highly recommend to protect the deposit and final payment in the event of a cancellation.
**Trip  Insurance is strongly advised & recommended**
Terms and Conditions
Please read the terms and conditions of your booking with Mangrove Cay Club carefully. We have run an incident free operation at Mangrove since its inception, but all anglers and visitors are required to understand the risks associated with a visit to Mangrove Cay Club.
Responsibility & Release of liability
Visiting Mangrove Cay Club requires fishing and boating in a dynamic marine environment. Fishermen must understand and accept the risks associated with such activities. Travel schedules to and from the Bahamas can change due to adverse weather, strikes, or other factors beyond our control. This can cause delay and even missed international connections. Such delays could impose additional cost to you in hotels or in changing airline tickets for which we cannot be responsible.
Voluntary Participation
I acknowledge that I have voluntarily applied to visit and participate in the activities at Mangrove Cay Club, Ltd. I am voluntarily visiting and participating in the activities at Mangrove Cay Club with knowledge of the hazards involved. I am aware that the activities associated with Mangrove Cay Club, Ltd. involves hazardous activities with risk of illness, injury or death which may be caused by forces of nature, the negligence of Mangrove Cay Club, Ltd., their affiliated agencies, their employees, or other agencies known or unknown. I am also aware that medical services or facilities may not be readily available or accessible during some or all of the time while I am at Mangrove Cay Club. In order to visit and participate in the activities associated with Mangrove Cay Club, I am willing to accept the risks and uncertainty involved as being integral part of my experience at Mangrove Cay Club. I hereby accept and assume full responsibility for any an all risks of illness, injury, or death and due to the negligence (but not the reckless, willful, or fraudulent conduct) of Mangrove Cay Club, Ltd., their affiliated agencies, their employees, or other agencies known or unknown.
Release and Covenant Not To Sue
As consideration for being permitted to visit and participate in the activities associated with Mangrove Cay Club, I hereby agree that neither I, nor any of my heirs, personal or legal representatives, or family members will bring suit or make a claim for illness, injury or death resulting from the negligence (but not reckless, willful, or fraudulent conduct) of Mangrove Cay Club, Ltd., Mangrove Cay Club, LLC, Bain Holdings, Ltd., their affiliated agencies, their employees, and the supplier of the facilities and equipment I will use during my visit to Mangrove Cay Club. I hereby release Mangrove Cay Club, Ltd., Mangrove Cay Club, LLC, and Bain Holdings, Ltd. their affiliated agencies, their employees, and the supplier of the facilities and equipment I will use during my visit to Mangrove Cay Club from and against any and all liability arising out of, or in any way connected with, my visit to Mangrove Cay Club, including any liability for negligence (but not reckless, willful, or fraudulent conduct).
Controlling Law
Any controversy or claim arising out of or relating to this Agreement or the performance hereunder, including without limitation any claim related to the illness, injury or death, shall be governed by Montana law. Any lawsuit filed as a result of my visit to Mangrove Cay Club shall be filed in federal court in Billings, Montana.
Knowing and Voluntary Execution
I have carefully read this agreement and understand its contents. I am aware that this is a release of liability and that receipt of deposit and/or final payment is acknowledgement that I have read and accept the cancellation/refund and responsibility clauses.
**Trip  Insurance is strongly advised & recommended**