Book with FRA!!
Contact Front Range Anglers Adventure Travel Manager Rob Kolanda for additional information and to BOOK!
When you BOOK with FRA Adventure Travel you never pay more for our services as we work for YOU and the Lodge!
Argentina Re-Opening Plan
Located in Northern Patagonia near the border with Chile, Orvis-Endorsed Rio Manso Lodge offers a host of activities led by exceptional fly fishing, elegant yet comfortable lodging, and extraordinary cuisine. Nestled in Nahuel Huapi National Park in the midst of virgin waters and lush forests, our caring staff will make your Patagonian experience a very special one.
If you are looking for the best fly fishing in Patagonia Argentina you've come to the right place. At Rio Manso Lodge, you will fish a wide variety of waters from small streams and large rivers to intimate spring creeks and deep productive lakes where monster browns, hefty rainbows and trophy brook trout swim.
Non-Fishing Guests: Choose from a range of pleasurable activities: hiking, birding, golf, shopping and sightseeing.
Join us to explore some of Patagonia's best fly fishing in the waters surrounding Rio Manso Lodge. From November through April, you can strip streamers, swim nymphs or drift dry flies on a host of water within minutes of the lodge.
Treat yourself to a comfortable room with a view voted the best setting in all of Patagonia. Creative and satisfying cuisine complemented with traditional Argentine dishes will have you anticipating dinner each evening.
Explore the wilds of the Andes with our expert local guides. Hiking, birding, rafting, kayaking, trekking and more are all available to guests in the middle of 2 million acres of the largest national park in northern Patagonia.
With a full complement of amenities, Rio Manso is the perfect place to relax and enjoy the fresh mountain air, beautiful views, and peaceful setting of Patagonia. Recharge with a sauna, massage, and do as much, or as little as you wish.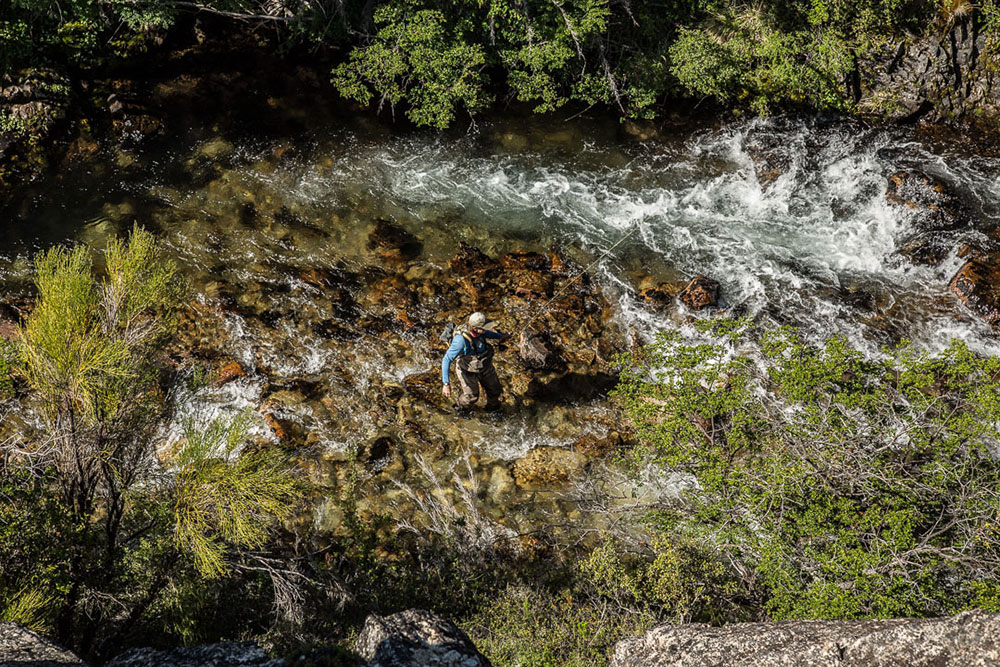 The Rio Manso is unique in this region in that it actually lies on the western side of the continental divide, and drains into the Pacific Ocean. Because of that, the geology and ecosystem are different from those of other area rivers, and require a different approach. With a system of interconnected lakes draining into the river, and the Manso actually running through some of these lakes, the variety of water types runs the gamut from smooth deep currents to tumbling white water and everything in between.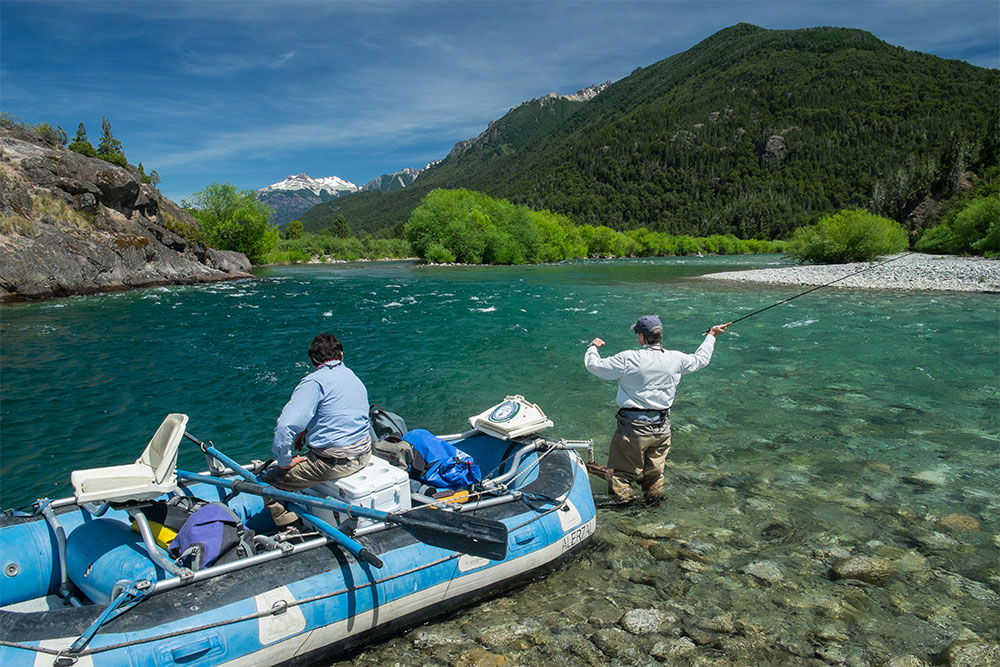 Much of your fishing, especially early in the season, will be with streamers and sinking lines. Hatches on most of the river are sporadic and the biggest fish are best drawn out with streamer patterns.  There are several sections where nymphs are especially effective, and a tiny spring creek where sight casting to cruising fish can be a delightful change of pace.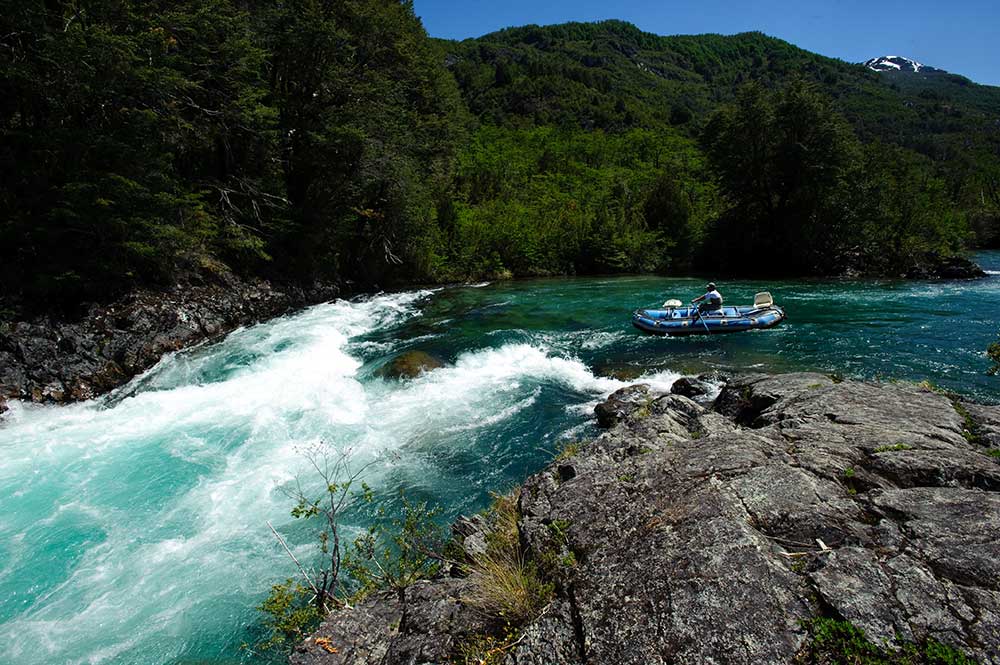 One section of the river markedly different are the Channels below Lago Hess. Justly famous for their unique blend of big fish and technical fishing, the Channels smooth currents provide a great dry fly challenge to any angler. Similar in nature to a big spring creek, large fish often cruise this area, forage in the reed beds, or setup along the banks, making this a required stop for any Rio Manso angler. Even though these fish can be selective, for some of our guests this is their favorite water. Some of the largest fish in the watershed live in this area, and because of the general lack of visible structure, we usually fish this area with dry flies casting to rising fish.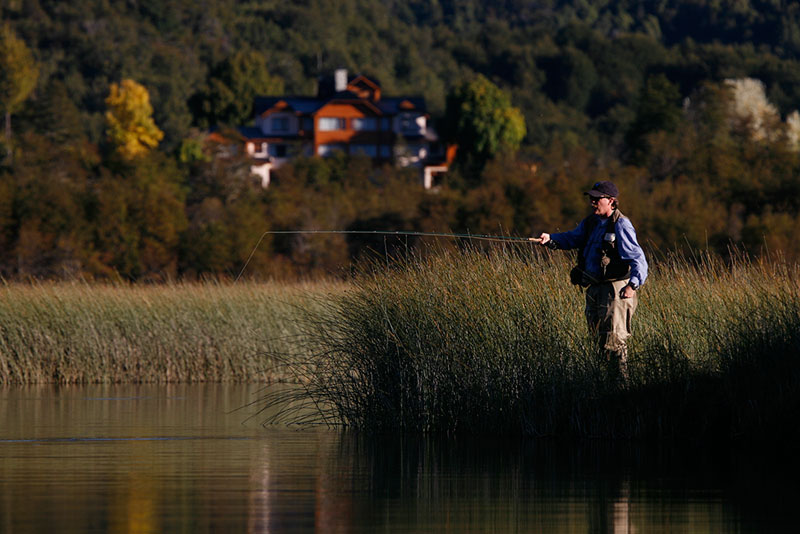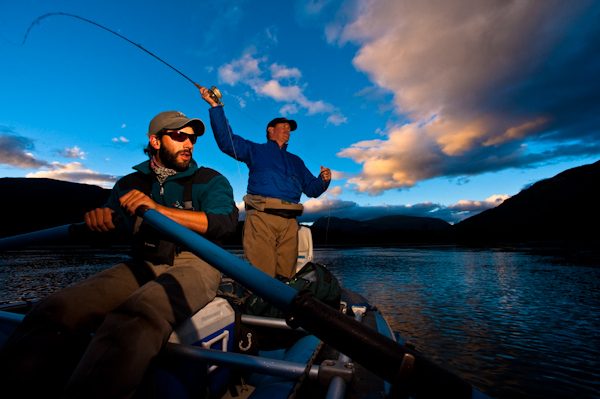 THE LAKES OF RIO MANSO LODGE
The Rio Manso watershed is a blend of naturally interconnected river and half a dozen lakes. For most anglers, our lake fishing experience is something entirely new and unexpected. Glacial runoff makes its way from the glaciers of Mount Tronador through a series of lakes and into the Manso River. This filtration creates crystal clear water with visibility of as much as 40 feet at certain times. Heavily forested shorelines guarantee ideal structure which in turn makes for exciting sight casting when fishing with dry flies. With our Carolina skiffs providing easy and comfortable access, a day on any of our lakes can produce a once-in-a-lifetime catch for a persistent angler. Here are just a couple.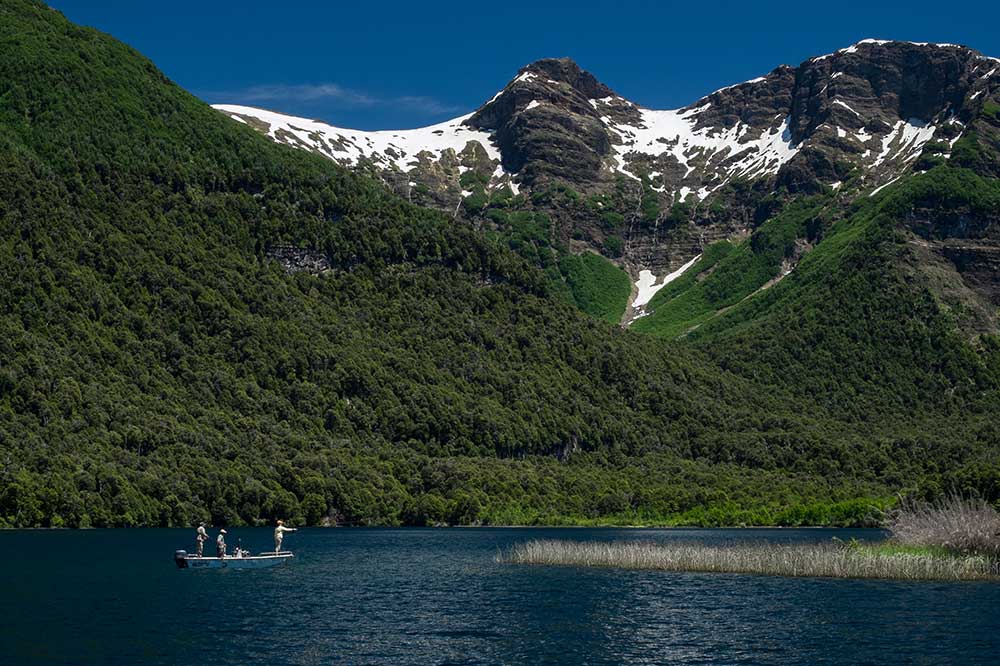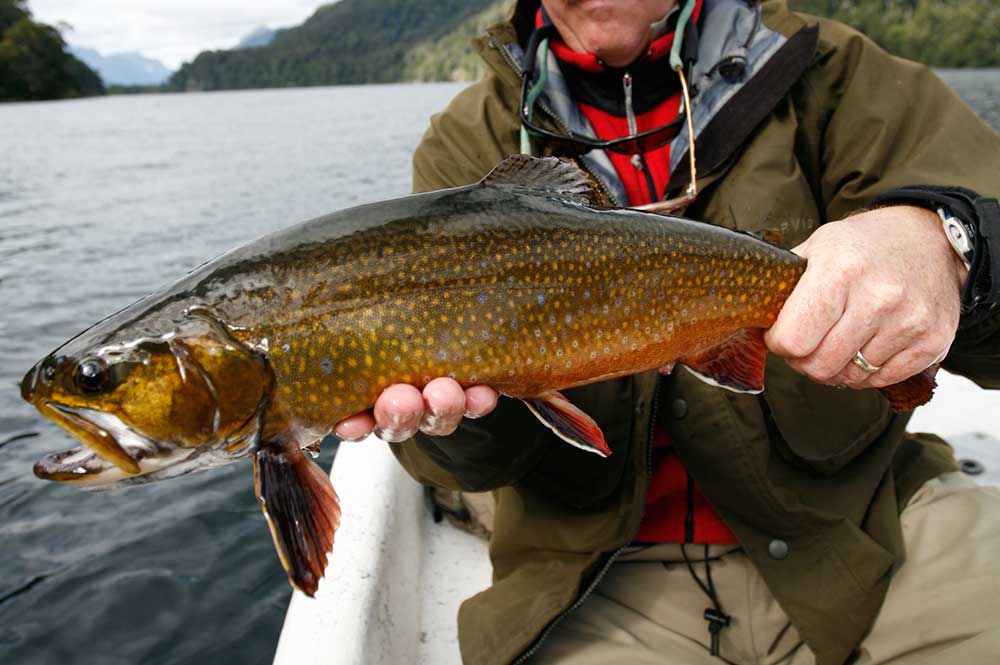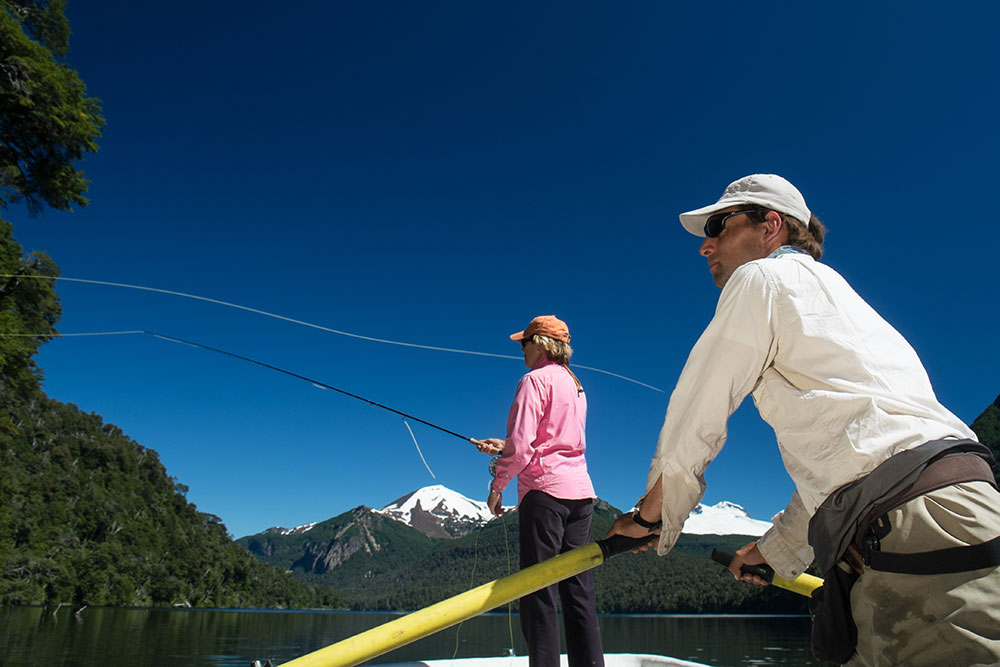 One of the jewels of Rio Manso is Lago Fonck. This four-mile-long lake offers mostly big rainbows and brook trout, and the occasional big brown. Depending on the time of year, we fish streamers and dry flies on the lake, often both during a typical day. Dragon flies, damsels, and caddis flies all hatch starting in November, and the trout cruise the lakeshore weed beds in search of a meal.  We fish the edges from our Carolina skiffs, working the structure where rainbow and brook trout lay, with the occasional brown as well.  With the added bonus of spotting an Andean Condor circling overhead, and beautiful Mount Tronador in the distance, a day on Fonck is always a special day.
Located just minutes from the lodge, Lago Roca always has a bit of mystery surrounding any day fishing its clear waters. A short channel connects it to Manso River, and fish can easily move between the river and lake. Early in the year, many fish migrate into the lake to take advantage of strong dragonfly hatches. The end of the season finds pre-spawning activity in the main lake tributaries as the fish fatten up for winter. Several of the largest rainbows and browns ever caught at the lodge have come from this lake, and are close to 30 inches and double digit weight!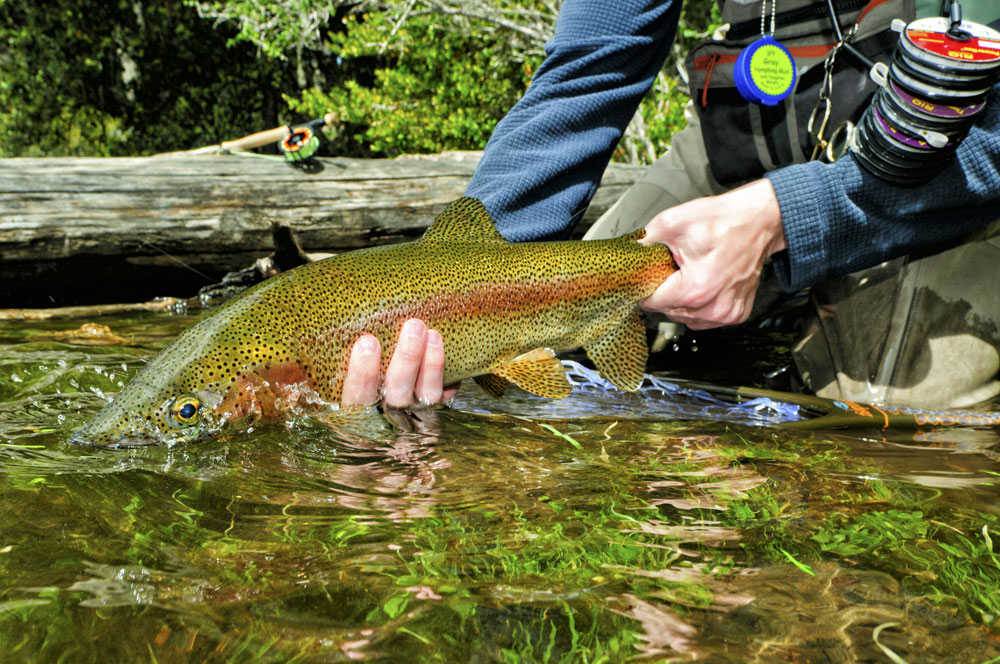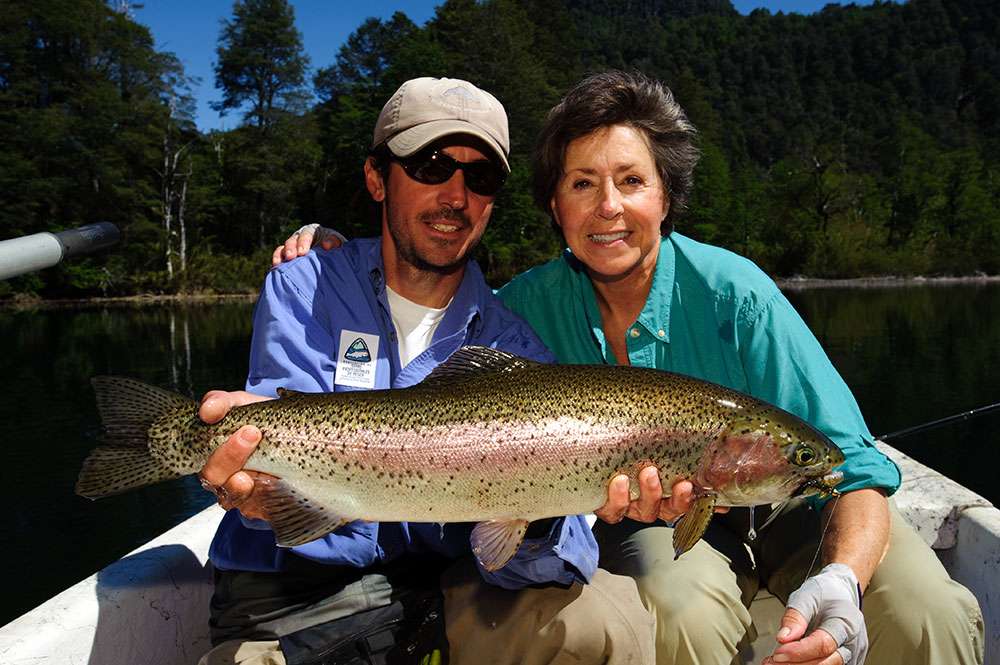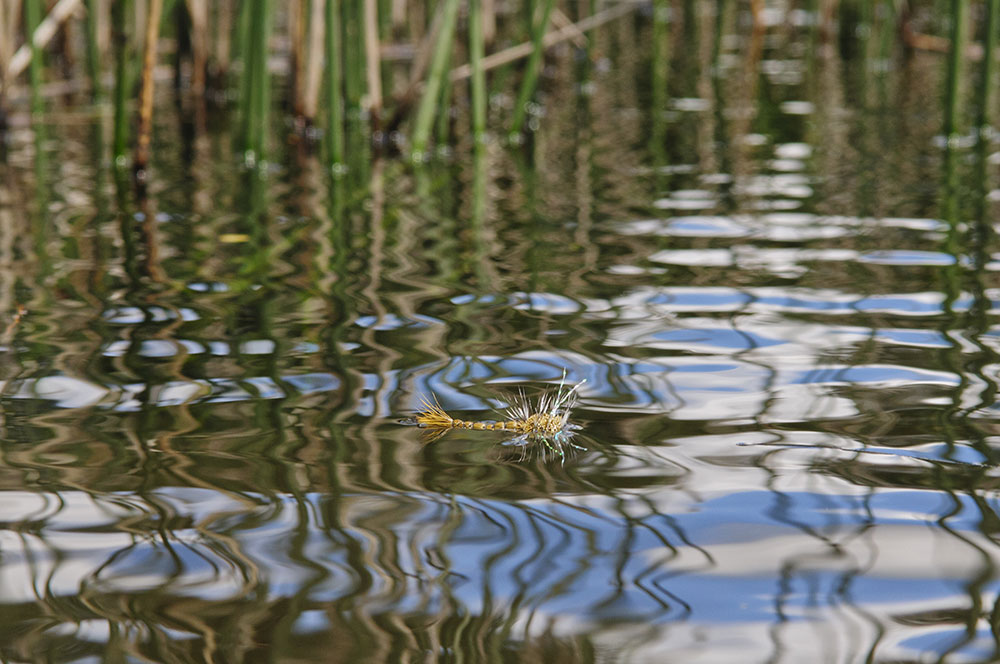 VISIT OUR "SECRET PATAGONIA" WATERS
We fish many other waters in our area that we prefer not to talk about too much; secret streams, hidden lakes, hard to find honey holes. These are singular experiences that we'll share only with our guests. They aren't for everyone, and some require some extra effort to get to, but come and visit and we'll happily take you to some very special parts of Patagonia – our Patagonia – places that most people never ever get to see.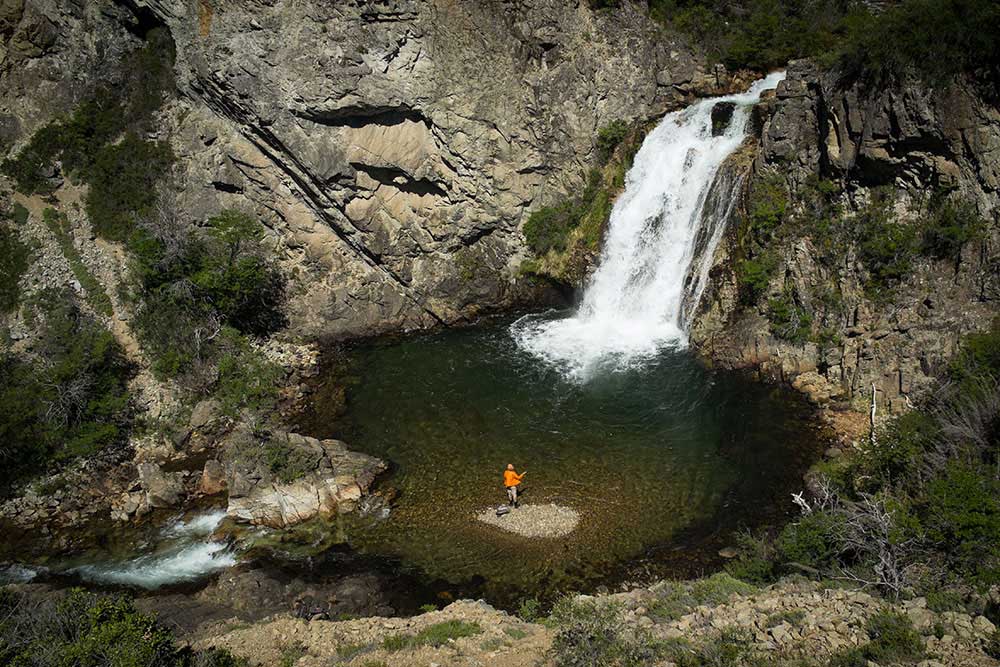 The fishing season in Argentina runs from the beginning of November until the end of April. It is the exact opposite of the North American season, with our longest day of the year falling on December 21. Rio Manso Lodge is open for the entire season. Here's an idea of what to expect: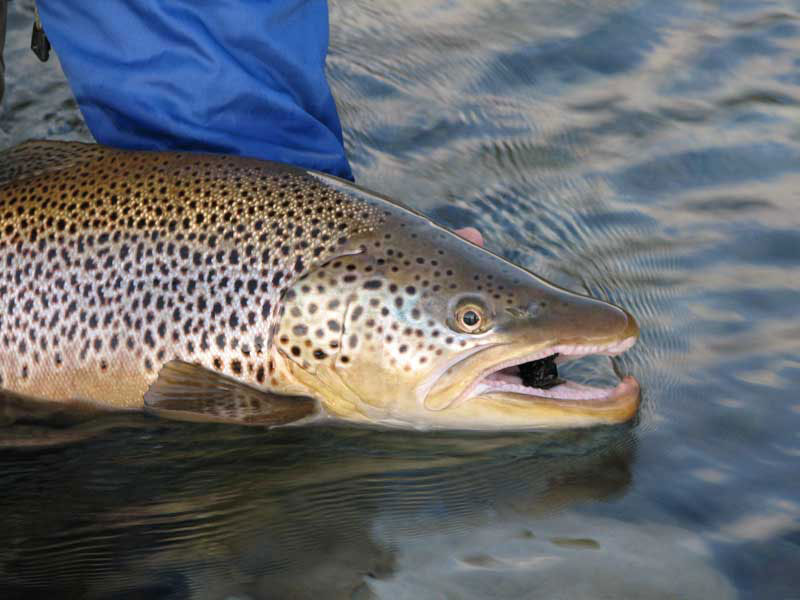 EARLY SEASON: EARLY NOVEMBER – MID JANUARY
These months are often marked by high water, which gradually recedes in December. We'll start the season fishing lots of weighted streamers on sinking lines. Mayfly and caddis hatches beginning in November will intensify in December providing increasingly better dry fly fishing. Early to middle December will see dragonflies hatching on the lakes and rivers bringing up the biggest fish and providing exciting dry fly action. Dragon fly nymphs and wooly buggers are very effective at this time.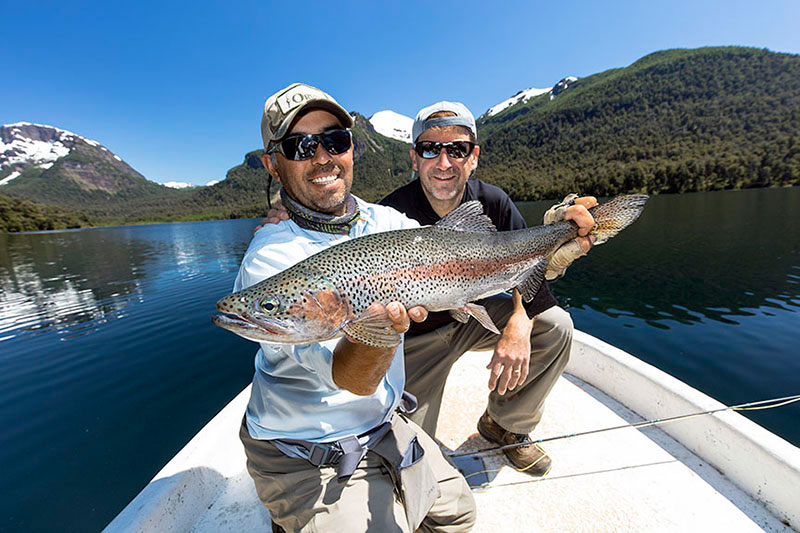 SUMMER SEASON: LATE JANUARY – MID MARCH
Excellent evening dry fly action continues into January. The river channels near the lodge feature multiple mayfly and caddis hatches that bring the fish up, especially early and late in the day. As temps warm in February, day time fishing can slow down on both the river and in the lakes. Terrestrials play an increasingly important role in the daily diet as summer progresses.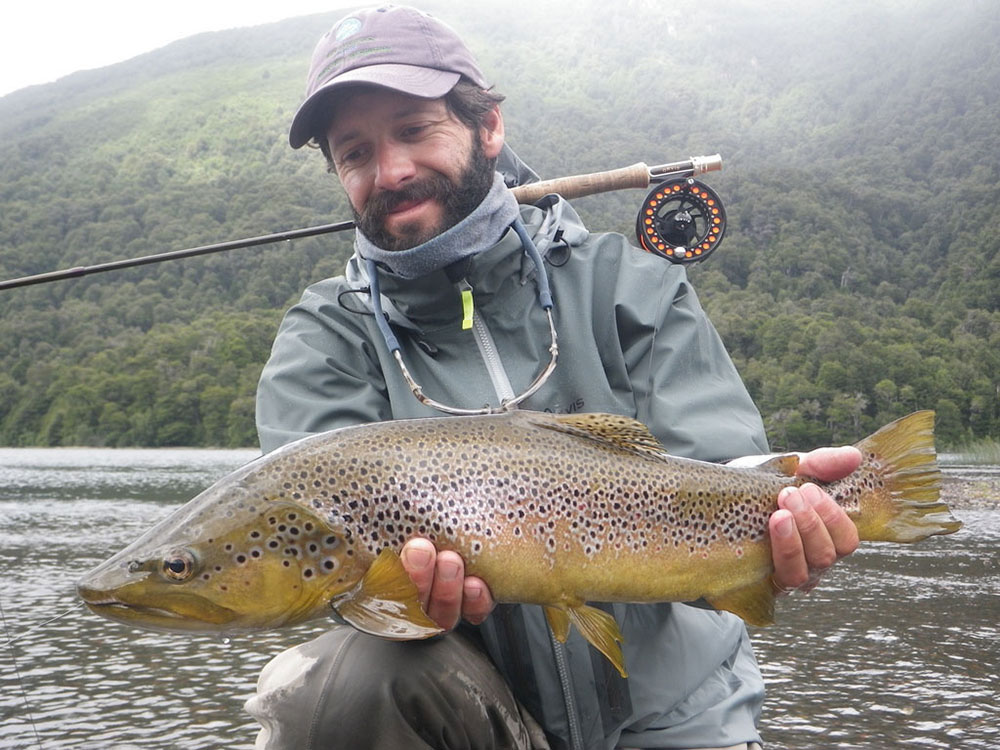 FALL SEASON: LATE MARCH – END OF APRIL
As Fall approaches, water temperatures begin to cool and the fish become more active. Evening fishing is characterized by a brief flurry of activity right before dark while most daytime fishing is with streamers or large attractor dry flies. Big rubber legged dries work well in the lakes. April is when the big browns become aggressive prior to spawning season.
Rebuilt in 2004 and uniquely designed, every one of our 9 guest rooms at Rio Manso Lodge face northwest with spectacular views of Lago Hess and the Andes Mountains. Just 15 miles away towers majestic Monte Tronador located on the border with Chile. If the weather is clear, the mountain looks close enough to touch.  Each of our rooms is comfortably appointed with either King Size or two Full Size beds and private bath. Some are equipped with a Jacuzzi as well.  Many guests sleep with their windows open to let in the crisp, cool mountain air.The lodge features a full wader room for tackle and waders, a fly tying area, a small, but well-equipped bar, and a spacious sitting area in front of our river stone fireplace.  Many nights it is cool enough to enjoy the warmth and comfort of a roaring fire. We normally serve cocktails and hors d'oeuvres there each evening.  The lodge has a sauna available to drive out the chill and loosen those stiff casting muscles.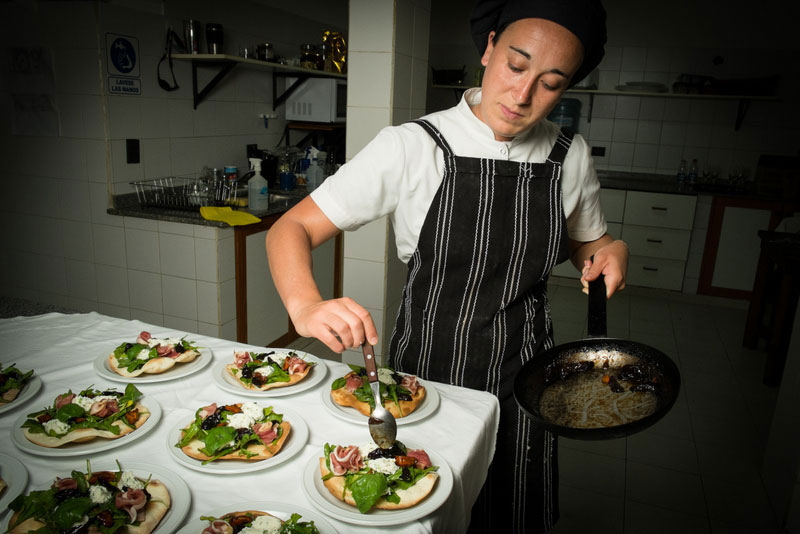 Meals are served in the main dining room and are the fitting conclusion to a day on the water or exploring the wonders of Patagonia. Our professionally trained chef will concoct delightful cuisine that reflects an international flavor made with the freshest of ingredients.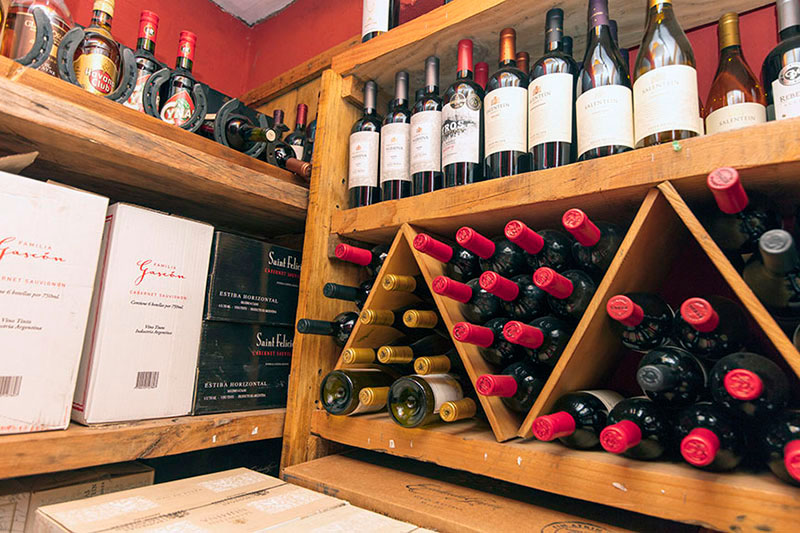 Gone are the days when traveling to Argentina meant eating meat at every meal.  You're as likely to have pasta, fish or chicken as beef at our table.  We serve a wide variety of dishes that reflect both the cultural diversity of the area and the worldly influence of today's culinary landscape.  All our meals are served with complimentary Argentine wines.  Should you have any special dietary needs, we are more than happy to develop a special menu for you.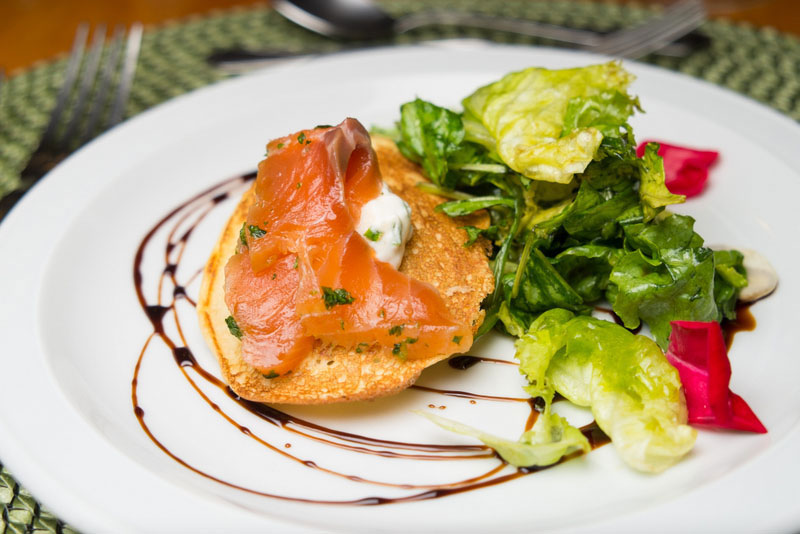 Meals are served in the main dining room and are the fitting conclusion to a day on the water or exploring the wonders of Patagonia. Our professionally trained chef will concoct delightful cuisine that reflects an international flavor made with the freshest of ingredients.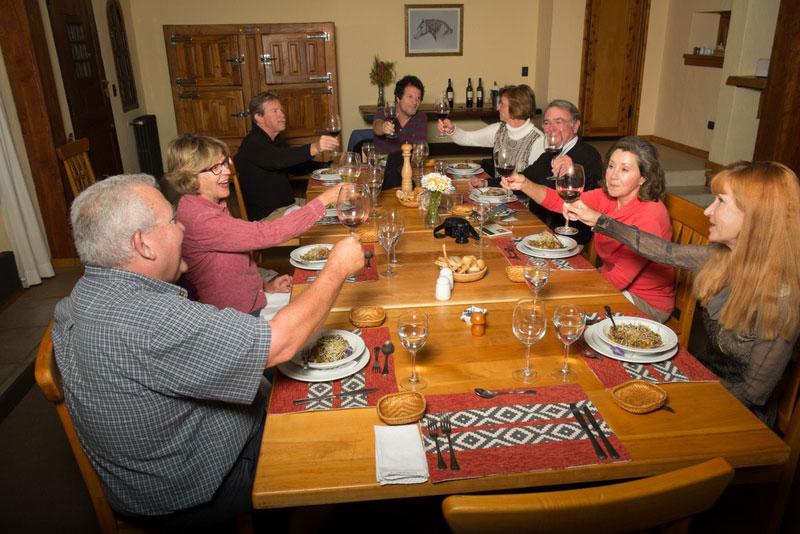 However, we have not forgotten our roots and the local custom of the Argentine asado. One of the highlights of the week, this traditional Argentine grill features such items as beef, lamb and pork. An Argentine asado typically has a sequence of meats presented by the asador (the cook). First are the chorizos (sausages), morcillas (black pudding) chinchulines (chitterlings), mollejas (sweetbread) and other organs, often accompanied by provoleta, a grilled cheese dish. Then costillas or asado de tira (ribs) are served. Next comes vacío or matambre (flank steak), and possibly chicken and chivito (baby goat). An asado also includes bread, a simple mixed salad of, for instance, lettuce, tomato and onions, or it could be accompanied with verdurajo (grilled vegetables), a mixture made of potatoes, corn, onion and eggplant cooked on the parrilla and seasoned with olive oil and salt.  No matter what you try, it's all part of the adventure at Rio Manso Lodge.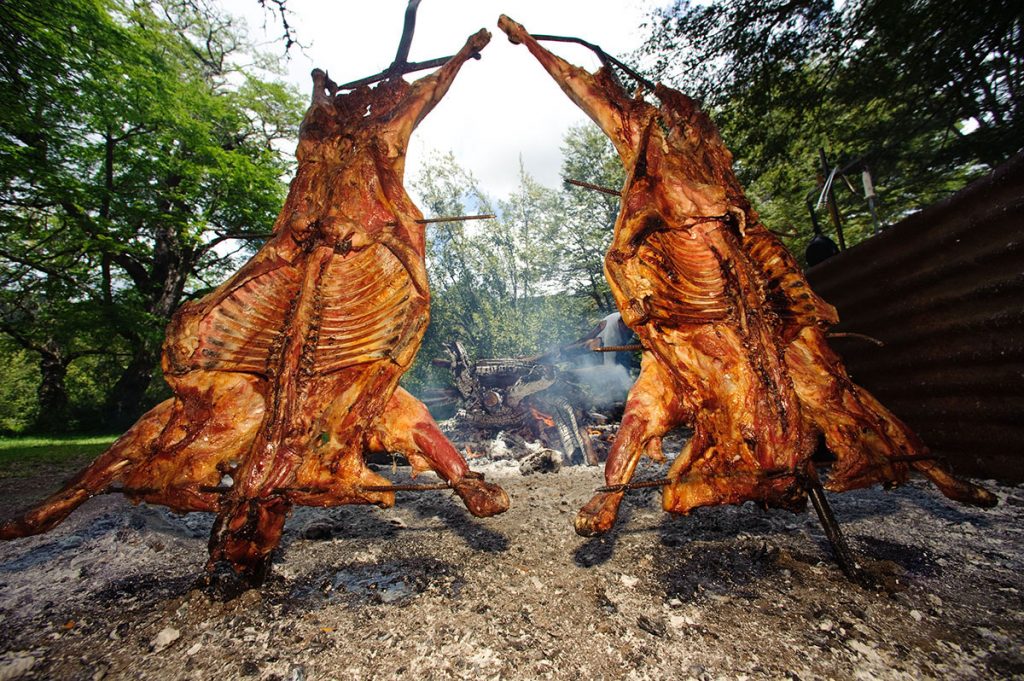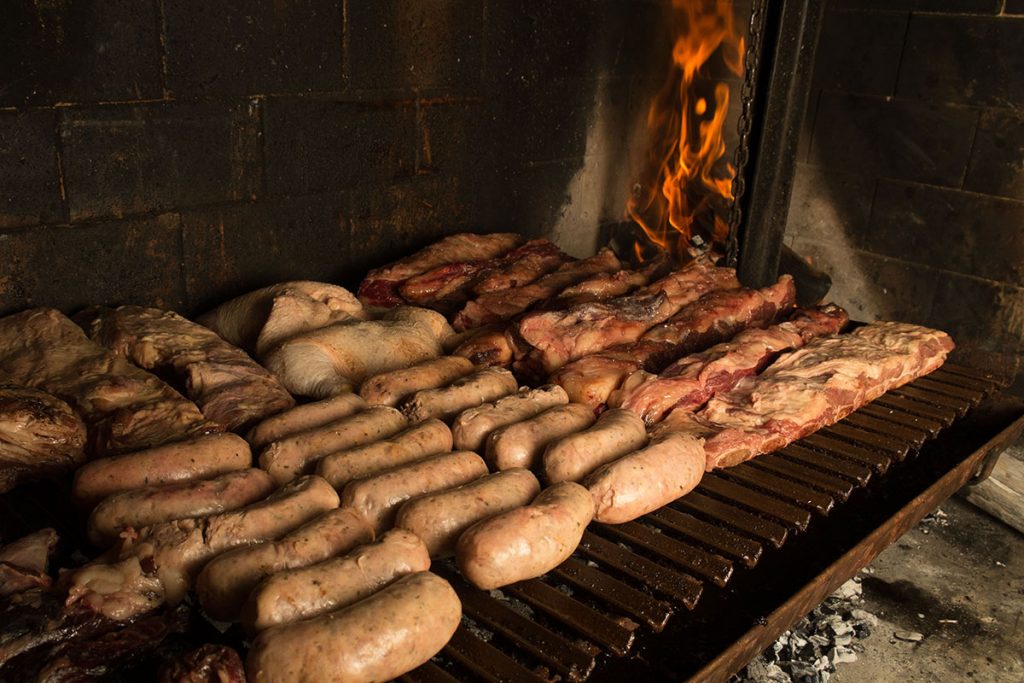 Passport and Custom Requirements for Argentina: You must hold a valid passport with at least 6 months remaining before the expiration date. No visa is needed for U.S. citizens or U.K. subjects; others should check entry requirements with the Argentine consulate.
Airline Reservations
The nearest airport to Rio Manso Lodge is in the city of San Carlos de Bariloche. You can get flights there through the capital of Buenos Aires.  If you have the time, we recommend a couple of days in this beautiful city.  When booking flights, you may have to change airports in BA. International flights arrive at Ezeiza, and most domestic flights depart from Aeroparque Jorge Newbury.  However, it's worth checking to see if you can catch a flight from Ezeiza (EZE) to Bariloche (BRC).  This is a relatively new development, but It will save you a transfer from one airport to the other.  Aerolineas Argentinas has one nearly every day.
We recommend allowing at least 5 hours between your arrival at Ezeiza and departure from Aeroparque.  Although the transfer time runs about an hour, clearing customs, getting your bags, exiting the airport and checking in for your flight to Bariloche can often take several hours to complete.  You'll want to use a reputable transfer service, several of which have booths in the airport.  We recommend Manuel Tienda Leon for the transfer.  You will find their counter after you exit baggage claim and customs.  You can reserve a car (recommended) or bus ride right at their counter; no need to reserve in advance.  A private car costs about $65 – 70 for the one hour ride.
RIO MANSO RATES 2021 – 2022
NIGHTLY RATES  (NOV 1 – APRIL 30)
WEEKLY PACKAGE  7 NIGHTS / 6 DAYS
Non Fishing Guests  $3,100
All rates include airport transfers to and from Bariloche area, lodging in single or double bedroom, all meals and snacks, all beverages including wine and alcohol, laundry, internet, guided fishing (1 guide for every 2 anglers), fishing license, and non-fishing guided activities.
Gratuities for staff and guide, long distance telephone calls, massages (available upon request).
At Rio Manso Lodge, our top-notch professional guides and staff do their absolute best to protect you from the risks inherent in any outdoor activity. But as we all know, participating in fishing, hiking, rafting, horseback riding and other Rio Manso Lodge activities presents risks, including but not limited to, the risk of personal injury, death and damage or loss of personal property. Such risks include, but are not limited to, the following:
Fishing and/or wading in or around lakes, ponds, reservoirs or other bodies of water; boarding and un-boarding of watercrafts; natural hazards including, but not limited to lightning storms and other adverse weather conditions; domestic or wild animals; fire; travel either on foot or in a vehicle in unfamiliar terrain or over fences and other structures; artificial and natural obstructions and/or unimproved roads; becoming lost or disoriented; the consumption of provisioned or other food and beverages.
You should realize that during your lodge activity there may not be search, rescue, medical facilities or the expertise necessary to deal with any risks to which you may be exposed. Be aware that fishing and other lodge activities are physical activities involving potentially extreme physical exertion and may not be suitable for everyone.
Travel Insurance
Front Range Anglers recommends all anglers to have Medical Evacuation Insurance- we recommend Global Rescue, and we HIGHLY recommend Trip Cancellation/Interruption Insurance. FOR ANY QUESTIONS PLEASE CONTACT: KIM D'[email protected] – 617.459.4200
CLICK HERE TO VIEW FRA GENERAL TERMS & CANCELLATION POLICY
**Trip  Insurance is strongly advised & recommended**