Newsletter ~December 2007
~ Dedicated to bringing people and fish together ~
Hi all:
The season change is always marked by the forming ice on Boulder creek, just enough to make fishing frustrating. The flows have remained decent this past year so we'll see how the fish winter over. Boulder creek has always been a valuable resource for anglers and for the larger community as well. The local TU chapter, Boulder Flycasters, has secured 60% of the $235K needed to restore and improve an area of the creek called Rogers Park. If you would like more information on this project just
contact us
.
Take a look, the prize is a nice high end Scott rod in this month's quiz! See below to enter!
Hope to see you, Bill
Special Announcement
I am very pleased to announce that Rob Kolanda has accepted a position with Front Range Anglers effective immediately. Rob has spent over 15 years in the fly fishing industry and for the last several years has been the Manager of Rocky Mountain Anglers. Prior to his arrival in Boulder, he managed and guided for Taylor Creek Fly Shop and Frying Pan Anglers in Colorado's Roaring Fork Valley. During this period he spent summers guiding clients in Alaska's Bristol Bay watersheds for salmon and trophy rainbows. When he isn't fishing or teaching someone how to fish he can be found tying flies and working on new patterns for Solitude and Brookside Fly companies. During the 2007 National Fly Fishing Championship Rob finished in the top 15 and secured a spot on Fly Fishing Team USA.
---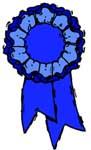 Win a new Scott S4 Fly Rod
(Retail cost $675)!
---
Bruce Mardick is addicted to the North Platte and for good reason!
This picture was taken the second week of November.
---
KEEP YOUR PHOTOS & STORIES COMING

click here for fame without fortune
---
Paul Prentiss knows Bruce is right about the North Platte
This may look great but its not the real story of this picture. Click here to see what actually happened.
---
Here's another North Platte (Miracle Mile Section) devotee
---
Chris Lohne caught this great Tarpon out of Key West in June of 2007
---

The above picture reminds me of a very worthwile program on Ask About Flyfishing Internet Radio. An interview with Tad Burke called "Tangling with Tarpon" Captain Burke has guided his fly fishing clients to 38 top ten finishes in the Invitational Fly Championships with seven of these being first place finishes. His suggestions how to suggestions are well worth your time if you are planning or considering a trip for this species....click here
---
Prepared for Xmas?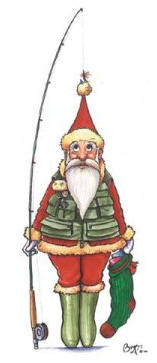 Here are a few staff recommendations
...A Temple Fork Finesse 8'9" 3-weight 4-piece fly rod with a traditional taper taper for fishing small flies on the hundreds of local creeks . At $179.95 it's a great bargain for yourself or member of the family. Click here for more info.
....Local author John Barr's newest book, Barr Flies. John is one of the most successful designers of commercially distributed flies in the world. At $39.95 it's a must have reference book on how to tie and fish John's great patterns. Click here for more into
--Simms Windstopper DL Vest. When you fish in the winter and fall you need a garment that will keep you warm. It doesn't get anyt better than this $149.00 vest. Click here for more info.
For more options, click here for our Holiday Gift Guide.

---
2008 Front Range Anglers Free Clinics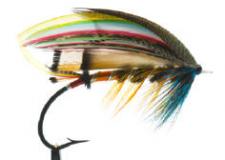 12/1/07 -
Maurice Blackman,
12/8/07 -

Tim Heng

: Fishing the Roaring Fork Valley,
12/15/07 -
Mark McMillan,
12/22/07 -
Steve Johnson
: TBA,
12/29/07-
Chris Conway,
1/12/08-
Dave Student
,
1/19/08 -
Barry Reynolds
: Pike Clinic,
1/26/08 -
Jay Zimmerman,
2/2/08 -
Brian Schmidt,
2/9/08 -
Willie Tiefell,
2/16/08 -
Patrick Tennyson,
2/23/08 -
Al Makkai,
3/1/08 -
Sue Armstrong,
3/8/08 -
Mark Rayman,
3/15/08 -
Jon Spiegel,
3/22/08 -
Ken Iwamasa,
3/29/08 -
Char Bloom
,
4/5/08 -
LA Garcia,
4/12/08 -
Todd Hosman
---
Winter Escape for the Budget Minded Angler
Win a TFO Fly Rod with your recommendation!
With the advent of winter thoughts turn to fishing warmer climes. We thought it might be fun to ask our customers about an attractive bargains (under $1,000) they may have have uncovered. To enter all you need to do is write up your recommendation in 400 words or less with a couple of snapshots (if you have them). We'll publish the entries in January and you can vote on your favorite submission. The winner will receive a TFO fly rod of your choice.
---
NEWS & NOTES
---
January Fly Fishing Shows in Denver
Denver will have two fly fishing shows January 4, 5, & 6, 2008. The Fly Fishing Show put on by Chuck Furimsky at the Merchandise Mart and the Fly Fishing Expo put on by the American Fly Fishing Tackle Association. Take your pick or attend both since each will have a different focus.
Front Range Anglers will be at the Fly Fishing Show with a great selection of special sale merchandise to complement a comprehensive set of merchandise from the leading manufacturers.

The 2008 show promises to be one of the best ever with a solid line up well known personalities, how to/where to clinics, and the great asssortment to fly tyers. Take the time to stop by and say hello.
Show Hours: Fri 10 - 6; Sat 9 - 5:30; Sun 9 - 4:30
Admission: Adult: $15 for one day,
$24 for two-day pass,
$32 for three-day pass;
Children under 12: $2
Special: Saturday is Family Day!
Two parents and any children under age 16 for $24.

*PDF of Denver Brochure*

---
Good News ... for a change
US Fish & Wildlife Survey of Fishing, Hunting and Wildlife-Associated Recreation
67 percent of all anglers (including non-fly-fishers) engaged in some form of catch-and-release fishing, while 20% always released their fish. Want to read more.....click here
---
Abel Reels bought by NY Investor Group
A small group of private investors has acquired Abel Automatics, Inc. manufacturers of precision machined fly-fishing reels and fishing accessories, announced Don R. Swanson, president and chief operating officer. New York-based Abel Holdings LLC assumed control of the company Nov. 9.
On the product front the company recently introduced a new big game reel for 2008
SUPER 12X (extreme)
for tarpon, tuna, sailfish, Mako sharks, bruiser dorado and other critters that don't give up. The large arbor-to-spool ratio allows the 12X picks up line incredibly fast - $880; extra spool $390. An incredible Xmas gift for the saltwater fisherman who is is a big game fanatic.
---
"Fisherman are an optimistic lot.....cronically optimistic....and to be optimistic in a slow bite is to thrive on hope alone. When asked" how can you fish all day without a hit?" The true fisherman replies: "Hold it! I think I felt something." When the line again goes slack, he says "He'll be back!" This is hope defined" ....Paul Quinnett
---
A Five Hour Drive
The North Platte River is one of Wyoming's best known trout streams. It's not hard to understand why. The Platte flows through beautiful scenic country, offers easy access and produces lots of trophy trout. The North Platte is a destination where every serious fly fisher should cast a line. A trip in the late fall is always a treat...click here
---
TIPS & TECHNIQUES
---
Read more about this incredible fly fisherman...
click here
---
Easy Leader Construction
Apply the 60/40 principal to produce a well balanced leader. Let's build a 9+ foot leader. 60% of 108 inches equates to a 65-inch butt section. 60% of this amount is 39-inches meaning the butt will be composed of one 39-inch section and one smaller diameter 26-inch section. The remaining 40% or 43-inches is multiplied by 60% and divided by 3 equalling three 9-inch tapered sections. The remaining balance of 17-inches is the tippet which I always make extend to 24-inches. So my 9-foot leader is approximately 9.8 feet.
There are many different types of connection knots, but perhaps the most popular is the blood knot. It is quick and easy to tie, and you will not waste material. If you are going to use fluorocarbon leader material for all or part of the leader I think the the triple surgeon's knot or double uni knot to is a better choice.
---
Spotting a Novice

Watching anglers assemble their gear is a good indicator. Assuming you are dealing with a four piece rod, carefully insert the butt section into the top section. With a slight downward twisting motion, seat the top piece on the butt segment until all the guides are in a straight line. (do not force the top section straight down on the butt.) Join the two top pieces together with the process described above. Last, join the top two pieces to the bottom pieces with the same twisting motion procedure. Sight through the guides to make sure everything is aligned properly.
Don't try to string your fly rod by putting the end of your leader through the rod guides. Double your fly line and use the doubled end. It's easier and the line won't slide back through the guides if it slips out of your hands.
---
Time for a New Fly Rod?
Sure, it's expensive but the pleasure one gets from using high quality gear is worth it. Today's fly rods from US manufacturers are the finest ever built. If you don't think so, take a rod you bought 5 or more years ago and try casting it at the same time you're casting a new model. The new rods are lighter, better finished, and designed for easy casting. Buying gear you dn't need is one thing but buying gear that improves your skill and gives considerable satisfaction is another.
Stop by and see some of the new 2008 rods from the leading manufacturers. We'll take the time to explain why and how these products are a good investment. For example, the new Winston Boron II-MX is the most agressive fast action rod Winston has ever made. Winston says that it was designed with wind, big water, sinking lines, and big flies in mind. The 5 & 6 weight versions are a great choice for western drift boat fishing.
---
Gee, I wonder if this works?
You better believe it!
---
FLY TYING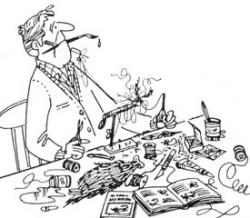 ---
I'm Done with Epoxy!
I've found the ultimate answer, and if you're a serious fly tier this is a must have material/tool.
CLICK HERE TO SEE SOME SAMPLES
---
6th Street Emerger...Fly of the Month
Jay Zimmerman developed this pattern for Boulder Creek but it's proven to be productive across Colorado. We suspect it will work very well in other locations. Click here for the specifics.
---
"If you give a man a fish he will eat for a day. If you teach a man to fish he will buy an ugly hat. And if you talk about fish to a starving man then you're a consultant".....Dogbert, one of Scott Adams characters in his Dilbert cartoon strip.
---
Simple Pattern for Carp
It can't get much simpler than this fly which takes about 2 minutes to tie.
Thread: UTC 70 Orange
Hook: TMC 200R
Body: Pine Squirrel
Legs: Sili Legs - orange/black
Note: After tying in the squirrel at the halfway point wrap it forward around the hook shank and tie off at the head.
This pattern also works on Trout & Bass.
---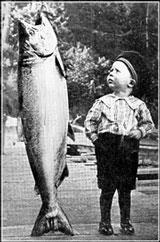 Looking Back
I fish because I love to; because I love the environs where trout are found, which are invariably beautiful, and hate the environs where crowds of people are found, which are invariably ugly; because of all the television commercials, cocktail parties, and assorted social posturing I thus escape; because, in a world where most men seem to spend their lives doing things they hate, my fishing is at once an endless source of delight and an act of small rebellion; because trout do not lie or cheat and cannot be bought or bribed or impressed by power, but respond only to quietude and humility and endless patience; because I suspect that men are going along this way for the last time, and I for one don't want to waste the trip; because mercifully there are no telephones on trout waters; because only in the woods can I find solitude without loneliness; because bourbon out of an old tin cup always tastes better out there; because maybe one day I will catch a mermaid; and, finally, not because I regard fishing as being so terribly important but because I suspect that so many of the other concerns of men are equally unimportant - and not nearly so much fun.
The author was a famous judge and resident of Michigan's Upper Peninsula.....click here
---
You've Got to be Kidding!
---
Fortunately Holloween comes just once a year
---
Positioning the fish properly is an essential skill
---
The End
This Sturgeon was caught on the Black River at South Haven Michigan. It weighed out at over 1,000 lbs and measured out at 11'1". It was 56" around the girth and took over 6 and a half hours and 4 dozen beers for the 4 guys taking turns reeling.