Newsletter ~ February 2009
~ Dedicated to bringing people and fish together
IN THIS EDITION
FISH TALES ~ REEL NEWS ~ DOWNSTREAM~ TIPS & TECHNIQUES ~ FLY TYING ~ BACK CAST ~ THE DEEP END
~ Updated Fishing Reports & Commentary ~
---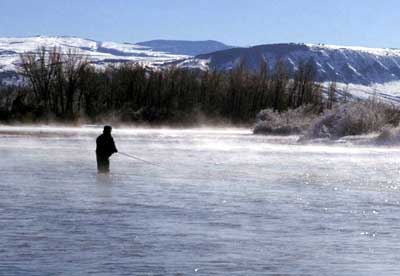 Hello all: Most fishermen I know have been doing an excellent job of praying to the snowpack gods here in CO. So far so good with the water situation; according to waterchat.com, Colorado's snow pack is above average for most of the state. (I am still scarred by a 40% drop in business due to the drought of 2003).
Our 2009 fly fishing class schedule has been updated on our website. We offer a Saturday morning introductory class, or full and half day private on-stream options. Click here for details, and to register online.
Our newsletter pictures keep getting better and better, thanks to everyone who sends in their photos. There is some real talent out there (photographic and fishing), and we're proud to be able to show your stuff.
Hope to see you,
Bill
---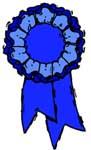 Win a C&F Designs Medium 8-row Fly Box
George Brandon of Boulder, Colorado doesn't miss an annual fall salmon and steelhead trip to New York and Pennsylvania with his friends...you can see why!
"This king was one of several males behind a big (really big and bright and beautiful) hen. She had no interest in flies, as demonstrated by totally ignoring the flies I floated by her several hundred times over 2-3 hours. The males were different story, hanging back downstream 5 to 10 feet while she worked on the redd building. They were aggressive and would come to and snap at any well-presented fly. This king was one of a half-dozen males I had on from briefly to landing that morning. I was fishing a 10 foot, 7W Orvis Power Matrix 4-piece rod, with Orvis Mid Arbor reel, floating line, adjusting split shot to present the fly at the depth the fish were holding. Fly selection wasn't critical—any streamer would do, but I mostly used gaudy artificial material stuff I'd tied.
Blow the pic up and you can see the fly impaled deeply right in the hook of the fish's upper jaw. I think that's why I was able to control this fish better than some others that got behind rocks and eventually broke me off. Was using 15 pound Orvis fluorocarbon tippet behind a stronger level leader."
---
Scott Williams of Lake City, Colorado uses the "lucky" Winston 5-weight rod he purchased from Front Range Anglers in 2002.

"The huge brown was caught in March of 2008 on a big, black streamer I tied myself. The other two were caught in 2004 and 2006 if my memory serves and were caught on traditional winter nymphing techniques of strike indicator, big stonefly nymph, split shot, and little nymph. All three fish were caught in the Lake Fork of the Gunnison somewhere between Lake City and where the Lake Fork empties into Blue Mesa Reservoir. All three were caught in the spring pre-runoff. Fishermen should expect cold water conditions, difficulty in getting to the river due to deep snow, and potentially dangerous ice conditions. So caution and care are recommended for this kind of fishing. But as you can see, the results can occasionally be prodigious."
KEEP ON SENDING US YOUR PHOTOS & STORIES
click here to submit a photo
---
December 27, 2008 was a big day on the
Mur River in Austria for a FRA Customer
---
On a Trip to Ascension Bay Gary Godden and his guide, Nestor (Pesca Maya) were looking for more bonefish but found something else.
"We ran across a school of about 6 tarpon feeding in a laguna. I wasn't quite prepared for tarpon fishing, but did land this guy, my first, on a Sage Xi2 8wt. & Bauer Rogue 4 reel w/ 15 lb. leader. He was successfully released."
---
Great Show This Year....thanks for stopping by to say hello!
---
IGFA Inshore World Championship on ESPN
ESPN Outdoors announced that the 2009 Florida Keys Outfitters IGFA Inshore World Championship will be broadcast as part of the second year of the ESPN Outdoors Saltwater Series on ESPN2 and will be presented on other ESPN Outdoors multimedia platforms, including daily tournament coverage at
www.ESPNOutdoors.com.
The championship, set for July 7-9 in
Islamorada, Fla., began in 2001 and has grown into a premier inshore fishing event. Robert Collins of Naples, Fla., claimed the 2008 World Championship, his third in four years. At the 2009 World Championship, anglers will compete in two divisions: light tackle and fly fishing.
---
2009 Fly Reel Bargains


If you're considering a new reel but want to keep the cost down, we've got some new products from Galvan, Ross and Lamson which offer great value at a very reasonable prices....click here for more information.
---
The Drake Flyfishing Film Tour
On December 31st, four primary members of AEG Fly Fishing Film Tour -- Thad Robison, Justin Crump, Chris Owens, and Brian Jill -- resigned with no explanation. The tour's future has been in question until mid-January.

Tom Bie (Drake Magazine) and two partners, Doug Powell and Chris Keig (both avid flyfishermen with substantial experience), have purchased the business which will be called The Drake Flyfishing Film Tour. The filmmakers will take a share of the profits, based on a model that the Banff Film Tour has been using for years.
We have it in stock...Click here to buy a copy
Boulder Theatre
Thursday, February 26, 2009
SIGN UP FOR
THE DRAKE
TO RECEIVE ANNOUNCEMENTS
FOR DATE AND TIME CHANGES.
Doors Open: 6:30 PM
Show Starts: 7:00 PM

---
In recent years the Abel Reel Company has released a number of special edition graphic finished reels. Abel president Don Swanson recently announced that Montana-based fish and wildlife artist Derek DeYoung will be represented on a limited edition run of reels. One reel finish is based on DeYoung's 'Abstract Rainbow - Serendipity,' a representation of a rainbow trout with a small serendipity fly in its mouth. The other is based on 'Abstract Brown - Copper John,' a painting of a butter-colored brown trout with a shiny copper john in its jaw.
---
Another Study on Decreasing Youth Participation
According to the Outdoors Industry Association, the number of active fly fishers aged 6-17 in the U.S. dropped from 1,440,000 in 2006 to 711,000 in 2007. Meanwhile the numbers for 18- to 24-year- olds dropped from 789,000 to 695,000 and the count for participants of all ages went from 6,121,000 to 5,576,000.......Click here to read it
Question....If you don't become involved with organizations that promote the growth of the sportfishing among young people what do you think the long term impact will be?
---
"At the turn of the 20th Century, a handful of pioneers carried their fly rods into California's remote north coast and gave birth to a culture that would revolutionize their sport. For a select few, steelhead fly fishing became an obsessive pursuit without compromise.

Leading the pack was the mythical Bill Schaadt, an off-kilter angler famous for his ruthless pursuit to be 'in the fish'. The new endeavor was ruled by a demanding, unspoken code, which made 'breaking in' almost as difficult as 'breaking out'.

By the early 1980s, the Golden State's coastal fisheries found themselves caught in a spiraling decline. As California searched for its disappearing salmon and steelhead, these men foraged for their souls. "
Click here to see a trailer
---
We have three new leaders from Gamma Technologies (Frog Hair). To the left and center are knotless shock tip leaders for salt and freshwater toothy gamefish. To the far right is a high-vis nymphing knotless leader that transitions to a clear tippet. Each of these retail for $9.95
---
NEW Fly Rod World Record Muskie

An avid fly fisherman and fishing guide is the latest Wisconsin world record holder for the monster muskie he landed on the Chippewa River with a fly rod.
The National Fresh Water Fishing Hall of Fame and Museum notified Brad Bohen of Hayward last week that the 51.25-inch musky he caught Oct. 16, 2008, was indeed a world fly rod record for a released fish on a 36-pound tippet
---
Fishing the Patagonia Region of Argentina
Barrett Mattison and Evan
Jones have spent several seasons independently fishing
and exploring the entirety of Argentine Patagonia (an
area roughly the size of Montana and California
combined), and in this book they share everything you
need to know about the area. This book is far and away the best guide you can own.
Click here to preview the content & an advanced copy.
---
DOWNSTREAM
What to look for in upcoming issues of the Front Range Anglers Newsletter
Special Fly Lines for Carp Fishing!
---
What's Hot

A few of our staff members have some suggestions...
click here
---

Used Fly Rods
Here are a few thoughts on buying a used rod
1. Inspect the blank visually
and by running your fingers over it. You may feel something you don't see. Look for scratches, blemishes and consistent color of the graphite. If you see or feel a spot that is unusual you have to be very careful. Many rods are damaged by impact from split shot or hitting something while casting.
2. Most rods come with a rod tube. Make sure it's included along with a rod sock.
3. Test cast the rod or an identical model prior to purchase...you'd be surprised how anglers don't bother with this obvious step.
4. Ferrules should be visually checked for any damage and proper fit. Assemble the rod and give it a strong wiggle.
5 Closely inspect the guides and the thread wraps - look for cracks in the finish over the wraps. Run the cotton ball through the guides and if there is a problem the cotton will be caught in the guide. If the stripping guides have inserts, make sure the insert is not cracked or broken.
6 Check out the cork for chips and other damage.
7 Look at the threads on the reel seat for any damage. Screw the locking nuts up and down. They should screw easily. Tightly grasp the graphite just in front of the grip and try to twist the grip and reel seat.
---

Now Playing...Dave Hughes
Dave Hughes is editor of the Flyfishing & Tying Journal and author of more than 20 books about fly fishing for trout. They include the classic Western Hatches (with Rick Hafele), American Fly Tying Manual, Handbook of Hatches, Reading the Water, Tactics for Trout, Strategies for Stillwater, Dry Fly Fishing, Nymph Fishing, Fly Fishing Basics, Wet Flies, the massive Trout Flies, Essential Trout Flies, Taking Trout, Trout From Small Streams, and Western Mayfly Hatches (with Rick Hafele). His latest book is titled Nymphs for Streams and Stillwaters, and will have more than 300 pages of text and 1,000 color photos of naturals, nymphs, tying steps, and the types of water where you'll want to fish them. Click here to listren or download the presentation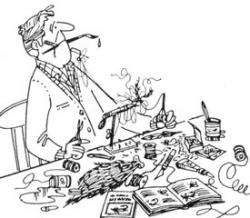 ---
The Toad was developed by Garry Merriman. It has become the staple pattern for just about every serious tarpon fisherman. Click here to see how to tie it
---
Steve Farrar hails from the state of New Jersey. He is a member of the Atlantic Saltwater Flyrodders founded by Bob Popovics - his friend and mentor. Steve has been instrumental in popularizing the blending of flash and synthetic materials to create realistic baitfish patterns. In 2003 an article about his creations was published in the
Art of Angling Journal
.
Click here
to read about his technique.
---
The

Right Size

for Your Bench!
Some time back a good friend and master fly tyer, Bob Bush, turned me on to these large dispensers of Super Glue. For handling many tasks at the fly tying bench they are perfect. I use a bodkin with the brush when just a small drop is required.
---
The HellCrawl V2
The Hellcrawl was originated by Anthony Hipps, a professional fly tying artist, instructor, and speaker from Lexington, North Carolina. It was designed for bass fishing but works for any species that eats crayfish. This version is similiar but is tied on a longer hook and incorporates a hackle collar. Click here to see the recipe and a set of "how to" photos.
Talking about Crayfish, Steve Schweitzer has a new pattern, the Tabou Daddy. It's a lightweight, easy to cast
imitation of a baby crayfish...click here to see it and the tying instructions on the Global Flyfisher
---
Why Buy Them?
Because making them is a pain in the a--. Never-the-less, you can make them yourself with double edged razor blades, some washers, and nuts & bolts. This device works but use care - it's not on the OSHA list of approved tools. Click here to see a how it's done. If you're going to cut 'em you might want to dye them so how to instructions are included
---
New Fly Tying Materials...stop in and see for yourself
---
Merging Traditional Wet flies with Beads
Ken Iwamasa did the last fly tying clinic for FRA in January. He talked at length about old style wet flies but he's added something new which Ken says works wonders.
---
You've Got to be Kidding!
Mike George has taken the art of spinning and stacking deer hair way over the top. According to Ward Bean at the
Warmwater Flytyer
, Mike's special techniques allows him to build a body that is so tight that, once it's properly trimmed, it could be sanded with sand paper! Read more about him and see his incredible creations...
click here
Beyond Compare
After seeing Mike's work I'm not showing off any more of my hair bugs!

Mike's flies were also featured in the Autumn 2003 Edition of
Fly Tyer
Magazine. When asked how long it took to create these flies Mike indicated 4 to 6 hours.
Silk
Fly lines were originally made from horsehair, specifically from the tail of a stallion, and hair combined with silk and other materials. Twisted, woven or plaited (braided) in various strengths, and tapered towards one end, they usually came in lengths varying between 30 and 40 yards. In the 1870s Hardy sold two qualities of fly line. The "Finest Quality London Patent Silk and Hair Lines" in lengths from 20 to 70 yards, and the "Plaited Silk and Hair Line", made in lengths of 20 to 50 yards. Read more from A few remarks about Silk Lines by Wolfram Schott, 2007
"I told you we would find fish out here"
"I don't care what you say, I'm not opening the the door!
The Ultimate Fisherman...
click here
for some incredible Osprey pictures