Newsletter ~January 2008
~ Dedicated to bringing people and fish together ~
IN THIS EDITION
FISH TALES ~ REEL NEWS ~ PROFILES ~ TIPS & TECHNIQUES ~ FLY TYING ~ BACK CAST ~ THE DEEP END
WIN A TFO FLLY ROD WITH A STORY ON WINTER ESCAPES - Click Here
---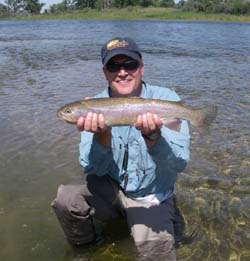 Hello all, Happy New Year!

We have surveyed hundreds of our customers in the shop over the last few months, and the majority showed interest in fly tying. My advice is to start small, literally. Many midges are merely thread on a hook, and are very effective, especially this time of year.

If fly tying proficiency is one of your 2008 new year's resolutions, we have an ongoing series of fly tying classes, and the latest offering will be taught by Rob Kolanda. Rob is a member of Fly Fishing Team USA, and is well known as a local expert. Click here to sign up; space is limited.

Hope to see you, Bill
---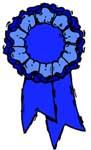 Win a new SA Mastery Series Fly Line!

---
The pictures above and below came to us from Erik Myhre who did a family trip to the Kenai in Alaska in the fall of 2007. According to Erik, his dad is already packed for round two in 2008....easy to understand after looking at these photos.
---
KEEP YOUR PHOTOS & STORIES COMING

click here for fame without fortune
---
---
When Jon Speigel (FRA) traveled to Georgia in the Fall of 2007 he and a friend, James Hooven (pictured above), fished for Shoal Bass. None of us at the shop had ever heard of them...click here to find out more
Matt Sullivan is pictured above holding this very nice Rainbow taken on the Frying Pan. There is something special about this catch...click here
---
Winter Escape for the Budget Minded Angler
Win a TFO Fly Rod with your recommendation!
~ still waiting on submissions ~
With the advent of winter thoughts turn to fishing warmer climes. We thought it might be fun to ask our customers about an attractive bargains (under $1,000) they may have have uncovered. To enter all you need to do is write up your recommendation in 400 words or less with a couple of snapshots (if you have them). We'll publish the entries in January and you can vote on your favorite submission. The winner will receive a TFO fly rod of your choice.
---
The very word "ANDROS" conjures up visions of huge bonefish on mile after mile of white sand flats under emerald green and aqua blue water.
Four Colorado anglers decided to explore the South Andros, Bahamas. Read about it -
click here
or look at the pictures (and drool) -
frame-1
/
frame-2
.
If you want have the time of your life with top guides that learned where and how to fly this area from their dad, the oldest fly fishing guide on the island, contact us.....
click here
---
Watch 1930's Video of Lee Wulff
A reader sent me a link to an old RKO short on YouTube of Lee Wulff fishing on the Miramichi in New Brunswick for Salmon. A good deal of the film shows him fishing with his trademark small bamboo fly rod....click here
---
TU Sounds Alarm on Global Warming
The evidence keeps mounting – the earth's climate is changing. Eleven of the past 12 years rank among the 12 warmest years on earth since 1850. Glaciers are melting faster. There are indications of rising temperatures in high altitude lakes. And fish in rivers are extending their ranges northward to waters that were previously colder than the fish could tolerate....click here for more information.
Rock Snot...coming to your home waters!
By the early 1990s, massive rock snot blooms were fouling cold, clear rocky mountain streams in western states such as Idaho, Wyoming and Colorado. It seemed to be a western problem until it fouled pristine fishing streams in New York, Vermont, Tennessee, Missouri and Virginia. The spread of this problem is caused by fishermen wo fail to sanitize their equipment....click here to
learn how to deal with NZMS, Whirling Disease, Didymo, and Zebra Mussels.
---
2008 Front Range Anglers Free Clinics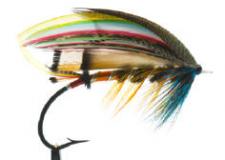 Chris Conway,
1/12/08-
Dave Student
,
1/19/08 -
Barry Reynolds
: Pike Clinic,
1/26/08 -
Jay Zimmerman,
2/2/08 -
Brian Schmidt,
2/9/08 -
Willie Tiefell,
2/16/08 -
Patrick Tennyson,
2/23/08 -
Al Makkai,
3/1/08 -
Sue Armstrong,
3/8/08 -
Mark Rayman,
3/15/08 -
Jon Spiegel,
3/22/08 -
Ken Iwamasa,
3/29/08 -
Char Bloom
,
4/5/08 -
LA Garcia,
4/12/08 -
Todd Hosman
---
"It has always been my private conviction that any man who pits his intelligence against a fish and loses has it coming".....John Steinbeck
---
We have so many customers that we never get a chance to meet. We though you might like to know a little bit more about our staff. Over the next few months we are going to introduce you to the crew that makes Front Range Anglers one of the very best shops in the country.
Paul Prentiss, Information Coordinator
Paul's been fly fishing and tying flies for more than 50 years. His first fly rod was a Heddon with a Shakespeare automatic spooled with HDH line. He learned to tie flies on his own by taking apart patterns, watching a neighbor, and reading Field & Stream.
Paul had a 30-year career in Information Technology with a Fortune 500 company, which he retired from in 2001.
He moved to Boulder in 1964 where he married and raised a family. He's now a grandfather and is beginning the process of teaching his grandchildren about fishing.
His association with Front Range Anglers started in 2004 when he told the owner, Bill Leuchten, he had a few ideas on how communicate with customers.
In addition to Front Range Anglers, Paul is very active in Trout Unlimited and the local chapter, Boulder Flycasters. He is Chairperson for the National Fly Fishing Championship which handles US competition for the selection of Fly Fishing Team USA. He writes articles and takes photographs for various fishing publications.
Paul's primary objective is to be on the water at least 150 days a year chasing anything that swims.
He can be reached at peprentiss@earthlink.net
---
The New Bass Rods
A year ago Temple Fork came out with two short rods (7 1/2-foot 6-wt & 8-wt.) for handling large fish in close quarters. I wrote a review which commented about their great potential as warm water bass rods. We now have two more high end contendors in this arena, Sage and Scott. Both companies have released tournament-legal (8-feet or less) bass fly rods which were on display at the September Fly Tackle Dealer Expo.
Here is the TFO 7 1/2-foot 6-wt. reviewed last summer. At $249.95 its a tremendous rod...click here for more
So, what's the interest? For starters there are more bass fishermen in this country than there are golfers and tennis players. The Bass Masters makes Trout Unlimited look like a small country club. Last but not least, is the tremendous interest in tournament fishing which generates a huge amount of revenue and TV coverage. The real question is why it took them so long to recognize the potential in this market....
click here
for more
---
Sink-Tips & Big Streamers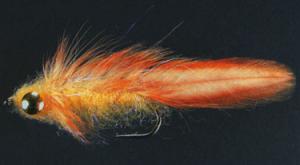 Imagine casting an apple on the end of a rope using a dry fly stroke. You will either be entangled by the cast or suffer a whack on the back of the head. Now what?....click here
---
Guide Gear - FishPond Water Dance Pack
Why does Front Range Angler Associate, Jay Zimmerman, use this Fishpond Pack?
"What I really like about this vest is you can use it as a shoulder setup. It's out of the way while fishing and casting but it can be immediately swung into position to access your flies or other items. It's very comfortable to wear and it's got considerable storage space." An added plus -- this bag can be purchased separately or as a part of Fishpond's Double Haul chest/backpacking system. For extended walk and wade trips the Double Haul offers some great features including plenty of pockets and room for a hydration system....click here to learn more
---
Extreme Tippet

While visiting the Retailer Show in September of this year, Travis Campbell, President of RIO, gave me some tippet material to try....click here
---
A First Class Line for Bonefish
The Scientific Anglers Mastery Bonefish Fly Line is designed for delicate, low-visibility delivery to wary fish. They are stiffer for fast shooting and are designed to perform in an optimal manner in tropical conditions. These lines feature a long belly with a stiff core and small overall diameter to work well to extend casting range and increase accuracy. The advanced taper also improves line performance in the wind without compromising delivery. The longer front taper helps deliver flies more delicately and the larger diameter running line reduces memory and tangles. The Horizon Blue color is visible to anglers but blends into the sky and sea to become less visible to skittish fish...click here for mor information
BIG HINT: DO NOT USE YOUR NORMAL FRESH WATER LINES FOR SALTWATER FISHING. THE RESULT WILL BE MOST UNSATISFACTORY.
This is my personal favorite line for flats fishing and I strongly recommend it.....Paul Prentiss
FLY TYING
---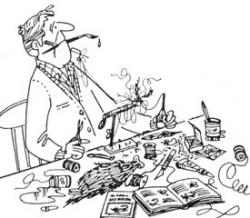 Spotting a Novice - Flytying


--You plan to save money by tying your own flies.
--You haven't considered the possibilities nor initiated the use of various kitchen appliances.
--You have concluded that the rooster capes received from cousin Elmo are a good substitute for Whiting capes.
--You don't see any connection between craft shops and fly tying.
--You haven't stolen your wife's sewing sissors.
--You told your wife that your fly tying area can be contained in a small space and that she doesn't have to worry about stepping on hooks.
--You believe that after purchasing a basic inventory of materials your future needs will be modest.
---
Making mono-eyes
1. Cut a 1/2" ~ 3/4" monofilament (mono) of the appropriate diameter. The finished eye"ball" will be approximately twice the diameter of the mono.
2. Hold the mono in the center with hemostats or needle-nose pliers.
3. Heat one end of the mono with a cigarette lighter until it melts into a ball.
4. Blow gently on the melted ball to cool and harden it.
5. If it ignites blow it out! It is best to start over with another piece of mono as the ignited one is usually unusable and/or too short to use.
6. Do the same to the other end. This is the end that you will mess up!
---
"How to know without a trace of doubt that your recently tied fly is a good imitation? A spider crawls across the desk and steals it."..... extended quotation by Moc Morgan and Michael Cutchin in MidCurrents
---
Dealing with Biots
Wrapping a biot with the notch down will create a smooth body.
Wrapping a biot with the notch up creates a natural rib.
Mike Brisco's Scud for the North Platte
Here's a simple but highly effective pattern that Mike tied during a FRA clinic.
Hook: Daichii 1150
Size: 14 - 16
Thread: Olive 6/0 or UTC 70
Tail: Olive Partridge
Body: Mix by hand - 50% Lt Olive Sow-Scud, 25% olive brown Hare-Tron, & 25% amber Sow-Scud
Rib: Fine copper wire
Back: Clear Scud Back
---
In 1980 Berkley decided that the time had come to marry a high tech aluminum/plastic to fly reels, the expected result being a light weight workhorse at an affordable price. What they ended up with was a reel that looked cheap and fell apart with hard use.....click here
THE DEEP END
---
Solitude on the San Juan
Perhaps we're not alone!
(Erik Myhre - see Fish Tale pictures above)
This is for fishermen with a special fishing buddy