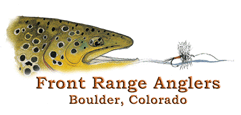 Newsletter ~ June 2008
~ Dedicated to bringing people and fish together ~
IN THIS EDITION
FISH TALES ~ REEL NEWS ~ PROFILES ~ TIPS & TECHNIQUES ~ FLY TYING ~ BACK CAST ~ THE DEEP END
---
Hello all,
Congratulations to Bryant Culler, Ned Mayers, Jane Moody, and Mel Cohen, winners of the 2008 Warmwater Tournament. Thanks to all the hardworking anglers who joined in making it a fun filled and successful day. See below for more information and photos.
Also congratulations to FRA staff member Rob Kolanda who finished in the top 10 in the Loch Style qualifier for the 2009 Fly Fishing Championships. These world games will be held mostly on Swedish Lakes in 2009.
Under the fine tutelage of Jay "The Byrd" Zimmerman, carping madman, I hooked a nice carp on one of our fine cool days this spring. With Run-off obliterating many of our Front Range streams, warmwater fishing should somehow make it onto your radar. Stop by the shop if you need information on flies to use and where to go.
Hope to see you,
Bill
---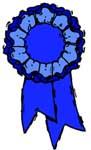 Win a C&F Designs 12-row Fly Box!
---
Per Lüdicke caught this seatrout on a fishing trip to the Ljungan River. We understand that the Ljungan is one of the top seatrout rivers in Sweden and the best time for this kind of fly fishing is from mid-April to mid-May and again from mid-September to mid-October. The fish was caught on a tube fly from Scierra. He's most pleased with his new Simms G3 waders.
---
Jon Spiegel spotted this 4-pound bass holding next to the bank on a SE Florida Canal a few minutes into a day of fishing for Peacock Bass. He rigged up with a Clouser pattern of his own design and bagged him after several casts.
KEEP ON SENDING US YOUR PHOTOS & STORIES

click here to submit a photo
---
Dave & Marion Clark had one of those perfect days on Grand Bahama Island in May of this year
---
This 10-pound Carp caught by Jay Zimmerman was on his fly in a New York minute when it was dropped a foot in front of him.
---
Chris Chamberlin's trip to Canada for Smallmouth and Pike was a great success
---
New Kind of Fishing Report Introduced
Most fishing reports are out-of-date, filled with questionable or static information, unidentified sources, and so on. We've decided to try somethind different. A special blog site where FRA associates will give you direct input on fishing activity on a day off or while guiding. This is a lot more than just a fishing report because contains a lot of personal "how to" suggestions. Click here to take a look at this new site which is updated several times a week. Even better, you can participate by posting information or asking questions.
---
The Boulder Flycasters annual picnic will be at Elks Park in North Boulder on June 18, 2008 at 6:30 PM. This is a free event and members, family, and friends are welcome. Click here to contact the organization for more information.
---
Selection of Pike Flies tied by Jay Zimmerman for $58.95
---
Released
John Gierach fans will be pleased to learn that his new book has been released. According to one review: "Equal parts fishing lore, philosophy, and great fish stories, Fool's Paradise may not be a perfect substitute for actually being out on the water, but it's surely the next best thing."
---
"The only reason I played golf was so that I could afford to go hunting and fishing." ...Sam Snead
---
2008 Warmwater Tournament a Smashing Success

We call it a tournament, but it's a fun/laid back fishing day. It's designed to encourage participation in this growing area of fly fishing......Click here to read about the 2008 event.
---
Bill Leuchten ...."The challenge of owning a fly shop is as humbling as fly fishing itself"
Fly fishing has been and always will be a passion of mine. Moreover, I've always wanted to own my own business, and running a fly shop, with all its challenges and successes, has been a perfect integration of these interests. Front Range Anglers has withstood the tremendous challenges that have faced the industry in the past 6 years. Without the great staff and loyal customers, it would have been impossible. So far it has been a great ride with many sales goals achieved. We are well positioned to undertake future opportunities in this business.
I started fly fishing mostly on lakes in my native New Jersey. Relocating to Colorado gave me the opportunity for year around trout fishing plus warmwater options. Further, fishery management in this area was focused on natural reproduction rather than put and take. Catch and release was the ingrained ethic.
There are so many outstanding fly fishermen in Colorado that it was exciting to fish with very experienced anglers and increase my knowledge and skills. I look at Boulder and the Front Range as being at the forefront of fly fishing/fly tying knowledge and technique and it is a real pleasure to have a place in this industry in such a progressive town.
I've become an avid saltwater fly fisherman and I actually enjoy the hunt equally with the catch. My perfect fishing day is a 4-10 fish day with loads of tedious hunting and sight fishing. Refusals keep an angler humble and I think that is important. Refusals keep the fire alive to design a new fly pattern that the fish will be unable to resist next time.
My wife Beth, my three children and I all love the lifestyle we enjoy in Boulder.
---
Peacock Bass in SE Florida

In several days of fishing I learned a fair amount about the Peacock Bass stocked in SE Florida in the late 1980's to control an overabundance of illegally introduced Tilapia population.
Peacocks were originally imported from Brazil, Guyana and Peru. Today fishery extends through 330 miles of canals in Dade and Broward counties and is self-sustaining.
Click here for more
---
The "RIGHT STUFF" for the Bighorn
Adjacent to Three Mile Access on the Big Horn you will find the Absaraka Fishing Bear Cabins owned and operated by Dave and Zoe Opie. It's a perfect location for that trip to one of the finest fly fishing rivers in the US.
During my April trip I asked them to pick out a few must-have flies for the Bighorn....Click here
---
Dealing with Airlines Baggage Charges
Now that airlines are charging for second bags and considering charging for any checked luggage, the traveling angler needs to give serious thought to aquiring one of the large rolling duffels. They can accomodate all of your gear plus multiple 30-inch rod tubes. Both Fishpond (right) and Sage offer high quality options.
Too expensive you say. Think about the value of the stored gear and what can happen when a cheap alternative comes apart (it happened to me!). If you buy the Fishpond Rodeo before July 4, 2008, Front Range Anglers will provide you with a free Fishpond Solitude Toiletry Kit - a $39.00 value....Click here to purchase
---
The Riffle Hitch
It originated in Newfoundland in the 1800's when Atlantic salmon fishermen used the approach as their gut snelled leaders became untrustworthy. The riffle hitch is still widely used today and can be effectively used to catch trout. Click here for more.
---
In cooperation with The Best of Kamchatka partners, William Blair and Victor Rebrikov, Front Range Anglers is in a position to offer its customers a limited number of spots for the 2008 season.
This unique adventure is $5,850.00 per week, per person which includes all round-trip travel from Petropavlovsk, Russia to The Best of Kamchatka camps, all river lodging, meals, guide fees, use of all watercraft, limited terminal tackle, and beverages including beer and vodka.
Contact us for specifics...click here
---
Spotting a Novice


When fish are feeding on very small flies, it can be difficult to see your tiny imitation on the water. In such situations, tie on a larger pattern that you can easily see, and then add the smaller fly on a 24- to 30-inch dropper tied on to the hook bend (use a uni or cinch knot). In this way, the big fly serves as a locator and a strike indicator — when a fish hits the size-22 fly midge the indicator fly detect the strike. If you know exactly which flies the fish are hitting, you can simply tie on two of the same pattern, thus doubling your chances of a strike. The two-fly rig also helps when you're trying to figure out which patterns work. You can test-cast twice as many patterns this way.
---
What's New in Rod Building
Front Range Anglers has added a series of new products to the Rod Building Program. Click here to see what's going on.
FLY TYING
---
---
Knapek Hooks
Many would argue that the Knapek Hooks from the Czech Republic are the best barbless hooks in the world. We carry limited supplies of these hard to get hooks at a competitive price....Click here for more information
---
Fly of the Month ~ Boulder Creek Caddis V17
Our Fly of the Month is a pattern developed by Jay Zimmerman. Click here to get the recipe and instructions.
---
---
BACK CAST
---
Finger Tip Control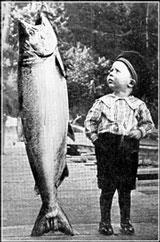 There was a time when a significant share of the reels sold in this area of the Rockies were automatics. They were heavy but somewhat counter-balanced our bamboo and fiberglass rods. The advertisements claimed 'instant line pick-up, no tangles, and complete control in fighting fish" If you were on the cutting edge you needed one of these modern reels - I got mine in 1956 as a birthday gift....Click here
---
"All of the work to protect, reconnect, and restore our coldwater fisheries will come to naught if we don't inspire and empower others to continue our work." ... Trout Unlimited
THE DEEP END
---
While fishing on Captiva for Sea Trout in May of this year an Osprey scored a much larger catch than I made. He was so heavy the bird had to drop to the ground every 50 feet of so but he managed to get it to his nest ... Paul Prentiss
---
---
Tailing a Snapping Turtle...not a good idea!
(Note the streamer firmly hooked in his tail...I'm guessing he weighed 15 to 20-pounds. He is my all time record on a 5-weight with a 3X tippet...Paul Prentiss)