Add Front_Range_Anglers@mail.vresp.com to your
address book to ensure our emails reach your inbox.

Newsletter ~ March 2009
~ Dedicated to bringing people and fish together
IN THIS EDITION
FISH TALES ~ REEL NEWS ~ DOWNSTREAM~ TIPS & TECHNIQUES ~ FLY TYING ~ FORWARD CAST ~ THE DEEP END
~ Updated Fishing Reports & Commentary ~
---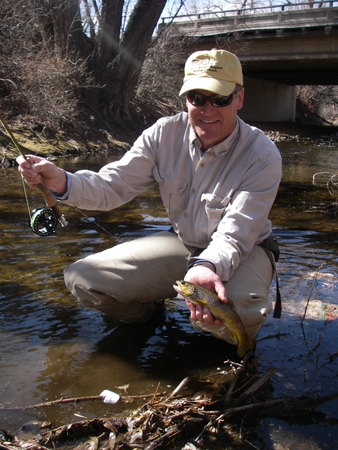 Hello all: I had a chance to fish Boulder Creek during our recent heat wave. If the amount of fish taking dries is an example of the quality of fishing this year, then our home water is in good shape.
Our annual Entomology course given by "Bug Man" Patrick Tennyson is on April 25th. If you haven't taken this course, this is a great way to gain inner knowledge of the insects in our strreams and the flies that best imitate them. Click here for more info, and to register online.
Our newsletter pictures keep getting better and better, thanks to everyone who sends in their photos. There is some real talent out there (photographic and fishing), and we're proud to be able to show your stuff. Please keep them coming!
Hope to see you,
Bill
---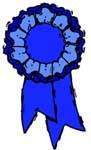 Win a Sage Performance Taper II Fly Line (5 Weight WF)
---
"Here's a photo taken today (February 2, 2009) on the Lake Fork. The goofy look on my face is the result of the camera set up on self-timer at one of my favorite lucky holes. I landed the fish; turned around and pushed the button" Scott Williams, Lake City Colorado
"On the first weekend of December a friend, my brother-in-law and I fished the great Lees Ferry. Although we live close, we don't take advantage of its proximity. It was a great sunny day, and we even caught a few fish" ....Kyle Ballard
KEEP ON SENDING US YOUR PHOTOS & STORIES
---
2
2008 Trout Unlimited Photo Contest Winners

---
---
---
Tired of Driving Hours to Fish for Trout?
Barry Reynolds has done it again. These great fishing stories will make you want to grab your rod and head for the nearest gravel-pitor urban stream to see what's there.
This is his fifth book on getting anglers to think outside the box to fish for many species that get overlooked in our obsession with trout.
We have it in stock....order your copy now
What's on the inside....Wiper, Carp, Pike, Tiger Muskie, and more
Hatch TV has a clip of Barry's new video on Carp Fishing on Denver's South Platte...click here
---
RIO Carp Floating Fly Line - (WF5F-WF9F)
It was only a matter of time. New for 2009, the RIO Carp Fly Line was designed specifically for the carp fly fisher. This weight-forward floating fly line combines a medium length head with a smooth front taper for a subtle presentation. Wary carp will not be spooked by either the presentation or the subtle camo olive color. The slick XS Technology coating, over a braided monofilament core ensures easy, accurate, and confident casts.
---
Something for Kids

...making the right connection

How about a fishing web site for kids! It has tips, photos, fly tying, resources, and more. Click here to check it out.
"I believe fly fishing is an adventure that includes spending time outdoors learning about nature with family and friends, and is sometimes about catching fish. Fly fishing is a sport and art form that uses a rod and line to cast a fly to a fish, and hopefully trick the fish into eating my fly." Tyler Befus
---
Fish of a Life Time -

one of the largest steelhead ever taken on a fly

31.5-pounds & 44-inches when caught
What would you do? A huge wild steelhead at your feet, a potential world record, and it is bleeding from the gills. Keep or release? "English Pete" Harrison's faced that choice with this 29-30lb Washington State steelhead, the "fish of a thousand lifetimes", a seemingly clear world record. Read the story
---
DOWNSTREAM
What to look for in upcoming issues of the Front Range Anglers Newsletter
Special Fly Lines for Carp Fishing!
Juan Ramirez on Hoppers & Such


---
Instead of showing you a series of custom tied flies, three of us (Rob Kolanda, Jon Speigel, and Paul Prentiss) individually walked over to the fly bins in the shop and picked out the six commercial patterns we would use if we had to compete in a fishing tournament on local waters. No one could look at the choices until after all selections were made. This turned out to be a pretty intertesting exercise.
1. 44% of the flies were the same - we had maybe 75 different choices
2. 44% were brown or rust colored and 33% were black
3. 88% were heavily weighted
Click here to see the flies

Jon Spiegel of Front Range Anglers is pictured above with a bass caught in April of 2008. Watch for tying instructions in the April Newsletter
---

Overlining
You can make a rod's action "slower" by overlining the rod with a fly line rated one size higher. Overlining rods often helps beginners get a better feel for when a rod loads. It can also help experienced anglers quickly throw a cast both short and long distances and improve the handling of oversized flies. Many of today's fast action rods cast simply better with heaver lines. Case in point - I have a 7-weight saltwater rod that performs best with 9-weight line. Please note this is not always true and it depends on the rod and the line. The point being -- you experiment a bit.
---

Fly Fishing the Boundary Waters
Jim Blauch - Fly Fisher/Guide/Fly Tier
Jim Blauch has guided the Boundary Waters Canoe Area Wilderness in northern Minnesota for the past 20 years. If you want solitude and crazy smallmouth bass fly fishing, listen in and Jim will spill the beans on this great destination. More about Jim Blauch...
Click here to go to Ask About Fly Fishing Internet Radio
---
Although Lees Ferry is a year-round fishery, spring offers some of the most exciting action of the year. Sunlight returns to the canyon starting in mid-February and quickly warms things back up, prompting the trout to move into the shallows to feed voraciously on the hatching midges as well as scuds and worms. Click here to read the article.
"I've been using black flies in salt water for so long I really don't remember the first time I learned about them—probably more than 40 years ago. Today, every couple of trips to the brackish-water world, I find a situation that, whether because of low light levels or murky water, it's best to cast a black fly"....Chico Fernandez
The Speed or Knotless Nail Knot
While the nail knot is one of the most used connections in fly fishing, many folks struggle with it or it turns out badly. Click here for a solution.
Two Guys & Their River
When two expert anglers decide to share their knowledge of the fabulous San Juan, a new outfitting service, San Juan Valley Anglers, is born....click here
Want to see what's cooking on the river....click here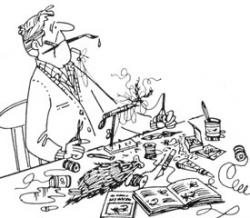 ---
Ad Swier's Pattern for Pike
Learn how to tie Swier's Bucktail Streamer...click here
---
Good Ideas Never Die
---
New Fly Tying Materials...stop in and see for yourself
We have some great new tungsten colored beads in a variety of sizes from Montana Fly. In addition we just got in a new Daiichi wide-gape bent hook with up-eyes in a red finish. These should be a very hot item this spring.
Talk about Bargains!
Over the last several years we've focused on the past. Now we're go to look at the here and now.. We'll try to do this in a fashion that lets our readers participate and we'll give you feedback when possible.
Do Current Fly Fishing Magazines Suck?
We'll publish the results next month
Humm...I wonder if this is what the fish are taking
"Explain again why we can't take turns"
"Dilbert, are you sure we should put this guy in the boat "