Add Front_Range_Anglers@mail.vresp.com to your
address book to ensure our emails reach your inbox.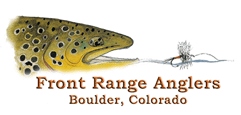 News Magazine ~ May 2009
Dedicated to bringing people and fish together
Click here for a free subscription or to
read editions dating dack to 2003
Bill Leuchten, Owner ~ Rob Kolanda, Area Manager ~ Jon Spiegel, Area Manager ~ Jay Zimmerman, Area Manager ~ Russ Miller, Webmaster ~ Paul Prentiss, Customer Communications,
Larry Jurgens, Instruction Services ~ Tyler Bowman,
Patrick Knackendoffel Guide/Staff
~ Daily Fishing News & Commentary ~
---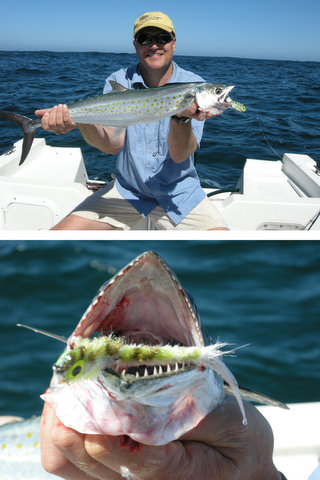 Hello all: My family took our annual spring break vacation to Mexico in April. This was my third trip to Los Cabos so I thought I could save a few bucks and go out with a traditional spin casting guide who did not speak any English. I knew where to go but even with a 400 grain sinking line, I was unable to hook up after 5 hours of hard fishing. They were just too deep. My guide, if you want to refer to him as such, just fished bait deep the whole time and was able to catch fish consistently. And after a while, he was really getting on my nerves by getting in my way with all his damn poles. I concluded there were 2 problems: The fish were too deep but more importantly, there was nothing getting them excited to come up.
My 2nd day I went out with a proper fly fishing guide who threw the hookless surface plug and it made all the difference in the world. The plug dances and skids across the surface and excites the fish to come up. Once there is a fish following, you throw your fly at the plug and the fish hit it. Sierra Mackeral was the main target fish and it really appeared that they had to be excited by the plug in order to pursue a fly.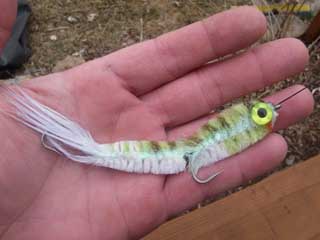 The flies were all experimental patterns tied by Jay Zimmerman and myself using EP Fibers for the body and kraft fur, goat and other kinds of hairs both synthetic and natural for the tail. Our objective was a durable fly that would hold up to toothy fish and not have the tail foul around the hook like many saltwater patterns. They accomplished both objectives very well. Click here to check out the flies.
The guide service I used was economical and very good. The boat was the La Mosca and my guide was Roberto Ramirez. Roberto@flyfishingcabo.com
Hope to see you,
Bill
---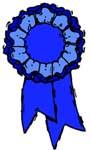 Win a C&F DESIGN CF-3555 FLY BOX
---
Jonn Smiley of Denver looks pretty pleased with this Permit he caught last year. You can see that the guide was in shock and is holding on to the boat to stay in the upright position.
---
A double on Bones for father and son. Mario Masciola and his son, Steve visited Los Roques in March of this year. They also traveled to Rio Chico to chase baby Tarpon.

Robbie Bell of the UK and member of the British Fly Fishing Team caught this 10-pound Brown Trout on a size 10 Buzzer last year.
Dan Perkins of Eau Claire, WI is all smiles showing off this 24-inch Rainbow
KEEP ON SENDING US YOUR PHOTOS & STORIES
click here to submit a photo
Last summer Bev Littlejohn canoed in the Boundary Waters for a week She caught Northern Pike and Smallmouth Bass on her 5-weight rod. According to Bev, "the old timer in our group was spin casting and did not catch a single fish until the last day of the trip. He's considering a switch to fly fishing!"
---
Jessica Price traveled to New Zealand this winter for this 4.5 lb rainbow from the Rangitata River on the South Island.
---
Randy Cupp is showing off a Golden Dorado he caught on the Corrientes River in Argentina. However, there was a second picture that seems to indicate a problem with this particular catch...click on the picture below
Griffin Gorsuch (2 years old) at Walden Ponds in Boulder shows off his technique for holding and releasing fish.
Jerry Lewis of Boulder, CO invited this spotted sea bass for dinner in April on the Sea of Cortez, near La Paz.
---
Brian Okeefe's new free magazine is ready for download
---
The combined talents of Yngve Ask, Tim Pask and Peter Huber have been brought together in a new digital magazine. Scanout Magazine is a post-trip media production that includes oversized photos and insightful essays and uses clickable overlays to allow readers to move beyond the magazine itself for more information....click here
---
DOWNSTREAM
What to look for in upcoming issues of the Front Range Anglers Newsletter
Special Fly Lines for Carp Fishing!
Panfish on the Fly
It's Not Funny Now!
Pictures like the one above depicting the opening day of trout season in the East look like something completely foreign. Times have certainly changed! Last summer on the Big Thompson I pulled off to the side of the road to eat lunch and watch for rising fish on a nice run. I wasn't in any particular hurry and I watched one car after another stop to look or to fish. In the course of 90 minutes it constantly had someone working the water. On this same day I encountered a number of folks who simply stepped in the river 50 yards in front of me - the height of inconsideration. This was on a weekday in July! Forget about weekends, between the traffic and the fishermen it's a bit much for my taste.

What's the answer? I find myself doing more and more warm water fishing or seeking out small stream and lake options in the back country. I don't return to the more popular streams until mid to late September. You might think about changing your approach if you would like a bit of solitude.
---
Wipers are hybrid fish between a male white bass and female striped bass that were first introduced into many parts of the country—Kansas, Colorado and Nebraska in particular—in the late 1970s. But it wasn't until recent years that they've become the target of many flyfishers who've discovered the fish's willingness to attack popular saltwater fly patterns like the clouser minnow.

Here in northern Colorado we are fortunate to have several impoundments which these fabulous hybrids call home. Union, Lone Tree, Horsetooth, Douglas, Jackson, Stanley and Boyd Reservoirs are all within an hour drive from the North Denver/ Boulder metro area, with many just several minutes from your front door. This accessibility combined with a desire to eat a well presented fly are what makes this fish a personal favorite of mine. I've spent the last ten years a junkie to the "wipe out", and would like to share a seasonal guide to help those current or considering anglers find success this season....Rob Kolanda. Click here to read more
---
Towards end of April a group of FRA fishermen decided it was time once again to seek out one of our favorite spring targets, Northern Pike. This adventure including a demonstration on how to safely release pike was captured on video by Jay Zimmerman....click here
---
The Best Seat in the House
I happened across this customized float tube and had to show you what can be done with PVC pipes and a bit of ingenuity
The double haul is the most important tool a fly caster can learn. A COMPETENT ANGLER MUST LEARN HOW TO MAKE THIS CAST. It permits you to throw a longer line, cast against the wind, and present heavier flies and lines with less effort. Once you master the double haul, you can use it to some degree on almost every cast. If you are going to do any saltwater fishing this is mandatory.
Today I watched a fly fisherman on Sanibel unable to reach some rocks 80 feet from the surf line where Snook were feeding. He didn't catch a single fish. He traveled all the way from Illinois to catch one but had not taken the time to learn how to make this cast....Paul Prentiss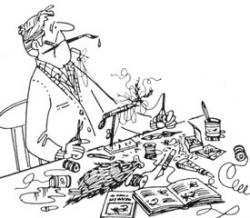 Bass Bugs...Functional Art
How do you get the best possible information on the creation of deer hair bugs? Ask the folks that can walk the talk! These two gentlemen have taken bass bugs beyond the bounds of simple fishing patterns.
---
New FRA Minnow Patterns
Articulated fly patterns (two flies linked together) have been around for a long time. Some folks claim they originated in leech patterns tied in Tasmania. I'm not so sure about this. I can recall jointed damsel files I bought some 25 years ago in Montana. Dave Whitlock writes about an articulated Damselfly Nymph in his book The Fly-Tyers Almanac, by Robert H. Boyle and Dave Whitlock in 1975.
Jay Zimmerman has been experimenting with some articulated patterns using trimmed Enrico Puglisi (EP) fibers. These patterns have proved devastating on quite a few fresh and saltwater game fish. Keep an eye on our
online fishing report
for a recipe.
Does he need a new hat or what!
Attention Fly Tyers...If you would like to share one of your "go to fly" patterns with our readers, we would be glad to include it along with information about you in this news magazine. Our periodical gets world wide distribution to serious fly fishermen. Probably 1/2 of our readers are fly tyers. Click here to learn more about this opportunity.
Casting Follies
All of us have managed to hook some rather strange objects while casting. Here are the survey results
You can see that friends, ducks, bats and guides are 42% of the total.
We had no one admit to bulls, goats, lodge owners, guide dogs, or chickens. However we did get votes for the following unanticipated hook ups
Crappie on backcast
Pelicans
Dragonfly
Beaver
Birds-swallows
Have you ever arranged a guided trip where the guide got lost, failed to show up, left the lunch at home, didn't know how to row and so on. No matter who you are or how much time you spend setting things up something bad is going to happen every once and a while. We want to know what you consider to be your absolute worse experience. Click here to share the sordid details
"Once I get the boat in the water you'll see that its a lot more fun than walking the banks."
"Was I right or what? In another hour or so the sun should break through these clouds."
I don't care about your casting issues ... you were in the front of the boat all morning!
Flats fishing is serious business requiring complete concentration
What it's all about....my Grandson , Adam Hoefel, on Santbel Island Florida at the end of April ~ Paul Prentiss