Newsletter ~ October 2008
~ Dedicated to bringing people and fish together
IN THIS EDITION
FISH TALES ~ REEL NEWS ~ DOWNSTREAM~ TIPS & TECHNIQUES ~ FLY TYING ~ BACK CAST ~ THE DEEP END

~ Updated Fishing Reports & Commentary ~
---
Hello all:
The only way I can get my kids to tie flies is to show them that their flies can catch fish. Sometimes that's hard when they tie flies with pink ice dub for a head. So I've found the perfect strategy -- I hike into the backcountry to find some unpicky fish who won't reject their creativity, like the one pictured at left.
We are rapidly approaching fly tying season, so for those of you who have some unharnessed creativity, it's time to jump in. Rob Kolanda is teaching the next section of Beginning or Beginning + Intermediate fly tying starting this month. Click here to register online.
Thanks for the business and hope to hear from you,
Bill
---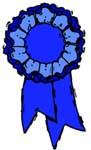 Win a Sage Performance Taper II Fly Line
(5 weight WF) - $65 value

---
Ken Sheffield of Anchorage is pictured above with a 28-inch rainbow taken Alaska's Kenai River the last week in September of this year. It was one of many such fish taken on the same trip.
---
Tyler Bowan of Front Range Anglers is showing off a nice Dolly Varden caught during a summer visit to Alaska in 2008.
---
Evan Jones is spending time figuring out the saltwater fishing in Florida. Looks like he is making progress.
Amato Publications Inc is releasing a new destination book on Patagonia from Evan and Barrett Mattison. These gentlemen have spent several seasons independently fishing and exploring the entirety of Argentine Patagonia (an area roughly the size of Montana and California combined), and in this book they share everything you need to know before embarking on the adventure of a lifetime. This will be the most up-to-date and comprehensive guide available.
KEEP ON SENDING US YOUR PHOTOS & STORIES
click here to submit a photo
---
Nicola Piffanelli of Italy is pictured above with a European Grayling

Nicola wanted to point out that European gals are also into fly fishing for Carp
---
The South side of Ambergris Cay in Belize produced this very nice tarpon for Wayne Accetturo

---
Joe and Pat McNamee enjoyed their fishing trip to Montana this summer
There was not an avalanche of new products for the upcoming season but I found a few gems here including the item from Tightline Enterprises featured at the right. I've seen a lot of fly threaders before but most of them don't work that well - this one does. It's molded from durable lightweight UV rated vinyl and uses a special magnet that firmly holds bead head and non-bead head flies. At $10.00 it will save many of us with sub par vision a great deal of aggravation. For some more observations on new/improved products click here.
---
Lefty Kreh's name is synonymous with world-class fly fishing. He is the winner of numerous awards, including the American Sportfishing Association's Lifetime Achievement Award. In 1991, he was honored by the U.S. Postal Service with a postage stamp bearing the image of his famous "Deceiver" fly. Lefty has written for nearly every outdoor magazine in the U.S. He is a man who has fished all over the world, and a man whose books and articles have taught thousands of people his techniques for hooking and landing more fish.
In his new book, My Life Was This Big, he relates tales of fishing expeditions with Fidel Castro and Ernest Hemingway, as well as solo battles with some of the scrappiest, most elusive fish in the world. He takes the reader through the development of his world-famous "Deceiver" fly style, and takes on the issue of conservation through catch-and-release.
This would certainly be a great Chrismas gift for the avid fly fisherman!
New Rods for 2009
Whats new in the linup of fly rods offered by Front Range Anglers...click here.
If you would like some help or a specific recommendation on any of the new products, most of the FRA staff has had an opportunity to see and try out this gear. Send us an email and we'll see if we can help...click here
---
One Fly Contest in Jackson Hole
Bud Chatham of Jackson won this year with 1537 points (71 fish). The annual invitation-only event
features teams of four anglers per day fishing 12 river sections stretching from Jackson Lake Dam to the South Fork of the Snake in Idaho.
Chatham used a loop-wing mayfly tied by Bob Quigley on Saturday and won the event with a whopping 991 points using a Barnett's Red Ant on the Lower South Fork Sunday.
---
Record fish caught on a Barbie Rod

David Hayes of NC told the press that his 3-year-old granddaughter, Alyssa, had asked him to hold her rod Aug. 5 while she went inside his home to use the restroom and that's when a 21-pound 32-inch-long state record catfish took his bait. 25 mintes later he landed the fish on the Barbie rod!

---
2008 / 2009 Rod Building Classes
Fly Rod Building Guru, Larry Jurgens, has established the fall and winter schedule for his classes. This is your chance to get a great deal on components, secure a top quality blank, and save a considerable sum of money on a state of the art fly rod....click here for specifics.
---
Largest Brown Trout Ever!
In March of last year, Brian Yamamoto, a dentist from Fairbanks, Alaska, caught what's likely the largest brown trout ever taken on a fly while fishing Argentina's Rio Grande River. The giant sea-run fish ate a muddler minnow and measured 46 inches long with a 25-inch girth. There was no scale available to accurately weigh the fish, which was released. Biologists working with this river's trout estimated the mammoth fish's weight at 41.5 pounds. If that weight had proved out on a certified scale, it would have surpassed the current IGFA all-tackle record for brown trout—a 40-pound, 4-ounce brown taken from an Arkansas tailwater in 1992.
---
"I always assumed that the making of bamboo rods originated in England, but the true originators and innovators were from the US, mainly in the northeast. This was spurred on by the growing amount of leisure time Americans were gaining in the late nineteenth century and the burgeoning interest in outdoor recreation including fly-fishing in Maine, the Rangely Lakes region in particular. The first split bamboo fly rods were developed by Pennsylvania gunsmith and violin maker Samuel Phillippe, his son Solon and craftsmen Charles Murphy and Ebenezer Green from 1845-1865. Henry David Thoreau met Hiram Leonard in Maine in 1857 and perhaps this inspired Leonard to make his first rod fourteen years later in 1871.

"

Casting a Spell: The Bamboo Fly Rod and the American Pursuit of Perfection" by George Black

DOWNSTREAM
What to look for in upcoming issues of the Front Range Anglers Newsletter
A COLORADO SUCCESS STORY
---
What Flies Work for Taimen in Mongolia?....This was the question posed in the September newsletter.
CONFIRMATION!
Before accepting the title
TAIMEN KHAN
I have to give credit where it is due. I used a pattern developed and recommended by Kenny Iwassma
(Peter Mullett claims Kenny stole it from him) and Peter Mullett took me to the pool and told me exactly where to lay out a 60 foot cast. However, I did strike the fish without assistance. I've got much to say about this fablous trip with
Mongofly
and it will take several articles. I'm going to start with what I learned about these extraordinary fish and how to catch them. By the way, I did run off 100 autographed Taimen Khan T-shirts that can purchased at $49.95 each.
Click here
for more about fishing for Taimen
---

Getting Started

Here are three simple and fast ways to setup an indicator on your leader.
---
---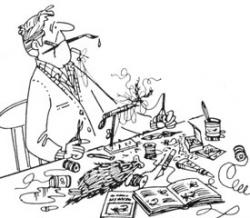 ---
The Schminnow
It doesn't get much simpler than this! The Schminnow was developed some years ago by Norm Zeigler for Snook fishing in Florida. In point of fact, the fly works for a broad range of both salt and fresh water fish including bass and trout. The tail is marabou (add several strands of flash if desired), body of pearl white Estaz, and bead chain or monofilament eyes. Select a hook that is suitable for salt or fresh water. I generally tie it on a Dai-Riki #930 in size 6 to 1/0. There's a how to video on YouTube that may prove helpful.
Norm likes to use mono eyes so it swims just under the surface. He also shortens the tail to a length that is no longer than the body. Here is his recipe
Hook: Mustad 3407 or equivalent - #2 or #4
Eyes: Pre-formed black plastic
Thread: Danville's Flat Waxed Nylon White
Body: White or pearl crystal chenille
Tail: Marabou - clip to the same length as the hook shank

---
Tying Hair Bugs.....Part 2
A good many fly tyers steer clear of tying hair bugs which is unfortunate. With the right tools/materials, technique, and practice the process is relatively easy...click here
---
SnoBall Revisited
Since writing an article ion 2004 about this great pattern for Rocky Mountain National Park developed by Dennis Collier, I've gotten numerous requests for the recipe so here it is again. Note that most are tied with solid black 3mm foam (use black thread) rather than the laminated version pictured below. If you have a hard time seeing the white indicator use chartruse.
When you tie this fly three points are worthy of note. First, use 2X heavy wire wet fly hooks which helps the fly land and remain in the upright position. The heavy wire is also more bend resistant for those occasions when you catch the overhanging grasses on your cast and give it a good tug to free the fly. This will be a frequent experience if you're fishing the bug where it needs to be fished – tight to the bank! Second, put a drop of 'ZapAGap' super glue on the thread wraps to keep the foam from rolling on the hook shank . Last, strip the round rubber legs off the sheet in two (attached) strands at a time. Tie them directly to the side of the foam in this (still attached) configuration, then separate and trim upon completion. It's this subtle detail that results in the uniformly splayed legs.
---
Who's the guy on the truck bed?

It's Steve Rajeff some 25 years ago. He is the finest long distance caster in the world. Steve has won the annual American Casting Association (ACA) championship 34 consecutive times, and the bi-annual World Casting Championship 13 times.
There was an interesting interview by Zach Mathews on the Iternent Angler (www.itinerantangler.com) with his brother, Tim, in late August of this year.
---
What happened to the crosswalk?

---
Where is my fly?

---
Have you ordered one of these?