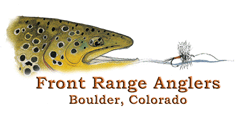 Newsletter ~ September 2008
~ Dedicated to bringing people and fish together
IN THIS EDITION
FISH TALES ~ REEL NEWS ~ DOWNSTREAM~ TIPS & TECHNIQUES ~ FLY TYING ~ BACK CAST ~ THE DEEP END

~ Updated Fishing Reports & Commentary ~
---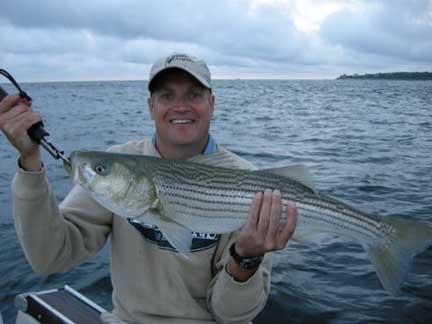 Hello all,
Hope you are getting out as much as possible because I've just caught the first scent of fall this year.

We have two dates for Elk Trout: October 2nd and 11th (Click here for details and to reserve your spot). This is a beautiful time of year to be on the river!
And, it's a beautiful time of year to be fishing in the Atlantic off the northeast coast. I had an exceptional time fishing the waters of Martha's Vineyard last month. Click here for more of the story.
Thanks for the business and hope to hear from you,
Bill
---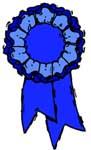 Win a William Joseph "Solo" Pack!
---


This is a photo of Candice Riley on the Zambezi River in southern Africa during August of this year. She was fishing with her husband, Mark. She mentioned, "I think I have a "nibble". Mark replied, "Why don't you set the hook, sweetpea." She did and this fish jumped straight out of the water and took off downstream. Needless to say, Mark was flabbergasted. Sometime later she tagged a bigger fish but lost it near the boat. So how did Mark do? The fish he caught were too small to be pictured in this newsletter.
---
Our good customer and friend from Italy, Emiliano, sent in a picture of a nice Tarpon taken on a 10-weight out of Holbox, Mexico.
KEEP ON SENDING US YOUR PHOTOS & STORIES

click here to submit a photo
---
Jane Moody is a serious Colorado Carp angler but her fishing time is about to be curtailed because she's an elementary school teacher and classes begin in late August.

---
Mark Hathaway is pictured above with a Bull Trout caught on his new Winston Boron IIX in British Columbia. The rainbow is from the same location and is displayed next to an Able reel
---
Greg Anderson's first day of Pike Fishing in Manitoba on the Hudson Bay turned out well. "I fished two days, caught a ton of fish! Flew north and saw Polar Bears! Incredible!"
---
Christopher Theodor had an opportunity to join two Danes on a trip to Norway on a quiet "little" river for Atlantic Salmon. "My largest was 4 1/2 Kilo"

---
The Arkansas River Double Haul
Salida, Colorado, on September 12 and 13, 2008


The Double Haul will benefit the Rotary Clubs of Salida and Buena Vista, which fund local scholarships, grants to local charities including the Boys and Girls Clubs, and the eradication of polio worldwide, a Rotary International Long Term Project.

The celebrities will include: Governor Bill Ritter, Karl Mecklenberg, former Denver Broncos captain and All-Pro player, Ernie Bjorkman, anchor for Denver's News, Dale Darling, fly fishing expert, outdoor writer, and past owner of several Denver fly fishing stores, Don Puterbaugh, Arkansas River fishing expert and author, Eldridge Hardie, famous wildlife artist, Mel & Fannie Kreiger, world renowned fly fishing experts, teachers, authors, and more.

On Saturday evening after the day of fishing, a private reception will be held for the celebrities, event sponsors, second-seat auction winners, and the fishing guides.

Tickets for the Friday gala are $75 and can be purchased at the SteamPlant Theater, Salida Chamber of Commerce, Buena Vista Chamber of Commerce, by calling 719-239-0085, or by visiting http://www.arkansasriverdoublehaul.com/.
---
Fishpond..a Colorado Company committed to quality and the environment.

Colorado's Channel 9 News recently did a piece on John LeCoq and Fishpond. This phenomenally successful Colorado company that specializes in fly fishing gear was started by John and Dave Thompson in 2000. If you are unaware of it, John LeCoq was one of the founders of Case Logic. They started with 4 products and now sell over 100 items, becoming one of the most respected suppliers in the industry....click here to see the interview.
---
500,000 Women Fly Fish .... according to the Fish and Wildlife Service
From the New York Times Fashion News "We've seen a growth in women buying women-specific products in traditionally male-dominated industries," said Julia Clark Day, of the Leisure Trends Group, a company in Boulder, Colo., that tracks data on sales of recreational retail products like these fly-fishing vests.
---
The Inside Story on Local/Regional Fishing Activity
frontrangeanglersfishingreport.blogspot.com
This spring FRA announced the start of a fishing information blog that would be updated continuously by the staff. Perhaps you don't need to find out what's really working on the local streams and lakes. But, if you want to get the inside skinny this is where to go!
We have plenty of humor to share in this daily blog
---
In 2008 the Fly Fishing Film Tour bypassed Boulder because they could not find the right venue. Guess what? The Boulder Flycasters is bringing the film series to town for a two day run as part of a special fund raising effort for the Boulder Creek Enhancement Project

.

Click on the titles below to see trailers of each of the presentations that will be shown.
Tarpon Time
River Poets
Equilibrium
Mongolia "River Wolf"
Four Seasons of Steelhead
Fishizzle
Destinations
GET YOUR TICKETS NOW .... ONLY 500 ARE AVAILABLE ..... CLICK HERE
---
2008 / 2009 Rod Building Classes Set
Fly Rod Building Guru, Larry Jurgens, has established the fall and winter schedule for his classes. This is your chance to get a great deal on components, secure a top quality blank, and save a considerable sum of money on a state of the art fly rod....click here for specifics
DOWNSTREAM
What to look for in upcoming issues of the Front Range Anglers Newsletter
WHAT FLIES WORK FOR TAIMEN IN MONGOLIA?
WHAT'S NEW IN THE INDUSTRY?
A COLORADO SUCCESS STORY
---
---

Getting Started
---
Answer: There is no device that lets you control large and difficult fish better than the Boga Grip. They are not just for fish with sizable dentures (see the picture of the Tiger Fish above). Picture this - you are standing in a muddy flat covered by a foot of water fishing to 10-pound or better carp. Just keeping your balance is a major accomplishment. Do you really think you can land the fish using your hands without falling in?
Click here to order one today.
---
Head Risers
There are numerous ways one can fish for trout but there is one particular method that is head and shoulders above the rest: finding a large fish feeding on the surface and making the perfect cast that results in a take. To my way of thinking one such fish is worth 10 of any others taken in any other way....click here
---

Simple, turn them into knee high waders
---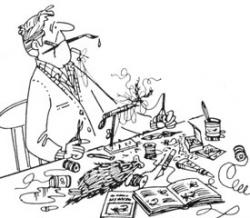 ---
You might call it the Super San Juan Worm. Its simply UTC hot orange wire, ultra chenille, marabou, and a bead tied on a scud hook. Try different color combinations.
---
Tying Hair Bugs
A good many fly tyers steer clear of tying hair bugs which is unfortunate. With the right tools/materials, technique, and practice the process is relatively easy...click here
---
Archie's new book has just been released by Stackpole and we have autographed copies in stock....
click here
---
125 years ago 80,000 German immigrants arrived at the Cold Spring Harbor Hatchery in Long Island. Half of the shipment went to the Caledonia Hatchery which supplied the stocking needs of the Catskill streams. The first stocking occured on Arden Brook, a tributary of the Neversink in 1885. The picture above is a 1925 stocking truck in NY...note the method of aeration.
---
Why am I smiling?

---
Vacation Dreams

---
I'm not a shade tree!